David Bowie 1983-07-16 Hartford ,Civic Center – Hartford 83 Second Night – (Two Of Us Master Volume 2).
Sound Quality Rating
01. The Jean Genie Intro.flac
02. Star.flac
03. "Heroes".flac
04. What In The World.flac
05. Golden Years.flac
06. Fashion.flac
07. Let's Dance.flac
08. Breaking Glass.flac
09. Life On Mars.flac
10. Sorrow.flac
11. Cat People.flac
12. China Girl.flac
13. Scary Monsters.flac
14. Rebel Rebel.flac
15. White Light White Heat.flac
16. Station To Station.flac
17. Cracked Actor.flac
18. Ashes To Ashes.flac
19. Space Oddity.flac
20. Band Introductions.flac
21. Young Americans.flac
22. Fame.flac
23. TVC15.flac
Encore:
24. Stay.flac
25. The Jean Genie.flac
26. Modern Love.flac
Label : Two Of Us Master Volume 2
Audio Source : audience
Lineage : Master Tapes > Nakamichi DR-01
Taping Gear : Shure Mic > Sony WM-D6C
Taper: MJK5510
Total running time : 1:45:23
Sound Quality : noise ,dull ,but still good listened to
Attendance : 15.000
Artwork : Yes
Known Faults: Scary Monsters: 5 seconds patched at the start – Station To Station: start slightly cut (no patch available) – TVC15: 27 seconds patched at start / 24 seconds patched in the middle
Here andd there Bowie messes up the lyrics,e.g in "Heroes": "I,I can remember like dolphins , like dolphins can swim". Hysterical
scenes in the crowd ,especially when during Modern Love the big moon-shaped mother balloon gives birth to 5000 tiny balloons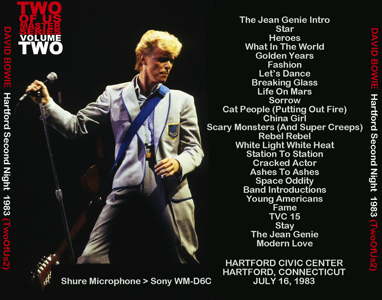 **************************
Welcome to Volume Two of the "Two Of Us" Master Series.
Between 1983 and 1999 there was likely not a taper or taping duo more active than the "Two Of Us". For the better part of a decade and a half they taped over 250 artists with an array being taped multiple times.
If you collect Springsteen then you are already familiar with some of their work, "fmcleanboots" has posted a half dozen or so of their "Tunnel Of Love" tour shows but has decided to pass the baton.
What you don't know is their passion was not just for Springsteen but for music and that passion runs deep. It is astonishing how many artists they taped.
They followed tours taping club shows, theater shows, arena shows, big artists, mid-level artists and local artists. If they were following a tour and the tour had an off night they'd see who else was playing that night to tape.
Always focused on enjoyment of the show as the priority, tickets were for the most part acquired outside of the venue as they worked to obtain the best possible seats, continually trading up until the correct seats were acquired.
The results of this were the captures are uniformly excellent but on occasion the start of the show was sacrificed as a trade-off for the seats. The heavy lifting was done by the Sony WM-D6C and an external Shure Mic before moving to DAT for the last couple of years.
None of their masters have ever been circulated and have been safely stored for the past three to four decades in a climate controlled environment. Tapes transferred so far are in pristine condition.
Though we may do some mini releases of a series of shows in order for one portion of a tour for the most part shows will not be released in order, there are just too many of them.
This will be a very exciting series and we hope along the way we upgrade existing circulating audio and offer up shows that do not have any circulating audio.
We hope you enjoy the ride, this is definitely not a dark ride.
**************************
David Bowie was the artist that started it all for "Two Of Us", a favorite artist, Bowie was taped on multiple occasions and are amongst the earliest shows recorded.
This is the 5th night of the North America leg of the tour, as far as I can tell there is one circulating version of this show currently. This should be a nice upgrade for this show, it's recorded close to the stage and has a nice atmosphere and excellent dynamics.
There was a serious screamer near our tapers but fortunately her scream was very high pitched to the level of a whistle. Frequencies at that high on the spectrum are very easy to cleanly remove. Our screamer has all but vanished with very little trace left behind and the music fully intact.
Not nearly as prolific as our taping duo, I taped two shows on this tour and though "Let's Dance" would not be anywhere near the top of my favorite Bowie releases the songs from the release translated tremendously well in concert and it was a fantastic tour.
Two big thank you's here, first to "Two Of Us" and their dedication to capturing all these great shows as well as trusting me to be the presenter of their work. Also, a big thank you to my friend "fmcleanboots" for putting me in touch and laying the groundwork that has resulted in what you hear today and in the future.
David Bowie Tour band 1983 – The Serious Moonlight World Tour :
• David Bowie – lead vocals, guitar, saxophone
• Earl Slick – guitar
• Carlos Alomar – guitar, backing vocals, music director
• Carmine Rojas – bass guitar
• Tony Thompson – drums, percussion
• Dave Lebolt – keyboards, synthesizers
The Borneo Horns:
• Steve Elson – saxophones
• Stan Harrison – saxophones, woodwinds
• Lenny Pickett – saxophones, woodwinds
Backing vocals
• George Simms – backing vocals
• Frank Simms – backing vocals• Frank Simms – backing vocals
<
David Bowie World Convention 1983
David Bowie - 1983 Souvenir Serious Moonlight Tour
.
(Visited 64 times, 1 visits today)