David Bowie 2004-02-20 Sydney ,Entertainment Centre – The 1st Night –
Sound Quality Rating
01. Introduction Music
02. Rebel Rebel
03. New Killer Star
04. Reality
05. Fame
06. Cactus
07. 5:15 The Angels Have Gone
08. All The Young Dudes
09. China Girl
10. A New Career In A New Town
11. The Loneliest Guy
12. The Man Who Sold The World
13. Hallo Spaceboy
14. Sunday
15. Band Introductions
16. Under Pressure
17. Life On Mars?
18. Looking For Water
19. Fantastic Voyage
20. Days
21. White Light, White Heat
22. Ashes To Ashes
23. I'm Afraid Of Americans
24. "Heroes"
Encores
25. I've Been Waiting For You
26. Five Years
27. Suffragette City
28. Ziggy Stardust
Label : Downunder Discs
Audio Source : Audience recording
Lineage : Dat Master
Taping Gear : Unknown
Taper: By Waz From Oz
Recording Location: Unknown
Total running time : 2:06:47
Sound Quality : very good. Equals record or radio/TV apart from a slight noise and some dullness.
Attendance : 12.500
Artwork : By By Waz From Oz
Sydney Photographs : By Big Knob
Remaster : By audiowhore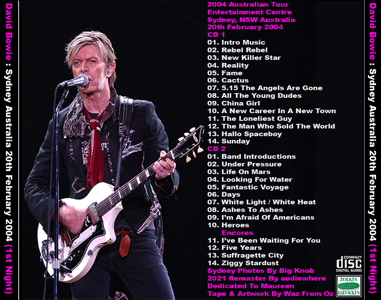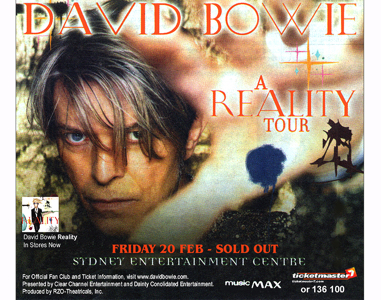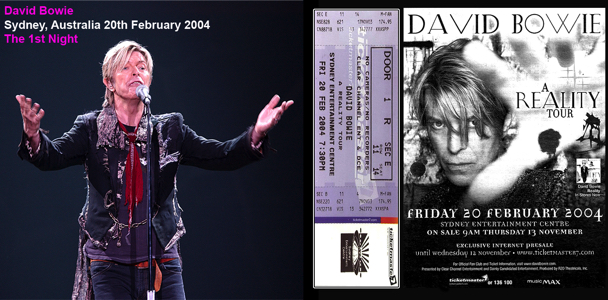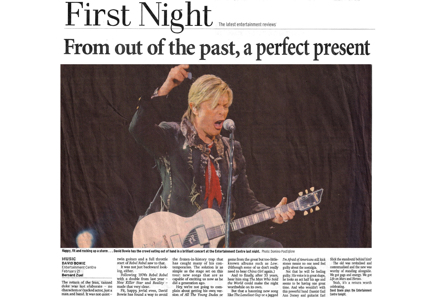 I first became aware of this Bowie person thanks once again to my hip to what was a-happening older cous in London who in early 1972 sent me the Hunky Dory LP.
It appealed to me straight away, and so from there my love of Bowie's music started.
My grandmother, also in London would send me the English music magazines NME/Sounds/Melody Maker, and from reading various articles in those UK pop papers I slowly became aware that Bowie was becoming a music force to be reckoned with.
By late June 1972 using hard earned pocket money I'd purchased an import copy of his next LP Ziggy Stardust.
From there on in, I started collecting his back catalogue, buying every new release plus any bootlegs I could get my hands on.
My Bowie fascination continued on until that dead set turd of an album Never Let Me Down which I binned quick smart; I still don't own a copy of it to this day.
From that album on I'd borrow friends copies of every new Bowie release, but after listening to them I felt he had lost his creative spark, something was MIA, not one of them won me over, so I never felt compelled to add them to my Bowie collection.
That changed when I heard Heathen which I liked from the first play, I felt that he was getting back on track again.
His following release Reality I love, IMHO it's the best album he'd put out since Let's Dance.
However, sorry to say Bowie fans, his last two albums The Next Day & Black Star, no matter how much I listened to them or tried to like them I couldn't warm to them at all.
Yes I know I'm colder than an Inuit's door-bell.
I look forward to your hate comments ha ha ha.
I attended every Bowie Australian tour when it hit Sydney, starting with the two 1978 November shows.
Next up were the two Sydney 1983 November concerts followed by three of the eight 1987 Sydney Glass Spider shows also held in November.
David seemed to prefer to tour Australia in November as the weather was warming up for the Aussie summer which starts on the 1st of December.
Unfortunately, those tours occurred when I either didn't have access to recording gear or I just wanted to enjoy myself at a Bowie gig without the hassles of taping.
Shame that I didn't tape any of those earliers shows I went to as apart from three incomplete bootleg LP's from the 1978 tour (Adelaide, Melbourne & Sydney – the source tapes for those LP's have never surfaced) I'm not aware of any other circulating audience tapes from Australian tours except two 1987 Glass Spider shows from Sydney & Melbourne.
That of course changed with the 2004 Aussie leg of Bowie's Reality tour where every show was taped, some of them having multiple sources.
When tickets went on sale, Ruby & myself scored dead set middle seats in the second section in front of the stage, giving us an excellent view.
Also we were in direct line with the small platform that came out from the stage, so when Bowie would occasionally stand or sing on this we could see him perfectly.
The stage set design was rather simple compared to the last time I saw Bowie in 1987.
There were two separate long video screens at the back of the stage running from left to right, a raised platform on either side of the stage with a runway between them under the lower video screen, Bowie used this run way a few times during the show.
Also dotted here & there were hanging upside down tree branches, no idea what they represented.
The atmosphere at the SEC was already electric before the lights dimmed, the crowd cheered when they went out, then shown on the lower video screen was a video of Bowie & the band as cartoon characters playing along to the instrumental intro.
While this played the band walked onstage, we could see Bowie walk along the raised platform in front of the video screen then down onto the stage.
The audience erupted on hearing the first notes of Rebel Rebel enthusiastically clapping along.
He played guitar three times during the show, electric on New Killer Star, Looking For Water & acoustic on Five years.
The set list was a mixture of old & new.
The new songs were well received, and over the two nights I heard all my favourites from Heathen & Reality.
I really liked the live versions of New Killer Star, Cactus & 5:15 The Angels Have Gone played that night.
I'm sure many audience members would have rather heard more Bowie oldies than his newer material.
There were shout-outs for older songs but the oddest being a request for The Laughing Gnome just before Days starts, this has to be an Aussie wag having a laugh.
David's patter in-between songs was rather humorous, at one point he did a mock Australian accent.
By his comments he certainly was enjoying his time in Sydney.
He had a soft spot for Sydney / Australia and actually brought an apartment in Sydney's Elizabeth Bay, a posh suburb by the inner harbour & would base himself there at various times before selling it off in the 90's.
In 1989 most of Tin Machine's 2nd album was recorded at a Sydney studio plus in 1983 parts of Let's Dance & China Girl videos were filmed here.
By chance one day while in Sydney's China Town I spotted from a good distance away a film crew filming.
Out of sheer nosiness I tried to get a bit closer to see what was going on, I wasn't able to get that much closer but did observe a tall bloke in a black suit running up the street a few times.
It wasn't until later on when I saw the China Girl video that I realised the bloke I'd seen running in the black suit was Bowie.
Sydney was also where Bowie played the longest run of successive shows in one city, those being the eight Glass Spider shows in 1987.
One song Ruby & myself didn't want to hear but thanks to the tinternet we'd read earlier Reality Tour setlists so we knew it would be played.
And that song folks is Under Pressure. From 1973 when we first heard Queen we'd gave them the thumbs down, no appeal whatsoever.
We'd describe Queen's songs as gay music for straight people and especially loathed Fred's scat singing on Under Pressure.
In Bowie's introduction to this song, Ruby can be heard saying "Please don't do it" & takes the piss by doing some scat singing as it starts.
We weren't alone in our dislike of this song as someone says "Boo" during the introduction of the song & near the end a voice can be heard saying "Under pressure alright".
But we were in the minority because the crowd loved it, the talented Gail Ann Dorsey performed Mr Mercury's part.
She being one of the excellent musicians Bowie had backing him on the Reality Tour.
After the show we had planned to go around to the back of the SEC to see if we could spot David leaving, maybe get something signed.
Leaving our section we bumped into an old school mate, we three had a chin wag so by the time we arrived behind the venue we only got to see David wave to the assembled throng then get into his waiting vehicle.
This show remains one of my favourite Bowie shows, a combination of the atmosphere that night, add in a great set list, topped off with an excellent backing band & of course Bowie himself.
If I say so myself my recording is excellent.
The only downside is that in the seat in front of me to the right there was a big fella whom I'd describe this way, if Harry Potter & Jabba The Hut were to have sex leading to a child then the occupier of this seat would be the result.
I nick named him Harry The Hut. Unfortunately, Harry The Hut was the lone beat clapper in our section, with my shot gun mic aimed between him & his mate it picked up his beat clapping.
He would beat clap at different times, sometimes more, other times less, suddenly stopping for periods of time then with a noticeable jolt, he'd start beat clapping again like he was having some kind of fit.
Thankfully he'd run out of steam often during his beat clapping solos so it doesn't occur that often nor for complete songs.
audiowhore has successfully lessened Harry The Hut's beat clapping as much as possible without affecting the sound.
It's nowhere near the volume it was in my shell likes that night.
It's also Harry The Hut that can be heard exercising his north & south (mouth) during Ashes To Ashes.
Once again thanks to audiowhore & Big Knob for the photos from this gig.
Enjoy,
Waz
===================================



David Bowie Tour band 2003-2004 A Reality Tour
A Reality Tour was a worldwide concert tour by David Bowie in support of the Reality album. The tour commenced on 7 October 2003 at the Forum Copenhagen, Denmark, continuing through Europe, North America, Asia, including a return to New Zealand and Australia for the first time since the 1987 Glass Spider Tour. Bowie retired from performing live in 2006, making this tour his last.
The tour grossed US$46 million, making it the ninth-highest-grossing tour of 2004.
The Tour band
• David Bowie – vocals and acoustic guitar
• Earl Slick – lead guitar
• Gerry Leonard – guitar, backing vocals
• Gail Ann Dorsey – bass guitar, vocals
• Sterling Campbell – drums, percussion
• Mike Garson – keyboards, piano
• Catherine Russell – backing keyboards/backing vocals
Start date 11 June 2002
End date 23 October 2002



(Visited 8 times, 1 visits today)