David Bowie 2004-06-25 Scheeßel ,Eichenring – The Stream Of Warm Impermanence – (Hurricane Festival) – SQ 8,5.
101. Rebel Rebel
102. Fame
103. Battle For Britain
104. Sister Midnight
105. New Killer Star
106. Cactus
107. All The Young Dudes
108. China Girl
109. Modern Love
110. Station To Station
111. The Man Who Sold the World
112. Changes
113. The Loneliest Guy
114. Under Pressure
115. Ashes To Ashes
201. Quicksand
202. I'm Afraid Of Americans
203. "Heroes"
204. Life On Mars
205. Suffragette City
206. Ziggy Stardust
Bonus Tracks:
2005-09-08 New -York City ,Radio Music Hall ,Live With Arcade Fire ,Fashion rock:
207. Life On Mars
208. Wake Up
209. Five Years
2006-05-29 London ,Roal Albert Hall ,Live with David Gilmour:
210. Arnold Layne
211. Comfortably Numb
2006-11-09 New York Hammerstein Ballroom ,Live at the Black Ball:
212. Wild Is The Wind
213. Fantastic Voyage
214. Changes (with Alicia Keys
2007-05-19 New York Madison Square Garden ,Live sung intro for Ricky Gervais Show ,High Line Festival:
215. Little Fat Man (Chubby Little Loser)
Label : Golden Eggs.Egg-158/159 ( 2CD Slipcase )
Audio Source : Audience recording
Lineage : Unknown
Taping Gear : Unknown
Taper: Unknown
Recording Location: Unknown
Total running time : 1:42:07 ?????
Sound Quality : Noise ,dull ,but still good listened to
Attendance : Unknown
Artwork : Yes
As one of the most inventive performers of the rock era, David Bowie's concerts were always a spectacle. That's just one of the reasons why it's such a disappointment that he hasn't staged a concert since June 25, 2004, when a major health scare forced him to cancel his tour in support of the previous year's album, 'Reality.'
Following that date, at the Hurricane Festival in Scheessel, Germany, Bowie had an emergency angioplasty. The problem started a couple of days earlier during a show in Prague, when he started feeling pain in his left shoulder and abruptly ended his concert. Tests revealed an acutely blocked artery, and the final month of the European tour was shelved.
That wasn't the only problem on tour. A week prior, in Oslo, Bowie was hit in the eye by a lollipop that had been thrown by a fan. More seriously, his Miami concert was cancelled when a lighting technician died after falling from the rig above the stage before the show. Still, a DVD comprised of footage from the two Dublin shows was released in 2010.
Since then, Bowie has only made a handful of guest appearances, sitting in with Arcade Fire in 2005 and David Gilmour a year later. That November, he joined Alicia Keys at a benefit concert in New York, and has not sung in public since. He did not tour behind the release of 2013′s acclaimed 'The Next Day,' his first album since 'Reality.'
November 2014 released "Nothing Has Changed"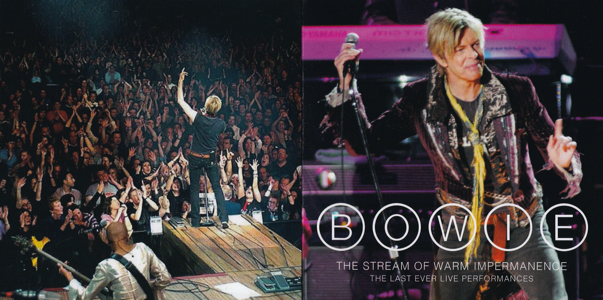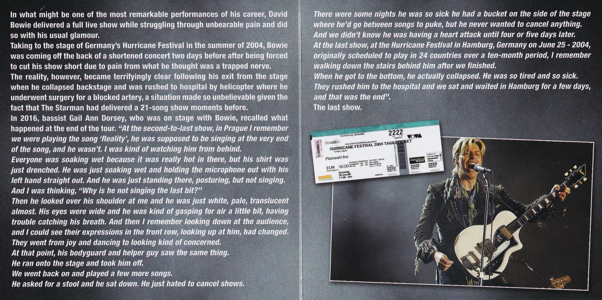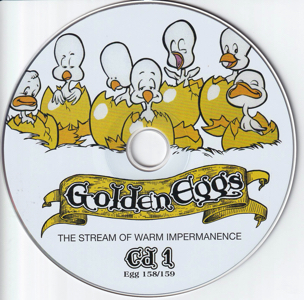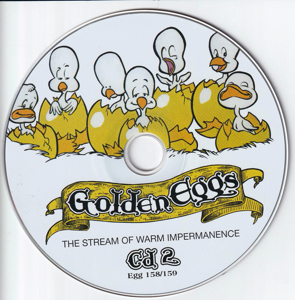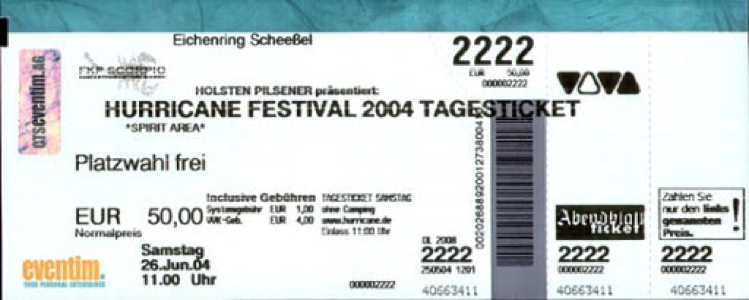 David Bowie Tour band 2003-2004 A Reality Tour
A Reality Tour was a worldwide concert tour by David Bowie in support of the Reality album. The tour commenced on 7 October 2003 at the Forum Copenhagen, Denmark, continuing through Europe, North America, Asia, including a return to New Zealand and Australia for the first time since the 1987 Glass Spider Tour. Bowie retired from performing live in 2006, making this tour his last.
The tour grossed US$46 million, making it the ninth-highest-grossing tour of 2004.
The Tour band
• David Bowie – vocals and acoustic guitar
• Earl Slick – lead guitar
• Gerry Leonard – guitar, backing vocals
• Gail Ann Dorsey – bass guitar, vocals
• Sterling Campbell – drums, percussion
• Mike Garson – keyboards, piano
• Catherine Russell – backing keyboards/backing vocals
Start date 11 June 2002
End date 23 October 2002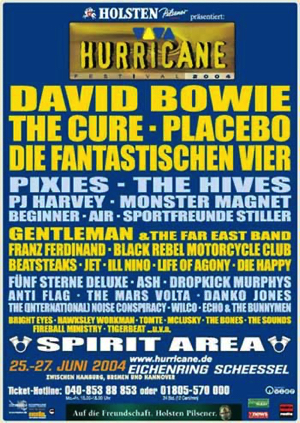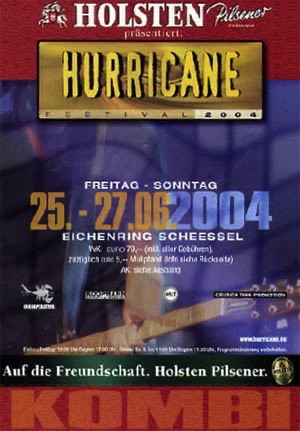 .
(Visited 106 times, 1 visits today)