Let's Dance is the fifteenth studio album by David Bowie, released in 1983, with co-production by Chic's Nile Rodgers. The title track of the album became one of Bowie's biggest hit singles, reaching No. 1 in the UK, US and various other countries. Further singles included "Modern Love" and "China Girl", which both reached No. 2 in the UK. "China Girl" was a new version of a song which Bowie had co-written with Iggy Pop for the latter's 1977 album The Idiot. The album also contains a rerecorded version of the song "Cat People (Putting Out Fire)" which had been a minor hit for Bowie a year earlier. Let's Dance is also notable as a stepping stone for the career of the Texas blues guitar virtuoso Stevie Ray Vaughan, who played on it.[1] The album was also released as a limited edition picture disc in 1983. Let's Dance has sold at least 7 million copies worldwide, making it Bowie's best-selling album.
Track listing
All songs written by David Bowie, except where noted.
01 "Modern Love" – 4:46
02 "China Girl" (Bowie, Iggy Pop) – 5:32
03 "Let's Dance" – 7:38
04 "Without You" – 3:08
05″Ricochet" – 5:14
06 "Criminal World" (Peter Godwin, Duncan Browne, Sean Lyons) – 4:25
07 "Cat People (Putting Out Fire)" (Lyrics: Bowie; music: Giorgio Moroder) – 5:09
08 "Shake It" – 3:49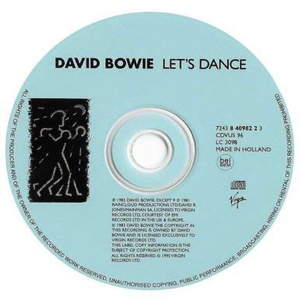 Reissues
In 1995 Virgin Records re-released the album on CD with "Under Pressure" as a bonus track. EMI did the second re-release in 1999 (featuring 24-bit digitally remastered sound and no bonus tracks).
In 1998 there was a reissue in the UK which was similar to the 1995 re-release but did not include the bonus track.
The Canadian version of the 1999 EMI release includes a data track, so that when the CD is loaded on a Windows PC, the user is presented with a promotion of internet access services and other premium content from the davidbowie.com website. This marks one of the earliest attempts by a mainstream artist to combine internet and normal promotion and distribution methods.
There was a further reissue in 2003 when EMI released the album as a hybrid stereo SACD/PCM CD.
SINGLE RELEASE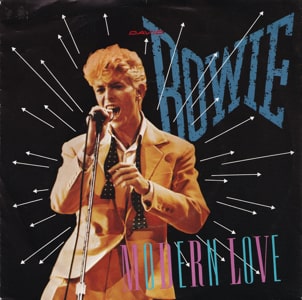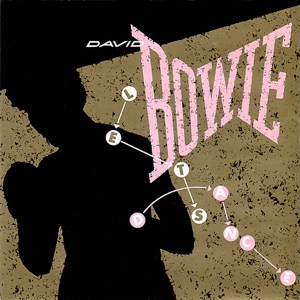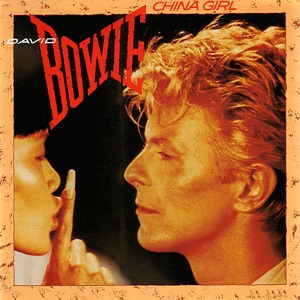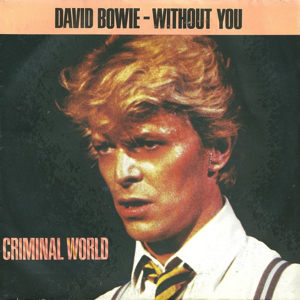 Personnel
Performance
David Bowie – lead vocals, horn arrangements
Carmine Rojas – bass guitar
Omar Hakim, Tony Thompson – drums
Nile Rodgers – guitar, horn arrangements
Stevie Ray Vaughan – lead guitar
Rob Sabino – keyboards
Mac Gollehon – trumpet
Robert Aaron, Lenny Pickett, Stan Harrison – tenor saxophone, flute
Steve Elson – baritone saxophone, flute
Sammy Figueroa – percussion
Frank Simms, George Simms, David Spinner – backing vocals
Bernard Edwards – bass guitar on "Without You"
SINGLE RELEASES
"Let's Dance"
"China Girl"
"Modern Love"
"Without You"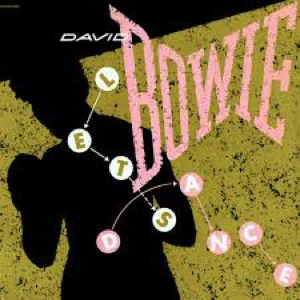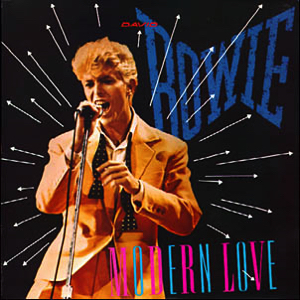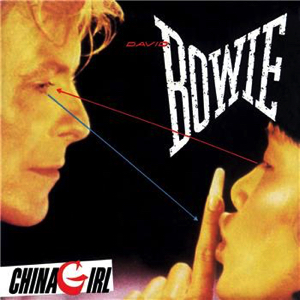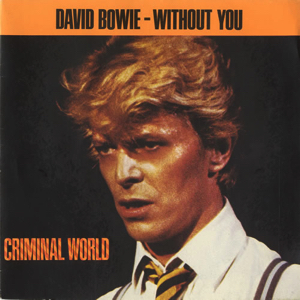 .
(Visited 519 times, 1 visits today)