David Bowie 1987-08-12 Denver ,Mile Hight Stadium SQ -8
01. Purple Haze Intro
02. Guitar Intro
03. Up The Hill Backwards
04. Glass Spider
05. Up The Hill Backwards (Reprise)
06. Day-In, Day-Out
07. Bang Bang
08. Absolute Beginners
09. Loving The Alien
10. China Girl
11. Rebel Rebel
12. Fashion
13. Scary Monsters
14. All The Madmen
15. Never Let Me Down
16. Big Brother (w/Drum Solo)
17. '87 And Cry
18. "Heroes"
19. Sons Of The Silent Age
20. Time Will Crawl
21. Band Introductions
22. Young Americans
23. The Jean Genie
24. Let's Dance
25. Fame
26. Time
27. Blue Jean
28. I Wanna Be Your Dog
29. White Light, White Heat
30. Modern Love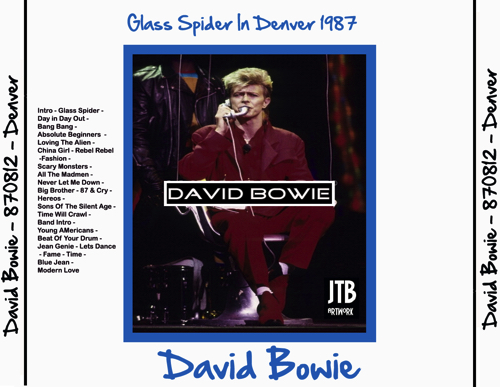 Seven Times David Bowie Played in Denver
Feb. 15, 1976, at McNichols Sports Arena – Bowie was already a star when he first came to Denver on the Isolar Tour. Still in the process of shedding his iconic Ziggy Stardust character, the set list that night featured five songs from the recently released "Station to Station" album, including the title track and "Golden Years".
The show also included Bowie classics like "Changes," Suffragette City," "Rebel Rebel" and "Fame" along with a cover of the Velvet Underground's "I'm Waiting for the Man."
Aug. 12, 1987, at Mile High Stadium – The biggest tour of Bowie's career was the Glass Spider Tour, which sold out stadiums across the world. Hot on the heels of his album Never Let Me Down, Bowie performed a career spanning 29 song set in Denver.
Highlights of the show included "China Girl," "Fashion," "Scary Monsters," "Young Americans," and "Heroes," The evening ended with a encore featuring a cover of Iggy Pop and the Stooges "I Wanna Be Your Dog," followed by "Modern Love."
June 1 – 2, 1990 at McNichols Sports Arena – Bowie's Sound + Vision tour would mark his only two-night-stand in the Mile High City. The set list was determined, in part, by a fan poll conducted earlier that year.
In addition to favorites such as "Space Oddity," "Fame," "Fashion" and "Let's Dance," Bowie also mixed in several covers, including Elvis Presley's "Heartbreak Hotel," Bob Dylan's "A Hard Rain's A-Gonna Fall" and Van Morrison's "Gloria"
Oct. 16, 1995, at McNichols Sports Arena – Although Bowie's co-headlining trek with the Nine Inch Nails was dubbed "The Outside Tour," the Denver date took place indoors at Big Mac.
During the tour, Bowie joined the Nine Inch Nails during their encore, performing "Subterraneans," "Hallo Spaceboy" and a duet of "Hurt." Bowie's band then took the stage with "The Man Who Sold the World." His set would also include "Andy Warhol," "Diamond Dogs" and "Under Pressure."
Aug. 10, 2002, at Pepsi Center – The Heathen tour stood out for two reasons. It featured several selections from Bowie's latest release "Heathen" and was the first tour to feature the 1977 album Low, performed in its entirety.
In addition to all eleven songs from Low, Bowie mixed in three tracks from his iconic album "The Rise and Fall of Ziggy Stardust and the Spiders from Mars," along with Hunky Dory's "Life on Mars" and Earthling's "I'm Afraid of Americans".
Jan. 19, 2004, at the Fillmore Auditorium – 2004's Reality Tour was Bowie's last, and also his most intimate tour in decades. Nearly 4,000 fans in attendance were treated to covers of The Beatles "A Hard Day's Night," Mott the Hoople's "All the Young Dudes" and the T-Rex classic "Bang a Gong (Get It On)."
The night featured tracks ranging from 1970ss "The Man Who Sold the World" up to his 2003 album "Reality." Fittingly, the final song Bowie ever played live in Denver was "Ziggy Stardust." If you were there, it was a night you'll never forget.
.
| | |
| --- | --- |
| | |
| David Bowie The Glass Spider Tour Boek part 1 | David Bowie The Glass Spider Tour Boek part 2 |
.
(Visited 90 times, 1 visits today)