David Bowie 1978-04-05 Oakland ,Coliseum Arena (16-Bit Remaster Learm).
Sound Quality Rating
01 audience.flac
02 Warszawa.flac
03 "Heroes".flac
04 What In The World.flac
05 Be My Wife.flac
06 Jean Genie.flac
07 Blackout.flac
08 Sense Of Doubt.flac
09 Speed Of Life.flac
10 Breaking Glass.flac
11 Beauty And The Beast.flac
12 Fame.flac
13 Band Introductions – Five Years.flac
14 Soul Love.flac
15 Star.flac
16 Hang On To Yourself.flac
17 Ziggy Stardust.flac
18 Suffragette City.flac
19 Rock & Roll Suicide.flac
20 Art Decade.flac
21 Station To Station.flac
22 Stay.flac
23 TVC 15.flac
Label: No label
Audio Source: audience
Lineage: Tape > Technics Rs-bx501
Total running time: 1:42:24
Sound Quality : Much noise ,dull ,but still good listened to
Attendance: 14.200
Artwork: by MossGarden
Remaster: by Learm
It is a good tape,
but in spite of it's good sound quality it is hard to understand what Bowie says when he is addressing the audience,e.g. after Fame,when he says more than just the information that there will be a 10-minute break. "Good evening San Francisco" he says,when after the intermis­sion he has returned on stage,"I'd personally like to – ah, well thank you very much! – I'd like to introduce you to the members of the band",and after this intro he says some more, but that is unintelligible. In a very low voice,almost whispe­ring, Bowie says: "W'll continue with a selectior. of very old songs" and the audience respond with enthusiasm which gets even greater when Five Years begins.
Rebel Rebel is missing from the tape.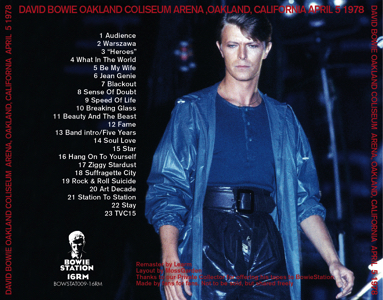 Tour band 1978 – The Low and Heroes World Tour :
David Bowie – vocals, chamberlain
Adrian Belew – lead guitar, backing vocals
Carlos Alomar – rhythm guitar, backing vocals
George Murray – bass guitar, backing vocals
Dennis Davis – drums, percussion
Roger Powell – keyboards, synthesizer, backing vocals (except 11–14 November 1978)
Dennis Garcia – keyboards, synthesizer (11–14 November 1978 only)
Sean Mayes – piano, string ensemble, backing vocals Simon House – electric violin
.
.
(Visited 363 times, 1 visits today)