David Bowie 1978-04-17 Chicago ,Arie Crown Theatre (Learm Remaster) (SW)
Sound Quality Rating
date on the cover is wrong, it is definitive 17-04-1978
01. Warszawa.flac
02. "Heroes".flac
03. What In The World.flac
04. Be My Wife.flac
05. Jean Genie.flac
06. Blackout.flac
07. Sense Of Doubt – Cut.flac
08. Speed Of Life.flac
09. Breaking Glass.flac
10. Beauty And The Beast.flac
11. Fame.flac
12. Band Introductions.flac
13. Five Years.flac
14. Soul Love.flac
15. Star.flac
16. Hang On To Yourself.flac
17. Ziggy Stardust.flac
18. Suffragette City.flac
19. Rock'n'Roll Suicide.flac
20. Art Decade.flac
21. Alabama Song.flac
22. Station To Station.flac
23. Stay.flac
24. TVC 15.flac
25. Rebel Rebel.flac
Label: No label
Audio Source: audience
Lineage:
Total running time: 1:38:55
Sound Quality : Much noise ,dull ,but still good listened to
Attendance: 4.500
Artwork: by MossGarden.
Remaster > by Learm
Note: date on the cover is wrong, it is definitive 17-04-1978
Jumping Bowie :
During Breaking Glass Bowie Jumped down from the stage right into the audience , kissed a girl and climbed onto the stage unhindered.
At the end of the concert a girl managed to get onto the stage and hold Bowie, but she was dragged away by security guards.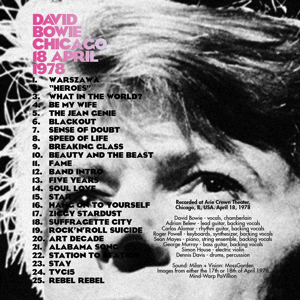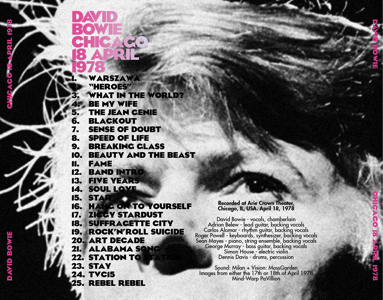 [sliderpro id="12″]
Tour band 1978 – The Low and Heroes World Tour :
David Bowie – vocals, chamberlain
Adrian Belew – lead guitar, backing vocals
Carlos Alomar – rhythm guitar, backing vocals (music director)
George Murray – bass guitar, backing vocals
Dennis Davis – drums, percussion
Roger Powell – keyboards, synthesizer ,Moog Taurus bass pedals ,backing vocals (except 11–14 November 1978)
Dennis Garcia – keyboards, synthesizer (11–14 November 1978 only)
Sean Mayes – piano, string ensemble, backing vocals Simon House – electric violin
Simon House – electric violin.
.
Remaster Info:
flac files from download -> Magix Music Cleaning Lab (remaster/re-edit) -> FLAC (44,1 kHz, 16 Bit, Stereo)
The original recording had the following flaws:
– sound of first half different from 2nd half (1st half with lower frequencies, 2nd half slightly overmodulated and hissy)
– some gaps between songs
– some cuts in songs, sometimes with new start from the same position
– track starts at wrong positions
– varying sound levels
These corrections were made:
– sound of 1st half: correction to slightly higher frequencies
– sound of 2nd half: correction to slightly lower frequencies
– gaps removed, double starts removed
– tracks newly edited
– sound levels adjusted
The track no. 7, Sense Of Doubt, it is only a fragment (53 seconds long).
Despite of all flaws and after the made corrections this is still a very listenable show and it is amongst the better ones of that tour.
(Visited 644 times, 1 visits today)