David Bowie 1976-05-07 London ,Wembley Empire Pool – Rock Show – (100pc British).
Sound Quality Rating
01. STATION TO STATION.wav
02. SUFFRAGETTE CITY.wav
03. FAME.wav
04. WORD ON A WING.wav
05. STAY.wav
06. WAITING FOR THE MAN.wav
07. QUEEN BITCH.wav
08. LIFE ON MARS.wav
09. FIVE YEARS.wav
10. PANIC IN DETROIT – BAND INTRODUCTION.wav
11. CHANGES.wav
12. TVC 15.wav
13. DIAMOND DOGS.wav
ENCORE
14. REBEL REBEL.wav
15. THE JEAN GENIE.wav
Label: 100% British
Audio Source: audience
Lineage:
Total running time: 1:13:16
Sound Quality : Much noise ,dull ,but still good listened to
Attendance: 8.000
Artwork: Yes.
It was a great concert and Bowie gave himself completely,which showed in all the towels covering his shoulders to dry his by now stripped torso.
Halfway the concert somebody threw an Isolar progranune onto the stage,and Bowie,probably loaded again, sat down on the board cross-legged and started reading it!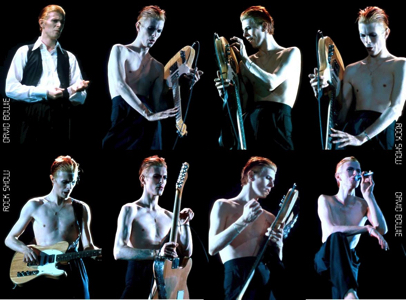 The Tour Band – The Station To Station Tour
• David Bowie – Vocals, saxophone
• Carlos Alomar – Rhythm guitar, music director,backing vocals
• Stacy Heydon – Lead guitar, backing vocals
• George Murray – Bass guitar, backing vocals
• Dennis Davis – Drums, percussion
• Tony Kaye – Keyboards
The band became known as "Raw Moon"
Crew
• Vern Moose Constan, Rob Joyce – Band technicians/personnel
• Lonnie McKenzie, Leroy Kerr, Lester Burton, Buddy Prewitt, Larry Sizemore – Lighting technicians/personnel
• Buford Jones, Scott Wadsworth – Sound technicians/personnel
.
.
(Visited 130 times, 1 visits today)