David Bowie 1974-10-30 New York ,Radio City Music Hall – New York RCMH 30.10.1974 – (Remaster).
Sound Quality Rating
Mike Garson Band:
01. Funky Music.flac
02. You Keep Me Hanging On.flac
03. I'm In The Mood For Love.flac
04. Stormy Monday.flac
05. Deep In The Heart Of Me.flac
06. Love Train.flac
07. Memory Of A Free Festival.flac
David Bowie :
08. Rebel Rebel.flac
09. John, I'm Only Dancing (Again).flac
10. Sorrow.flac
11. Changes.flac
12. Young Americans.flac
13. 1984.flac
14. Footstompin'.flac
15. Rock n' Roll With Me.flac
16. Love Me Do / The Jean Genie (only beginning).flac
17. Diamond Dogs (cuts in).flac
18. Moonage Daydream.flac
19. Can You Hear Me.flac
20. Somebody Up There Likes Me.flac
21. Suffragette City.flac
22. Rock'n'Roll Suicide .flac
Label: No label
Audio Source: audience
Lineage: Tape received from NICMAC
Total running time: 1:05:51
Sound Quality: Much noise ,dull ,but still good listened to
Attendance: 6.200
Artwork : By Learm.
Remaster : By Learm
Information: Bowie performs Footstompin' for the first time on this night.
The opening act was the Mike Garson band, who played :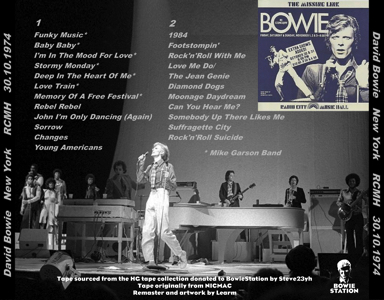 "Thank you very much ladies and gentlemen" one of the lady singers says after Stormy Monday. "You've been lovely. I'd like you to know that we really have enjoyed perfor­ming for you tonight.We love you and we'd love to come back, and we will".
At the end of Memory of the Free Festival Bowie is announced and the band starts playing Rebel Rebel. At the beginning of Sorrow Bowie says: "Good evening, thank you. It is a pleasure to be here. I want to ask you something. When I come to New York,I usually get a flu. Well,I got it again as usually,so if I sing a little … like that,I … but uhm … here it comes … Your long blond hair …" "This is the title song from the next album,it's called Young Americans" Bowie announces, and like the other new numbers this number is received well. Rock & Roll Suicide is sung beautifully and at the endd of the song Bowie calls in a husky voice: "Hey, and you're wonderful! Hey,and I'm wonderful! Yeah ,we're all won­derful! All you got to do is win,when you're trying not to loose …"
This was the first of a sequence of seven nights in New York and it is a great concert. However,not all the seven were as good: some of them started two hours late,Bowie was overtired. Actually only the first and the last were good concerts. Debo­rah Swamback from Rome ,New York saw the concert on Novemver I: "It only lasted fifty minutes,and tickets were $10.50 which was quite high a price back then,and my friends and I had tra­velled 250 miles to see Bowie,to return home imnediately after the concert. 500 Miles to see a fifty-minute show is a bit insane".
The Concert in Cleveland, November 6,lasted sixty minutes. It was proba­bly Bowie's exhaustion that started to get the better of him.
While still ostensibly part of the Diamond Dogs tour, this seven-night stand at Radio City Music Hall would present a completely different show, now referred to as "Philly Dogs" to denote the tour's drastic swing from proto-punk apocalyptic nightmare to r&b revue. To the confusion of fans dressed as Ziggy and Aladdin, Bowie had already ditched the tour's original concept — the elaborate set, which hadn't fared well on the first leg, wouldn't get farther than the West Coast — in favor of a band that included Robin Clark, Ava Cherry, and a pre-superstardom Luther Vandross on backing vocals (the backing band also performed a seven-song set of r&b material to open the show). All of Bowie's hits were reinterpreted through this soul-based filter, to varying results; reviews were overwhelmingly not positive. The band was great (with the addition of Carlos Alomar, and David Sanborn's role expanding due to the new arrangements), and the enthusiasm and desire was authentic, but there was just too much bombast. "Young Americans" is introduced as being from the forthcoming album, recorded back in August at Philly's Sigma Sound.
The Tour Band – The Soul / Philly Dogs Tour (October–December)
• David Bowie – vocals
• Mike Garson – piano, mellotron, music director
• Earl Slick – lead guitar
• Carlos Alomar – rhythm guitar
• David Sanborn – alto saxophone, flute
• Willie Weeks – bass
• Dennis Davis – drums
• Pablo Rosario – percussion
• Warren Peace – backing vocals
• Ava Cherry – backing vocals
• Robin Clark – backing vocals
• Anthony Hinton – backing vocals
• Diane Sumler – backing vocals
• Luther Vandross – backing vocals
.
(Visited 717 times, 1 visits today)