David Bowie 1973-05-24 London ,Lewisham Odeon – Lewisham Odeon 1973 –
Sound Quality Rating
101. Intro – Ode To Joy – Ode To Joy.wav
102. Hang On To Yourself.wav
103. Ziggy Stardust.wav
104. Watch That Man.wav
105. Medley. The Wild Eyed Boy From Freecloud – All The Young Dudes – Oh You Pretty Things.wav
106. Moonage Daydream.wav
107. Changes.wav
108. Space Oddity.wav
109. The Jean Genie.wav
110. Time.wav
111. The Width Of A Circle.wav
112. Let's Spend The Night Together.wav
113. Drive-In Saturday.wav
114. Suffragette City.wav
115. Cracked Actor.wav
116. Rock'n'Roll Suicide.wav
Bonus – Soundscheck (Recorded as 2 tracks)
201. Mick Ronson Guitar Jam.wav
202. Medley. The Wild Eyed Boy From Freecloud – All The Young Dudes – Oh You Pretty Things.wav
Label: No label
Audio Source: audience
Lineage:
Total running time: 1:18:01
Sound Quality : Much noise ,dull ,but still good listened toAttendance:
Artwork: Yes.
Just 5 weeks and 5 days before that fateful night at the Hammersmith Odeon on the Tuesday 3rd July 1973, where Bowie disbanded The Spiders and disowned Ziggy, until The Marquee Club the following October that is, Ziggy & The Spiders did a storming gig across the City in Lewisham. It was the first time that the new Medley of Wild Eyed Boy/Dudes/Pretty Things was played, obviously why they rehearsed it, Disc 2. Previously, the medley consisted of Qucksand/Life On Mars/ MOAFF. At the end of the show, after R'n'R Suicide, Bowie exclaims to the crowd *Thank you goodnight, see you again next year, goodbye"……………Lying ****
==============
"This is from the Aladdin Sane album, it's called Cracked Actor" is received with hysterical crics from the frantic British audien­ce. This is the first concert in which the substilu­tion for the Quicksand med­ley is played – in my opinion it is less good.
This is from a tape I was told was the master, or lowest gen recording. The rehearsal circulated despite being told I was getting something that hadn't been distributed at the time I got this, but I'm not sure the gig has?
The last I read on the topic is that the gig recording that circulates is average quality, but the recording here, while incomplete, is a lot better than that – it's very clear indeed.
Whether or not this is something exclusive or not, let's get some more Bowie circulating : the more that people seed slightly more unusual items, the more likely that others will follow.
Aside from some more unusual Bowie items (why hang onto them? no-one pays out for such things these days!), can anyone share this?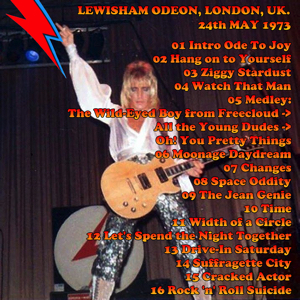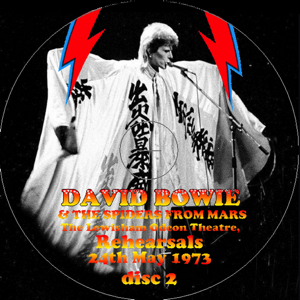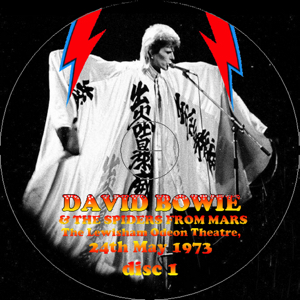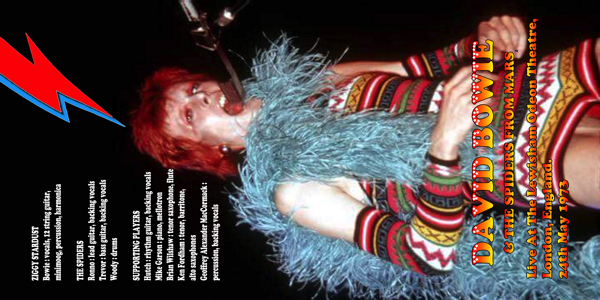 David Bowie Tour Band – The Ziggy Stardust Tour
David Bowie
– vocals, guitar, harmonica
Mick Ronson – guitar, vocals
Trevor Bolder – bass
Mick "Woody" Woodmansey – drums
Mike Garson – piano, mellotron, organ (22 September 1972 – end of tour)
John Hutchinson – rhythm guitar, 12-string acoustic guitar (8 Apr 1973 – 20 Apr 1973 – 3 July 1973)
Geoffrey A. MacCormack – backing vocals, percussion (19 January 1973 – end of tour)
Ken Fordham – saxophone (19 January 1973 – end of tour)
Brian Wilshaw – saxophone, flute (19 January 1973 – end of tour)
 
Crew
Robin Mayhew ,Will Palin ,Mick Hince ,Dean Heiser – Sound ,Ground Control ,Front of House Engineer ,Stage hands
Nigel Olliff, Nick Gilbey, Paul Normand and crew – Lights ,1972 Heavy Light ,1973 See Factor Industries NY Bob See ,Steve Hurston ,Mick Fussey
Peter Hunsley – Stage Equipment
Suzi Fussey – Wardrobe, Makeup and Hair
 
 
 

(Visited 40 times, 1 visits today)