David Bowie 2002-09-27 Bonn ,Museumsplatz – Bonn 2002 – (Openair concert) (Audience recording).
Video (1/5)
Audio (3,5/5)
Setlist (2:12:28):
01. Life On Mars?
02. Ashes To Ashes
03. Look Back In Anger
04. Survive
05. Breaking Glass
06. Cactus
07. China Girl
08. Slip Away
09. gimmick test
10. Fame
11. I'm Afraid Of Americans
12. 5:15 The Angels Have Gone
13. I've Been Waiting For You
14. Afraid
15. Fashion
16. Rebel Rebel
17. "Heroes"
18. Heathen (The Rays)
19. Sunday
20. I Would Be Your Slave
21. Moonage Daydream
22. A New Career In A New Town
23. Changes
24. Starman
25. Hallo Spaceboy
26. Let's Dance
27. Ziggy Stardust
Label : The Trvisbckle63 Video Donation Series
source: VHS cassette > Panasonic EZ48V VHS-DVD Combo
Video Format: MPEG2
Video Width: 720 pixels
Video Height: 576 pixels
Video Display aspect ratio: 4:3
Video Frame rate: 25.000 fps
Video Standard: PAL
Audio Format: PCM
Audio Sampling rate: 48,0 kHz
Menu: Yes
Chapters: Yes
DVD9: (double layer)
Language: English
Audio: Stereo
Region: All Regions
Country:
Released:
Time: 2:12:28 min
Artwork: Yes
The concert itself has quite some magic as Bowie is talking a lot and the atmosphere at the show was simply great.
I know it because this was the last time I saw the man. It was a very mild September night in the open air right in front of the museums.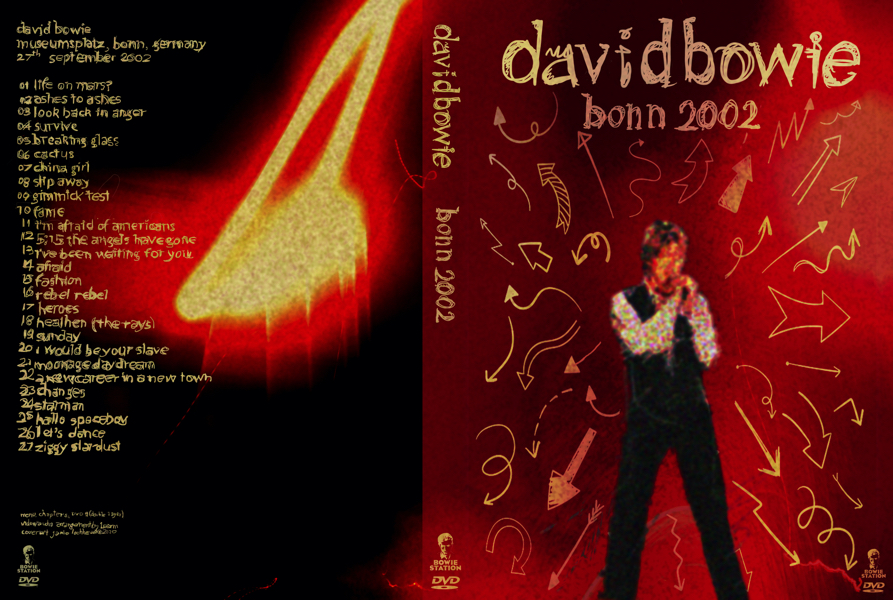 David Bowie Tour band 2002 Heathen Tour
The David Bowie Heathen Tour was a 2002 concert tour in support of the album, Heathen, and was also notable for the performances of all songs from the 1977 Low album.
Start date 11 June 2002
End date
23 October 2002
The Tour band
• David Bowie – vocals, acoustic guitar, harmonica
• Earl Slick – lead guitar
• Mark Plati – rhythm guitar, acoustic guitar, bass guitar, backing vocals
• Gail Ann Dorsey – bass guitar, rhythm guitar, clarinet, vocals
• Sterling Campbell – drums, percussion
• Mike Garson – keyboards, piano
• Catherine Russell – keyboards percussion backing vocals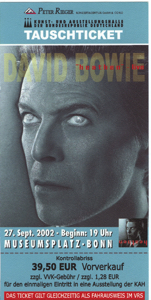 (Visited 12 times, 1 visits today)