David Bowie 1978-03-29 San Diego ,Sports Arena – Entrance –
Sound Quality Rating
101. Warszawa.flac
102. "Heroes".flac
103. What In The World.flac
104. Be My Wife.flac
105. The Jean Genie.flac
106. Blackout.flac
107. Sense Of Doubt.flac
108. Speed Of Life.flac
109. Breaking Glass.flac
110. Beauty And The Beast.flac
111. Fame.flac
201. band introductions.flac
202. Five Years.flac
203. Soul Love.flac
204. Star.flac
205. Hang On To Yourself.flac
206. Ziggy Stardust.flac
207. Suffragette City.flac
208. Rock'n'Roll Suicide.flac
209. Art Decade.flac
210. Station To Station.flac
211. Stay.flac
212. TVC 15.flac
213. Rebel Rebel.flac
Label: The Hunky Geordie Tapes – HUG117CD
Audio Source: audience
Lineage: TDK D60 tapes x 2 (Noggin) > Denon DRM-500 tape deck
Total running time: 1:43:25
Sound Quality : Much noise ,dull ,but still good listened to
Attendance: 15.000
Artwork: By steve23yh
The house lights were still on when David Bowie walked onto the stage. He wore a cream suit, introduces himself and says "Hi, I'm David Bowie" And then the magic started!
The show itself is a good performance all around, Bowie remembers just about all the lyrics (good for Rock N Roll Suicide). The taping crew is funny, belching into the mike during Be My Wife, and again weighing in during the band intros "appearing soon, the Gordon Stewart space band….." maybe Gordon was one of the tapers, who knows. I also like the opening night delays between songs, noticeable during the intro to Blackout and the Jean Genie, where Bowie says "Good Evening" before launching into Jean Genie, something he didn't do in other shows. On my copy there are a few nicks here and there, but nothing bad, Soul Love is missing about 30 seconds in the middle of the song which was probably a source tape cut/flip, Five Years suffers from some pretty decent warble, and Beauty and the Beast is shortened, as is Station to Station. I think these are just short versions not cuts. So try to bear with the quality and enjoy this show for what it is, until something better hopefully comes along. I am still hopeful that someday an upgrade may show up, or the Fresno show from April 2, or even a better copy of the Forum show from April 6th. These early tour shows are always unique and a fun listen. This Rock N Roll Suicide is very nice. As always from the Blackout archives.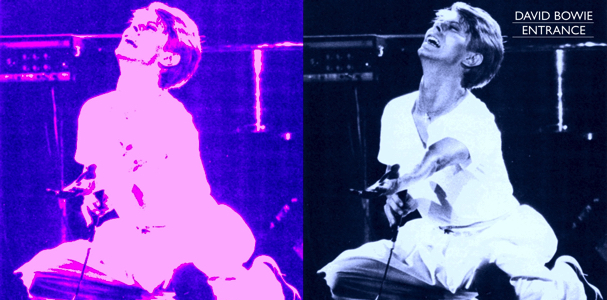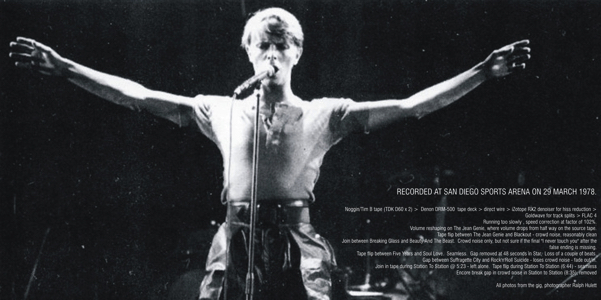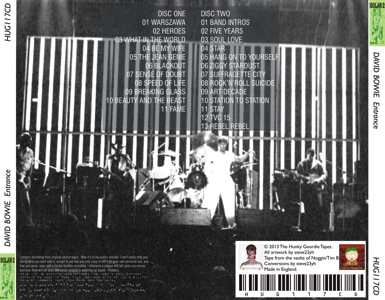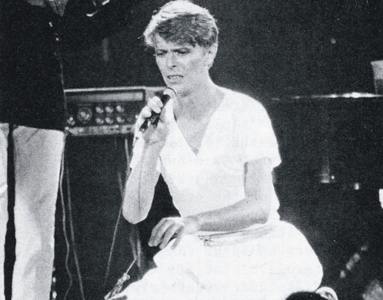 Tour band 1978 – The Low and Heroes World Tour :
David Bowie – vocals, chamberlain
Adrian Belew – lead guitar, backing vocals
Carlos Alomar – rhythm guitar, backing vocals (music director)
George Murray – bass guitar, backing vocals
Dennis Davis – drums, percussion
Roger Powell – keyboards, synthesizer ,Moog Taurus bass pedals ,backing vocals (except 11–14 November 1978)
Dennis Garcia – keyboards, synthesizer (11–14 November 1978 only)
Sean Mayes – piano, string ensemble, backing vocals Simon House – electric violin
Simon House – electric violin.
.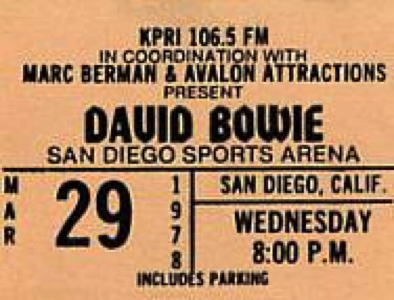 note
iZotope RX2 denoised for hiss reduction.
Running too slowly. Speed correction with factor of 104%.
Volume reshaping on The Jean Genie, where volume drops from half way on the source tape.
Tape flip between The Jean Genie and Blackout – crowd noise, reasonably clean
Join between Breaking Glass and Beauty And The Beast. Crowd noise only, but not sure if the final "I never touch you" after the false ending is missing.
Tape flip between Five Years and Soul Love. Seamless.
Gap removed at 48 seconds in Star. Loss of a couple of beats.
Gap between Suffragette City and Rock'n'Roll Suicide – loses crowd noise – fade out/in
Join in tape during Station To Station @ 5:23 – left alone
Tape flip during Station To Station (6:44) – seamless
Encore break gap in crowd noise in Station to Station (8:35), removed
(Visited 689 times, 1 visits today)