David Bowie 1978-04-09 Houston ,The Summit – Summit –
Sound Quality Rating
101 Warszawa.flac
102 "Heroes".flac
103 What In the World.flac
104 Be My Wife.flac
105 The Jean Genie.flac
106 Blackout.flac
107 Sense Of Doubt.flac
108 Speed Of Life.flac
109 Breaking Glass.flac
110 Beauty And The Beast.flac
111 Fame.flac
201 band introductions.flac
202 Five Years.flac
203 Soul Love.flac
204 Star.flac
205 Hang On To Yourself.flac
206 Ziggy Stardust.flac
207 Suffragette City.flac
208 Rock'n'Roll Suicide.flac
209 Art Decade.flac
210 Station To Station.flac
211 Stay.flac
212 TVC 15.flac
Label: from The Hunky Geordie Tapes – HUG193CD
Audio Source: audience
Lineage: TDK SA60 x 2 (arcorman)
Total running time: 1:37:03
Sound Quality : very good. Equals record or radio apart from a slight noise and some dullness.
Attendance: 16.000
Artwork: by steve23yh.
Great tape,
for its quality is so good that Bowie's singing as well as all the instruments can be heard with great clarity. The numbers are played to perfection,apart from a minor mistake by Adrian Belew in Be My Wife. The audience in this arena are exultant, and after Jean Genie a man calls out encouragingly "Allright baby, allright!".
"I'd like to introduce you to the members of my band. On piano Sean Mayes. On electric violin Simon House. On rhythm guitar Carlos Alomar. On percussion Dennis Davis". Upon his introduction,Dennis strikes a cymbal. "What's that again?" asks Bowie,and Dennis replies by another sroke on that cymbal. Laughing,Bowie continues: "Haha,on bass guitar George Murray, on hundreds of synthesizers,haha,Roger Powell. And on several guitars,Adrian Belew". Then he tells the audience that he is going to play songs from the Ziggy Stardust LP. For many people Ziggy Stardust remains the best LP,so the,audience's response is overwhelmine. When Bowie sings "Pushing through the market square" the audience go absolutely out of their senses! A man – totally overwhelmed – says "Oh.no!" ,evidently unable to believe what is happening to him.
Just before Stay starts , a man calls "Eno ,hey Eno!"; probably like the other man in San Diego,he thought Eno was on stage. Then starts an excellent version of Stay ,played with vigour, slightly faster than usual.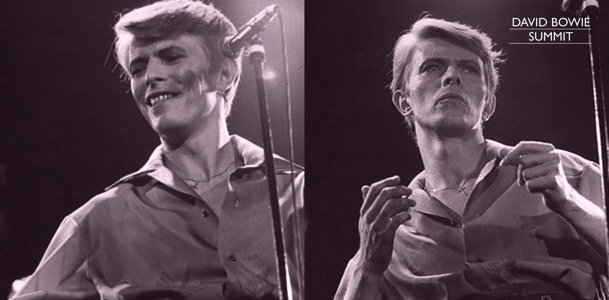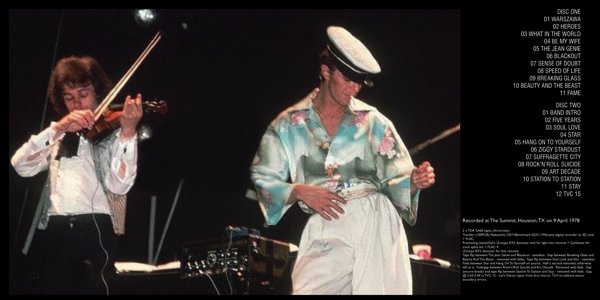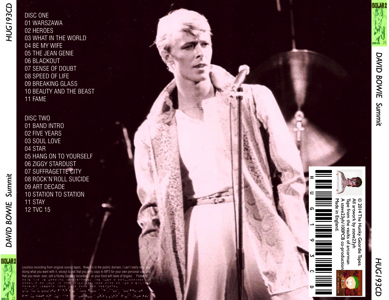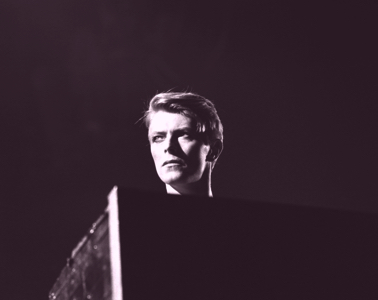 Tour band 1978 – The Low and Heroes World Tour :
David Bowie – vocals, chamberlain
Adrian Belew – lead guitar, backing vocals
Carlos Alomar – rhythm guitar, backing vocals (music director)
George Murray – bass guitar, backing vocals
Dennis Davis – drums, percussion
Roger Powell – keyboards, synthesizer ,Moog Taurus bass pedals ,backing vocals (except 11–14 November 1978)
Dennis Garcia – keyboards, synthesizer (11–14 November 1978 only)
Sean Mayes – piano, string ensemble, backing vocals Simon House – electric violin
Simon House – electric violin.
=======================
Notes
iSotope RX2 denoiser for hiss removal.
A little fast. Speed correction with a factor of 96%.
Tape flip between The Jean Genie and Blackout – seamless.
Gap between Breaking Glass and Beauty And The Beast – removed with fades.
Tape flip between Soul Love and Star – seamless.
Fade between Star and Hang On To Yourself on source. Half a second removed, otherwise left as is.
Fade/gap between Rock'n'Roll Suicide and Art Decade. Removed with fade.
Gap (encore break) and tape flip between Station To Station and Stay – removed with fade.
Gap @ 2:43-2:44 in TVC 15 – Let's Dance repair from first chorus.
Sector Boundary Errors fixed with TLH.
(Visited 595 times, 1 visits today)