David Bowie 1976-05-05 London ,Wembley Empire Pool – David Winston Bowie –
Sound Quality Rating
101. Station To Station.flac
102. Suffragette City.flac
103. Fame.flac
104. Word On A Wing.flac
105. Stay.flac
106. Waiting For The Man.flac
107. Queen Bitch.flac
108. Life On Mars.flac
109. Five Years.flac
201. Panic In Detroit.flac
202. band introductions.flac
203. Changes (1).flac
204. Changes (2).flac
205. TVC 15.flac
206. Diamond Dogs.flac
207. Rebel Rebel.flac
208. The Jean Genie.flac
Label: from The Hunky Geordy Tapes – HUG040CD
Audio Source: audience
Lineage: TDK D90 (lo gen) > JVC PC-X96 deck
Total running time: 1:31:19
Sound Quality: Much noise ,dull ,but still good listened to
Attendance: 8.000
Artwork: By steve23yh.
Bowie talks about "very good brandy" and I think he is soaked again. For a moment the audience are nonplussed when Bowie says: " ….my name is Winston Churchill and this one's called Changes ….still don't know what I was waiting for,and my time … hold it. T told you a lie. My name is David Bowie,good evening. This is called Changes".
This is a marvellous tape!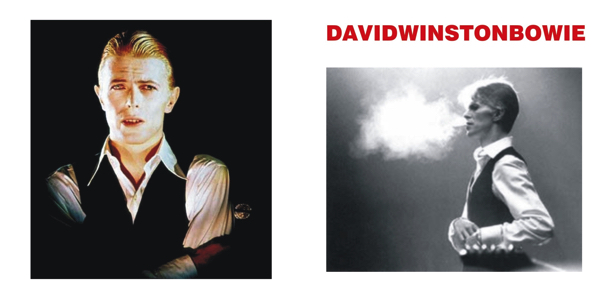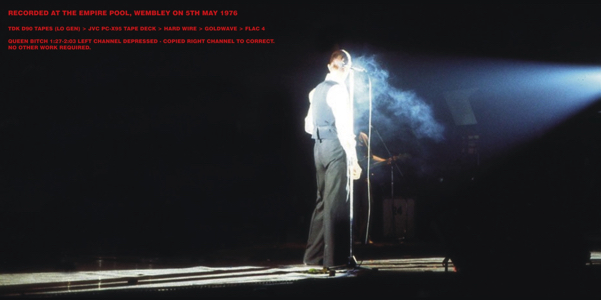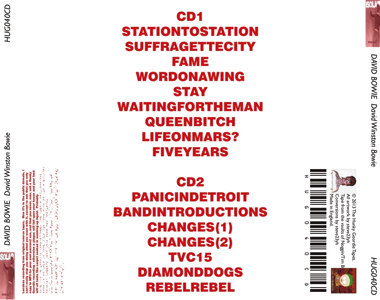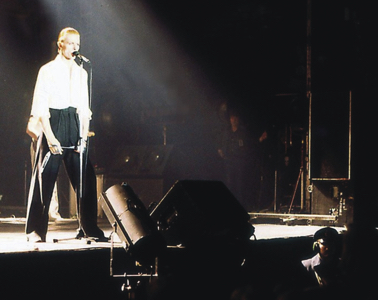 The Tour Band – The Station To Station Tour
• David Bowie – Vocals, saxophone
• Carlos Alomar – Rhythm guitar, music director,backing vocals
• Stacy Heydon – Lead guitar, backing vocals
• George Murray – Bass guitar, backing vocals
• Dennis Davis – Drums, percussion
• Tony Kaye – Keyboards
The band became known as "Raw Moon"
Crew
• Vern Moose Constan, Rob Joyce – Band technicians/personnel
• Lonnie McKenzie, Leroy Kerr, Lester Burton, Buddy Prewitt, Larry Sizemore – Lighting technicians/personnel
• Buford Jones, Scott Wadsworth – Sound technicians/personnel
.
===========================
Fix Notes:
Queen Bitch from 1:27 to 2:03 left channel depressed – copied right channel to correct.
(Visited 549 times, 1 visits today)