David Bowie 1976-03-21 Springfield ,Civic Center – Station to Springfield –
Sound Quality Rating
101. Station to Station.flac
102. Suffragette City.flac
103. Fame.flac
104. Word on a Wing.flac
105. Stay.flac
106. Waiting for the Man.flac
107. Queen Bitch.flac
108. Life on Mars.flac
109. Five Years.flac
110. Panic in Detroit.flac
111. Band Introductions – Changes.flac
212. Rebel Rebel.flac
213. Diamond Dogs.flac
214. TVC154.flac
215. Jean Genie.flac
Label: Neo Records
Audio Source: audience
Lineage:
Total running time: 1:21:22
Sound Quality: Much noise ,dull ,but still good listened to
Attendance: ???
Artwork: Yes.
beautiful execution of "Jean genie" and "Changes"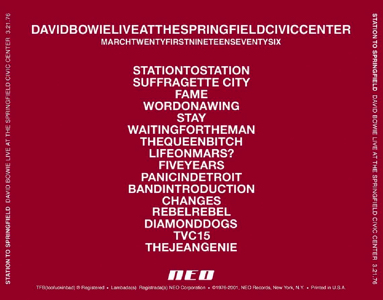 The Tour Band – The Station To Station Tour
• David Bowie – Vocals, saxophone
• Carlos Alomar – Rhythm guitar, music director,backing vocals
• Stacy Heydon – Lead guitar, backing vocals
• George Murray – Bass guitar, backing vocals
• Dennis Davis – Drums, percussion
• Tony Kaye – Keyboards
The band became known as "Raw Moon"
Crew
• Vern Moose Constan, Rob Joyce – Band technicians/personnel
• Lonnie McKenzie, Leroy Kerr, Lester Burton, Buddy Prewitt, Larry Sizemore – Lighting technicians/personnel
• Buford Jones, Scott Wadsworth – Sound technicians/personnel
.
News of the day:
David Bowie rocks Springfield Civic Center hours after his March 21, 1976 arrest in New York
March 21, 1976 did not start off as a particularly great day for David Bowie.
Around 3 a.m., four Rochester, New York, police detectives and a state police officer searched Bowie's three-room suite at the Americana Rochester Hotel, where they found a little more than six ounces of marijuana. Bowie and pal Iggy Pop, were taken to the Monroe County Jail, booked on fifth-degree criminal possession of marijuana, punishable by up to 15 years in prison, and released at about 7 a.m. on $2,000 bond.
Bowie was to be arraigned the next day, but his lawyer successfully argued for a delay until March 25, noting Bowie would face stiff penalties if he missed the gig at the Springfield Civic Center.
So, a little more than 12 hours after leaving the Monroe County Jail, Bowie was performing before 6,752 fans in the City of Homes.
The concert began with a showing of the 1928 surrealist film "Un Chien Andqalou" ("Mad Dog") before the music got underway.
Over the course of the next 90 minutes, Bowie, dressed as a dapper man-about-town, treated fans to hits like "Fame," "Changes" and "Life On Mars."
No mention was made of the arrest – and a grand jury later chose not to indict Bowie or Pop on drug charges.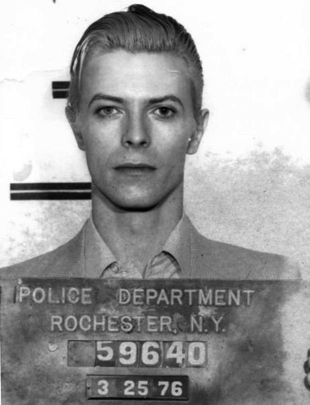 (Visited 638 times, 1 visits today)