David Bowie 1976-03-17 Boston ,New Boston Garden Arena – Some Kind Of Glow –
Sound Quality Rating
101. Station To Station.flac
102. Suffragette City.flac
103. Fame.flac
104. Word On A Wing.flac
105. Stay.flac
106. Waiting For The Man.flac
107. Panic In Detroit.flac
108. Diamond Dogs.flac
109. Rebel Rebel.flac
110. The Jean Genie.flac
Label: from The Hunky Geordie Tapes – HUG076CD
Audio Source: audience
Lineage: TDK SA90 tape (arcorman) > Denon DRM-500 tape deck
Total running time: 0:56:53
Sound Quality : Much noise ,dull ,but still good listened to
Attendance: 8.000
Artwork: steve23yh.
Note : Not Frankfurt but Boston!!!!!!!
The instrumental start of Station to Station for one. Then,halfway Waiting For the Man is is inter­rupted and continues with Panic in Detroit : Queen Bitch,Life on Mars and Five Years are missing altogether. After Panic in Detroit the tape is interrupted again and continues with Dia­mond Dogs; the band intro,Changes and TVC15 are missing.
After Diamond Dogs ,Rebel Rebel and The Jean Genie ,and here too part is missing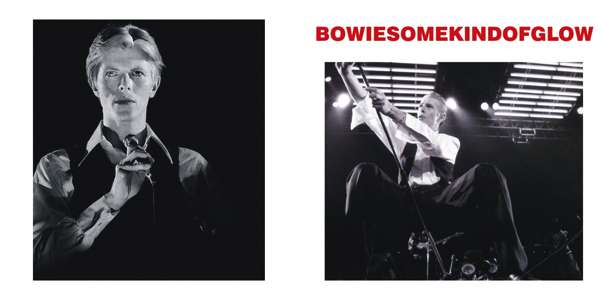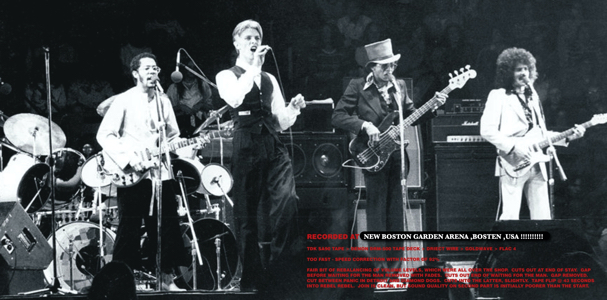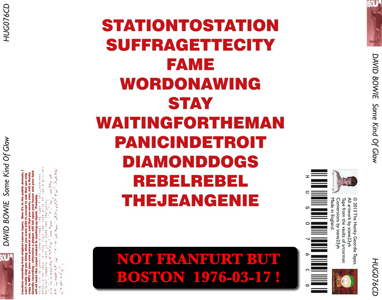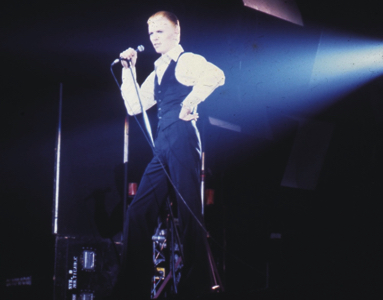 The Tour Band – The Station To Station Tour
• David Bowie – Vocals, saxophone
• Carlos Alomar – Rhythm guitar, music director,backing vocals
• Stacy Heydon – Lead guitar, backing vocals
• George Murray – Bass guitar, backing vocals
• Dennis Davis – Drums, percussion
• Tony Kaye – Keyboards
The band became known as "Raw Moon"
Crew
• Vern Moose Constan, Rob Joyce – Band technicians/personnel
• Lonnie McKenzie, Leroy Kerr, Lester Burton, Buddy Prewitt, Larry Sizemore – Lighting technicians/personnel
• Buford Jones, Scott Wadsworth – Sound technicians/personnel
.
s
============================
Notes
iZotope RX2 denoiser tool to dehiss.
Running too fast – speed correction with factor of 92%
Fair bit of rebalancing of volume levels, which were all over the shop.
Cuts out at end of Stay. Gap before Waiting For The Man removed with fades.
Cuts out end of Waiting For The Man. Gap removed.
Cut between Panic In Detroit and Diamond Dogs. Cuts into the latter, slightly.
Tape flip @ 43 seconds into Rebel Rebel. Join is clean, but sound quality on second part is initially poorer than the start.
Also on the same tape was the Linus Band set, allegedly from a couple of days later.
I toyed with including this, but decided not to for two very good reasons:
1. Generally agreed that it's a fake, and Bowie's not present on the recording, and
2. It's absolute shite.
(Visited 617 times, 1 visits today)