David Bowie Stardust from the 70's (Live recordings, outtakes and sessions) – SQ 6+
Sound Quality Rating
Track list
A1. Time
(1974-09-04 Los Angeles ,Universal Amphitheater).flac
A2. John, I'm Only Dancing
(1974-09-04 Los Angeles ,Universal Amphitheater.flac
A3. Right
(1974-09-04 Los Angeles ,Universal Amphitheater).flac
A4. Ziggy Stardust
(BBC sessions 16.5.1972).flac
A5. Five Years
(BBC sessions 16.5.1972).flac
B1. Rupert The Riley
(Recorded April 23 1971 Trident Studios).flac
B2. Ziggy Stardust
(3.7.1973-07-03 London ,Hammersmith Odeon).flac
B3. Space Oddity
(1974-07-02 Tampa ,Curtis Hixon Hall).flac
B4. Time
(1974-07-02 Tampa ,Curtis Hixon Hall).flac
B5. Ziggy Stardust
(3.7.1973-07-03 London ,Hammersmith Odeon).flac
B6. My Death
(3.7.1973-07-03 London ,Hammersmith Odeon).flac
Label : No label
Audio Source :
Lineage : Digital transfer from bootleg LP
Total running time : 0:29:21
Sound Quality : Not good ,much Noise ,very dull
Artwork : Yes
This admittedly not very lovingly made sampler has nevertheless some rare stuff which I have not seen elsewhere.
Unfortunately some of the tracks are only fragments which are faded in or out.
At the time I bought it (somewhere in the mid 80's) I was not aware of possible rarities on it and so I was rather frustrated when I played it on my turntable.
Starting with 3 tracks from the LA concert which preceeded the famous gig from 5.9.74 these tracks do not appear on the well known recordings from that day.
Right is only a fragment (0:37 min.) and it sounds rather as coming from a soundcheck.
Time is faded out and at the end there is a strange conversation snippet like coming from a radio ad.
John, I'm Only Dancing is faded in and only takes 1:33 min. The sound of these tracks is quite good.
The next 2 tracks are from the BBC sessions
Side B starts with Rupert The Riley and there are certainly better sounding versions of that.
Then there are really some "Oddities" apart from Space Oddity and Time coming from the Tampa 2.7.74 concert.
It starts with a fragment of Ziggy Stardust from the last Ziggy concert at Hammersmith. The song is faded in and out again.
Later on B-side there is another fragment of this song, faded in again and played until the end.
The last song of the bootleg is My Death also coming from the Hammersmith show. Again the song is faded in but at least is represented with 2:51 min. until the end of the song.
Now the "oddity" is that these Hammersmith tracks are coming neither from the now well knkown sbd nor from the His Master's Voice bootleg nor from the official release. Nevertheless the sound is very good. I would suppose that these tracks are either coming from the rumoured audience recording or from one of the radio broadcasts which then still included these 2 songs.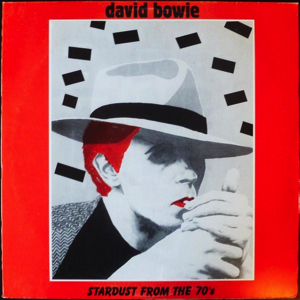 =====
Note
Digital transfer from bootleg LP (cover scans attached), sampler of various live and studio recordings:
Rec. Info:
bootleg LP -> transfer via Thorens TD 146 + Magix Music Cleaning Lab to harddisk (48 kHz, 24 Bit, Stereo) -> Magix Music Cleaning Lab (remaster/edit) -> FLAC (48 kHz, 24 Bit, Stereo)
(Visited 956 times, 1 visits today)