David Bowie Look Back In Anger (Compilation) (LP Rip)- SQ 6-8
Sound Quality Rating
A01. Starman
(Johnny Walker BBC Radio 22 May 1972) 4:11
A02. Drive-In Saturday
(Fort Lauderdale, The Pirates Cove, Miami 17 Nov 1972) 6:13
A03. Young Americans
(Dick Cavett Show 2 Nov 1974) 5:06
A04. Stay
(The Dinah Shore Show 3 Jan 1976) 4:54
A05. Five Years
(The Dinah Shore Show 3 Jan 1976) 5:30
B01. "Heroes"
(Top Of The Pops BBC TV 19 Oct 1977) 3:40
B02. What In The World?
Musikladen TV Show, Germany 30 May 1978) 4:20
B03. Look Back In Anger
(Dominion Theatre, London "Intruders at the Palace" Arts Charity Performance 1 Jul 1988) 7:27
B04. Never Let Me Down
(Inaugural show Top Of The Pops in US Aug 1987) 4:20
B05. Space Oddity
(London Press Conference, Rainbow Theatre, London 23 Jan 1990) 4:34
Label : Mister Jones (released 1990)
Audio Source :
Lineage : Vinyl LP
Total running time : 0:50:19
Sound Quality : Much noise ,dull ,but still good listened to
Artwork : Yes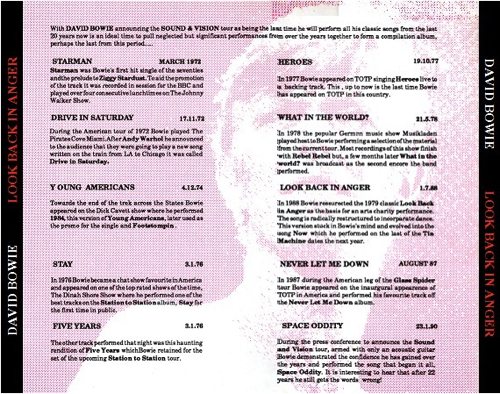 I transferred this from my vinyl copy of Look Back In Anger which I have had since its release.
I have removed as many of the 100's of vinyl clicks as I could.
The sound quality is most probably not the best for each song but it is ok.
Just before the track "Heroes" there are a few seconds of some strange conversation, possibly involving Davide Bowie but possibly an error.
I have reduced some of the gaps between tracks as they were sometimes up to 20 seconds long.
(Visited 693 times, 1 visits today)