[et_pb_section admin_label="section"][et_pb_row admin_label="row"][et_pb_column type="4_4″][et_pb_text admin_label="Text" background_layout="light" text_orientation="left" use_border_color="off" border_color="#ffffff" border_style="solid"]
David Bowie's lifelong friend and fellow musician Ava Cherry releases a new video covering her favourite Bowie song
Ava Cherry, former model and disco soul and rock singer known for albums including Streetcar Named Desire and Spend The Night, was a backing singer, close friend and former lover of music icon and GQ man of the year, David Bowie.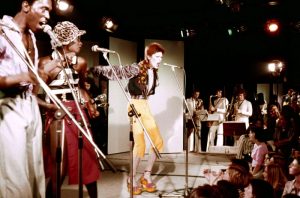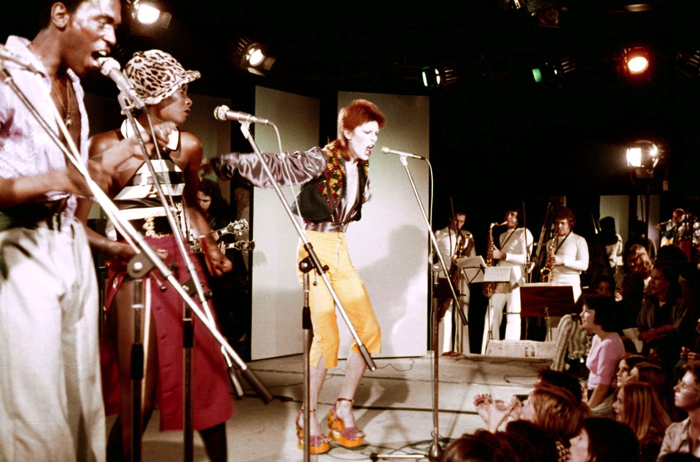 After meeting at a Stevie Wonder after-party and instantly hitting off, Bowie asked Cherry to work for him, and they were friends, collaborators and lovers from 1972 to 1975. Cherry featured on his album Young Americans, and, as a black woman, really gave Bowie the confidence to discover and explore his love of soul music – which explains the RnB feel to Young Americans, often called his "plastic soul" album, in which Cherry's voice can be heard in harmony with Luther Vandross's. Earlier this week, Cherry released a video cover of her favourite Bowie song, "Moonage Daydream", and GQ spoke to the singer to find out more about her friendship and love for Bowie.
.
Why did you choose Moonage Daydream as your Bowie tribute?
"When David and I first met in New York and he asked me to go to dinner with him, he asked me, "so have you listened to the Space Oddity album? What was your favourite song?" And I said "Moonage Daydream". And he was like, "really?!" I just loved how it was so melodic, and it made me feel kind of sad, and yet also not sad, I cant explain it. But I like songs with a lot of melody. So when he passed away, everyone was doing "Life On Mars" as their tributes, and I said to myself that I would sing the song that when I met him I told him I loved. The song was like my connection with him, it was him talking about space and being a space invader in my ear – like I had this secret alien guy. So I did a tribute to him in Chicago at a very famous club called The Metro, and it went up when I sang it. Everyone was so into it. So I thought, wow, ok I'm going to record that again. So that's what I did."
Did Bowie ever sing Moonage Daydream for you privately?
"Yes sometimes, when we would be joking around, he would go, "freak out in a moonage daydream!" It was so sweet. We lived together for a while, and I would always go around singing it, and whenever he would say the words, and I would crack up. When I saw him perform it, I always saw it as like my own private song, our own private joke."
What lyrics do you particularly like from Moonage Daydream?
""I'm the space invader, I'll be a rock 'n' rollin' bitch for you" as well as "Keep your 'lectric eye on me babe/Put your ray gun to my head"… I love those lines. He was like this friendly alien in his wonderful fantasy world. He was Ziggy Stardust, he was Starman, they were both so much a part of his spirit. He really was that character. And he just lived it. The way he was dressed was so different from everybody. He had that glam rock, space invader look. He even got me some space style clothes – this beautiful blue satin dress for example. My fans started calling me "Black Baraberella" as a result, because I started to remind them of Jane Fonda in the film Barbarella. David loved the way I dressed because I never copied fashion, despite being a model. He loved my hair blonde for example. I would always wear what would make me feel great."
What was your vision for the video?
"I listened to David's original version and found it was really keyboard heavy.In my tribute I wanted the guitars to sound royal. I liked the piano in it, but it didn't sound as regal as I wanted it to be. Then I wanted the video to look psychedelic, like it was from the Sixties. I wanted to look rocked out, wearing stuff like from The Who. It was the look I knew David would happy with – a little bit outside of the box. I felt it was risky and it paid off. I'm not one of those people who tries to function inside the box. David taught me that. I also wanted the extraterrestrial vibe, because it was like the movement of him being somewhere up there in the heavens and looking down on us and admiring the music he left behind."
Does your song improve on Bowie's original?
"From what I've been told, yes! David used to say to me, when he thought I'd done something really cool, "who's a clever girl then! Who's a clever girl!" And I think he would be saying that to me right now. There aren't a lot of people who experienced what I experienced with him, which was the music as well as the love. I experienced David as my mentor, my lover and as my friend. I had the whole experience."
What is your fondest memory of being with Bowie?
"It must have been when we spent eight months in Paris together in 1974. This began the most beautiful relationship of my life. We were in love at that point, and in Paris. We spent a week in Chateau d'Hérouville, and that's when he first started to get to know me as an artist, in this beautiful 17th century recording studio in dauville. The second fondest memory was on my 21st birthday, and he was performing, he told the whole audience it was my birthday. He said, "Miss Ava Cherry is 21 today!" and then he dedicated the song "When You Rock and Roll With Me" to me. I enjoyed that a lot."
What was your favourite aspect of Bowie's character?
"When I first saw him on the cover of a record, I thought he was so handsome. And at that point his hair was green. I thought he was sexy, and I had never dated a foreign person before. When I actually met him and he spoke in this beautiful British accent that was it. From the very minute he said "how do you do?" I was gone. I thought he was a total gentleman. I was totally taken by his charm. When he would smile or say goodnight to you it was very beautiful and very sincere. I also felt like I had a strong man – someone that was smart, someone who I could learn from. I may have been more street smart than he was, but he brought the intellectual side to me that I have now. He'd say all these things to me and I'd retain them. He would listen to a record and instantly know it was Vivaldi, for example. Or we would be watching Metropolis on television and he would tell me about Fritz Lang and German Expressionism. He was so wonderful."
Ava Cherry reminisces about her collaboration with David Bowie


[/et_pb_text][/et_pb_column][/et_pb_row][/et_pb_section]
(Visited 3,964 times, 1 visits today)