David Bowie 2004-03-11 Osaka ,Jo Hall – Struggling For Reality – SQ 8,5
101 Intro.flac
102 Rebel Rebel.flac
103 Hang On To Yourself.flac
104 New Killer Star.flac
105 Fame.flac
106 Cactus.flac
107 All The Young Dudes.flac
108 China Girl.flac
109 Reality.flac
110 5.15 The Angels Have Gone.flac
111 The Man Who Sold The Worls.flac
112 Hallo Space Boy.flac
113 Sunday.flac
114 Heathen (The Rays).flac
115 Under Pressure.flac
116 Slip Away.flac
201 Looking For Water .flac
202 Quicksand.flac
203 The Loneliest Guy.flac
204 Be My Wife.flac
205 Sound And Vision.flac
206 Ashes To Ashes.flac
207 I'm Afraid Of Americans.flac
208 "Heroes".flac
Encore:
209 Bring Me The Disco King.flac
210 A New Career In A New Town.flac
211 Five Years.flac
212 Suffragette City.flac
213 Ziggy Stardust.flac
Audience recording>cdr>eac>flac
143 min'
A great recording from the last of the Japanese shows.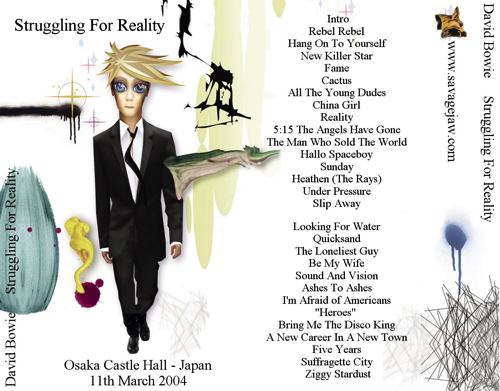 ADOBE AUDITION *
0. great audience recording that deserved a little TLC
1. created new fade/out at beginning/end of recording – no music missing
2. no tweaking
3. crossfaded files when needed to recreate the flow of the concert – no music missing
4. retracked
Personnel:
David Bowie – vocals, guitars, stylophone, harmonica.
Earl Slick – lead guitar.
Gerry Leonard – lead guitar, b-vocals.
Gail Ann Dorsey – bass, vocals.
Mike Garson – piano, keyboards.
Catherine Russel – b-vocals, percussion, keyboards & guitars.
Sterling Campbell – drums .
(Visited 464 times, 1 visits today)