David Bowie 2004-03-14 Hongkong ,Convention And Exhibition Centre – Reality In Hongkong 2004 – (Incomplete recording).
Sound Quality Rating
01. Intro.flac
02. Rebel Rebel .flac
03. Hang On To Yourself.flac
04. New Killer Star.flac
05. Fame.flac
06. Cactus.flac
07. All The Young Dudes.flac
08. China Girl.flac
09. Reality .flac
10. 5.15 The Angels Have Gone (9 sec.).flac
11. The man Who Sold The World ( 47 sec.).flac
12. Hallo Space Boy.flac
13. Sunday .flac
14. Heathen (The Rays).flac
15. Breaking Glass.flac
16. Fashion.flac
17. Ashes To Ashes.flac
18. "Heroes".flac
19. Let's Dance .flac
20. Five Years.flac
Label : No label
Audio Source : Audience recording
Lineage : Unknown
Taping Gear : Unknown
Taper: Unknown
Recording Location: Unknown
Total running time : 1:20:03
Sound Quality : Noise ,dull ,but still good listened to
Attendance : Unknown
Artwork : By JTB Artwork
Incomplete recording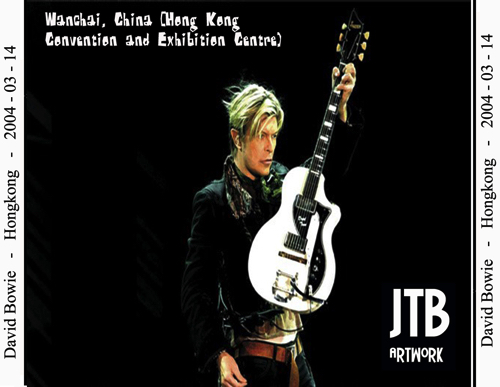 David Bowie – Reality Tour – Hang On To Yourself – Hong Kong 2004
David Bowie Live in Hong Kong, Reality Tour Review
David Bowie ends the Asia-Australia section of the "Reality" Tour in Hong Kong on March 14th 2004. With no support beforehand, the lights go off and an animated short of him and his band playing their instruments is projected on the video screen to loud cheers. A minute after, the real Bowie saunters on oozing charm and confidence that denote the definition of chill. Bowie smiles and lets his teeth take over his face, annunciate his wrinkles he's collected with his legendary hard partying and experimental lifestyle along with the days and months that has cumulatively passed, as he is 57 this year.
Regardless of age, and the fading beauty of his face, David Bowie as a whole, the man standing is sexy, very very sexy, mesmerizing so. Lean body, tall, long legged, hips swaying, knees bent over the always phallic guitar, he did not exude the sexual "fuck yous" of many a rock gods nor the feminine ways of beauty pageantry, just a solid beauty of a man you might wish to get to know as he passes by you, but have no chance in hell of catching his eye. Adding to the enigma is the most fantastic cut hair with bangs slightly falling into his eyes, framing his still perfectly chiseled face, as if done by Vidal Sassoon -the man and not the brand.
The comfort Bowie has being "with" the stage rather that "on," makes his show something to behold. He doesn't ask for worship, smiles much, and is relaxed. Playing his music as a matter of fact, with his low key on stage but semi-controversial band which includes the now infamous bassist/singer Gail Ann Dorsey for swearing at journalists at the Chap Lap Kok Airport in a Cindy Lauper fru-fru skirt, Drummer, Sterling Campbell, for being a Falun Gong member, sparking off rumours he may not be allowed into the city by over zealous immigration officials, along with Guitarists Earl Slick and Gerry Leonard, one who has been playing with him for exactly as long as I have been alive (30 years), the other jokingly quit a degree in Paleontoarcheology to join the tour, key boardist Mike Garson, and Catherine Russell, which Bowie described as "The only female band member that's never sworn at journalists" together exuding aura without any put on.
David Bowie's happiness to be there and his friendliness towards his audience washes over, and you too can't but help but smile. He knows he's different too, as he says, "I don't know why people shout when they get on stage…. As if they don't have a microphone." His lovers are simply the most good natured of any show I have ever been to, practically feeling like at a ballet. No feeding frenzy, no desperation to be loved back. Although not loudly responsive, the audience surely loves him, the applaud is steady, long and honest. The lyrics are known, and those around me obviously await each song from his massive repertoire of the last four decades. His first album released in 1964 and 25 others came after.
The range of audience was the most diverse I had seen in Hong Kong, with the added big names of Stanley Ho (who slept through part of it) and David Tang of Shanghai Tang. Starting at about 30 and onwards and upwards, a few children and teenager in tow, both Chinese, Expats and a Japanese fan or two who have flown all the way here to see the concert added up to maybe 10,000? It's hard to tell when the Convention Center has a stretchable audience capacity, whatever the real numbers are it is full house.
David Bowie opens with the statement, "Hello Hong Kong. You Crazy Mutherfuckers. It's nice to be back," in a conversational tone and continues the chatter throughout the show between each song.
The "back" is referring to his 1984 visit to Hong Kong, the last time he was "officially" in the city where he filmed the "China Girl" video. In it we see Bowie chasing around the alleyways a powdered face China girl with too red lipstick and intense electric blue eye shadow of the 80's intersected with the remake of the kissing scene "From Here to Eternity" nude to some controversy. My friend wondered if he would try his hand in his lone Mandarin song in the "Earthling at 50" album released in 1997. An obvious reference to the handover of Hong Kong to China from Britain, he asked a Hong Kong lyricist to pen the words. However what he actually tried to convey is lost on us, as his pronunciation remains a mystery. He didn't sing that, but he did sing his praises in the other song.
"My little China Girl
You shouldn't mess with me
I'll ruin everything you are
I'll give you television
I'll give you eyes of blue
I'll give you a man who wants to rule the world"
And finally in this life, I get to hear the song sang live by the man himself, rather than drunken imitators in bars around the world, trying to impress me, a serenade of the most cringe worthy quality.
Then in the short space of two hours, the range of sounds David Bowie's made as well as makes tells part of the history of rock and roll and records the inventions of electronic sound making devices.
First with the guitar and rock in the opening song (Rebel, Rebel), then colorful riffs of acid jam of glam rock from the seventies –which filled over half his set, peppered in between a few songs from the early eighties with the (then) ubiquitous electric organ (Let's Dance, Fashion). And as expected since no "retro" star concert is complete without their newer works that amazingly enough, those who stood by me, also knew the words to. Like all aging rock royalty, his newer music has a touch of pompousness, thankfully though Bowie doesn't.
His humour intact he plays with the audience, rambling on with a made up story or two, about crocodile skin bags and improvisational dance workshops, as he holds a circa 1970s electric organ, that he did and didn't buy on the fourth story building on Pedder Street. He suddenly uses it to play the opening cords of "Space Oddity" and sings,
"This is Ground Control to Major Tom
You've really made the grade
And the papers want to know whose shirts you wear
Now it's time to leave the capsule if you dare"
And just as the crowd is whipped up to greeting one of Bowie's most memorable songs, he stops, smiles, and goes into a story about the next one he is going to play, a new song called "Looking for Water," which brought me back to my first repeated encounter with David Bowie of one green eye and one blue (or was it brown?) as a pre-teen, as the title of the song was the premise of "The Man Who Fell on Earth." My first sci-fi book (I found in the library) and (edited for TV) movie I recorded which he starred. I watched and read countless times, creating nightmares, fear and fascination for both Bowie and the idea that a strange alien walked this earth, that one day I might meet, which I did in a round about way last night.
Bowie never did give up the image of the lone alien on the planet or at least the lone person in empty space -as he wrote and sang a new song about the one person who lives in the desolate city of Brazilia, sitting by himself on top of a building as the Amazon encroaches once again (The Loneliest Guy) from his recent album "Reality."
Throughout the concert he mentions his old and sometimes lost friends as a matter of course: John Lennon and Freddy Mercury and does a rendition of "Under Pressure" which he wrote with the latter. He nods at his compatriots still living, talking of the time when he and Iggy Pop were in New York watching children's TV show, while stoned, and launches into a song about the host. "Where are you now?" He muses, and when he finishes he snidely says "Some people just disappear and you don't know where they went, while others you do," obviously referring to his own superstar status.
Even if the man in front doesn't scream the David Bowie of the past, his choice of music and his anecdotes remind you who he really is, "The seventies, do you remember it or did you read about it? It was more fun than that. I can tell you." Whether he did it on purpose or it's merely who he is, there is no getting away that he was once at the very edge of existence, and much of what came after the world's first "concept" album, the image of rockers projecting something they are not had everything to do with Ziggy. Like it or not, acknowledged or not, once someone raises the bar, you have the choice to beat it, reference it or rebel against it and even if you choose to ignore it, there is no running away from Mr. Stardust. (That wasn't actually the first "concept" album, I read it somewhere and my reference is wrong. I stand corrected)
And even at this late stage, he does a tribute to those whose music which he was most enamored with in his youth and includes a Lou Reed and John Cale, Velvet Underground composition "White Light, White Heat", reminding me of the quote in Almost Famous, "So if Lou is doing Bowie, and Bowie is doing Lou, then Bowie is still being Bowie," said by the famed rock critic Lester Bangs, played by Phillip Seymour Hoffman.
Although David Bowie has more hits that can fill the two hours set without any trouble, he does another cover. The Pixie's, "Cactus," along with his own and actually original version of the "Man Who Sold The World."
The magic of the song now is none of us will hear Kurt Cobain's "real" "unplugged" version live ever again, and being able to hear the original by the person who actually wrote it is special. And Bowie knows that, as for many in the audience, the song is more Kurt Cobain's than his, and jokes about it by saying, "After the show, I get these kids come backstage and tell me it's nice I do a Nirvana song and I tell them, "That smells like Teen Spirit.""
It was so clever that it takes a moment to realize what he'd done and it is too late to laugh. He is David Bowie after all. Constantly changing, but still himself, he does things that are saying more than you notice, that might not be in the front and center, with a dash of humor, lots of thought, and before you realize exactly what it's about, he's got something new to confuse you a little.
Then the show is over, he comes back and plays a few songs from his Ziggy Days, and off he goes and we can only wonder of his new incarnation for next time.
David Bowie Tour band 2003-2004 A Reality Tour
A Reality Tour was a worldwide concert tour by David Bowie in support of the Reality album. The tour commenced on 7 October 2003 at the Forum Copenhagen, Denmark, continuing through Europe, North America, Asia, including a return to New Zealand and Australia for the first time since the 1987 Glass Spider Tour. Bowie retired from performing live in 2006, making this tour his last.
The tour grossed US$46 million, making it the ninth-highest-grossing tour of 2004.
The Tour band
• David Bowie – vocals and acoustic guitar
• Earl Slick – lead guitar
• Gerry Leonard – guitar, backing vocals
• Gail Ann Dorsey – bass guitar, vocals
• Sterling Campbell – drums, percussion
• Mike Garson – keyboards, piano
• Catherine Russell – backing keyboards/backing vocals
Start date 11 June 2002
End date 23 October 2002



(Visited 762 times, 1 visits today)