David Bowie 2004-02-17 Brisbane ,Entertaiment Centre – A Brisbane Reality Check –
Sound Quality Rating
101. Intro.flac
102. Rebel Rebel.flac
103. New Killer Star.flac
104. Reality.flac
105. Fame.flac
106. Cactus.flac
107. All the Young Dudes.flac
108. China Girl.flac
109. A New Career in a New Town.flac
110. The Lonliest Guy.flac
111. The Man Who Sold the World.flac
112. Hallo Spaceboy.flac
113. Sunday.flac
114. Band introductions.flac
115. Under Pressure.flac
216. Life on Mars .flac
217. Looking for Water.flac
218. Be my Wife.flac
219. Days.flac
220. White Light, White Heat.flac
221. Ashes to Ashes.flac
222. I'm Afraid of Americans.flac
223. "Heroes".lac
Encore:
224. Always Crashing in the Same Car.flac
225. Five Years.flac
226. Suffragette City.flac
227. Ziggy Stardust.lac
Label : Downunders Discs
Audio Source : Audience recording
Lineage : DAT
Taping Gear : Unknown
Taper: audiowhore
Recording Location: Unknown
Total running time : 2:01:23
Sound Quality : very good. Equals record or radio/TV apart from a slight noise and some dullness.
Attendance : Unknown
Artwork : Yes
Brisbane was the start of the Australian leg of the Reality tour, security was over zealous so it did take some time to track down a recording, released at the time as 'Sputnik goes all Brisvegas'.
This recently discovered source is an upgrade to this and if you are a compleatest and want higher quality audio then YOU WILL NOT BE DISAPPOINTED (this in no way denigrates Sputnik's effort, he's still a legend!!).
All The Young dudes ,The Loneliest guy (mike garson made this one… hes amazing) Days (not the best song, but he dedicated to a stool, and he sang the song… to the stool) Im Afraid Of Americans (played the nine inch nails remix… say no more!) Always Crashing in the same car, Be My Wife & A New Carreer In A New Town ,Sunday… ultra moody… fantastic…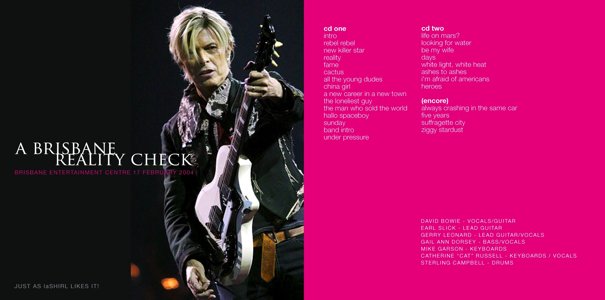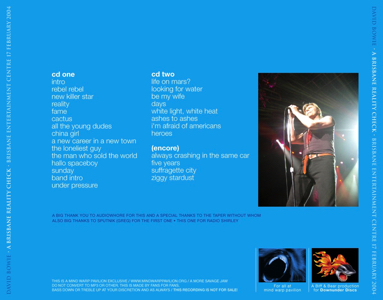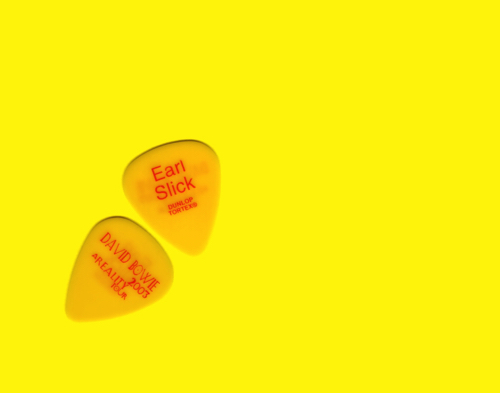 David Bowie Tour band 2003-2004 A Reality Tour
A Reality Tour was a worldwide concert tour by David Bowie in support of the Reality album. The tour commenced on 7 October 2003 at the Forum Copenhagen, Denmark, continuing through Europe, North America, Asia, including a return to New Zealand and Australia for the first time since the 1987 Glass Spider Tour. Bowie retired from performing live in 2006, making this tour his last.
The tour grossed US$46 million, making it the ninth-highest-grossing tour of 2004.
The Tour band
• David Bowie – vocals and acoustic guitar
• Earl Slick – lead guitar
• Gerry Leonard – guitar, backing vocals
• Gail Ann Dorsey – bass guitar, vocals
• Sterling Campbell – drums, percussion
• Mike Garson – keyboards, piano
• Catherine Russell – backing keyboards/backing vocals
Start date 11 June 2002
End date 23 October 2002



(Visited 472 times, 1 visits today)