David Bowie 2004-02-20 Sydney ,Entertainment Centre – No Laughing Gnome Stu –
Sound Quality Rating
101. Intro.flac
102. Rebel Rebel.flac
103. New Killer Star.flac
104. Reality.flac
105. Fame.flac
106. Cactus.flac
107. 5.15 The Angels Have Gone.flac
108. All The Young Dudes.flac
109. China Girl.flac
110. A New Career In A New Town.flac
111. The Loneliest Guy.flac
112. The Man Who Sold The World.flac
113. Hallo Spaceboy.flac
114. Sunday.flac
115. Band Introduction.flac
116. Under Pressure .flac
117. Life On Mars.flac
201. Looking For Water.flac
202. fantastic Voyage.flac
203. Days.flac
204. White Light White Heat.flac
205. Ashes To Ashes .flac
206. I'm Afraid Of Americans.flac
207. "Heroes".flac
208. I've Been Waiting For You.flac
209. Five Years .flac
210. Suffragette City.flac
211. Ziggy Stardust .flac
212. Bonus Track – Gail Ann Dorsey – Annedale Hotel 2004-02-19.flac
Label : Downunder Discs
Audio Source : Audience recording
Lineage : Unknown
Taping Gear : Unknown
Taper: Unknown
Recording Location: Unknown
Total running time : 2:09:50
Sound Quality : very good. Equals record or radio/TV apart from a slight noise and some dullness.
Attendance : 12.500
Artwork : Yes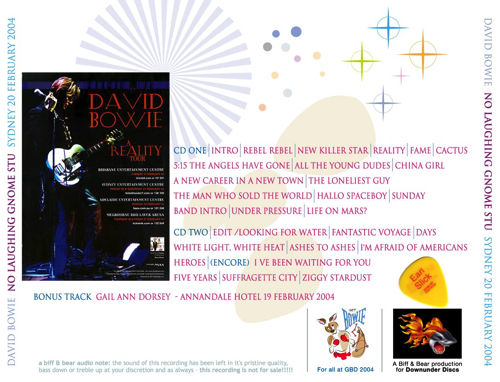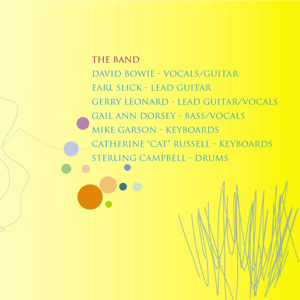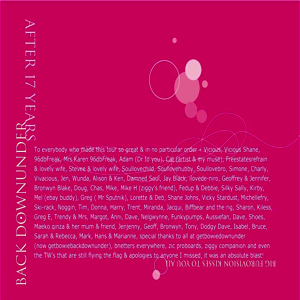 All Info From Bowie Downunder
In 2004, the 12,500 capacity Sydney Entertainment Centre held two back-to-back concerts of David Bowie's A Reality Tour.
Built in 1983 and situated on the fringe of Chinatown, the venue had previously staged no less than EIGHT Glass Spider shows (a personal record for Bowie in terms of most consecutive concerts at any one venue).
The two concerts in 2004, however, were no exercise in nostalgia – on the first night, Bowie debuted 'Fantastic Voyage', 'I've Been Waiting for You' and '5:15 Angels Have Gone' for the very first time on Australasian soil.
Bowie joked with the audience in a mock Australian accent:
"The new songs are OK, but I wish he'd do more oldies. He doesn't do many oldies does he?"
…. this followed with his 1972 smash hit 'All The Young Dudes'. As the song proceeded, Bowie noticed one person waving a pair of crutches…
"Crutches are waving the air. What more can you ask for? What an extraordinary country!".
David Bowie at Sydney Entertainment Centre.
During the band intro, Bowie recalled that his guitarist Gerry Leonard was once a professor of micropaleontology at Dublin University but threw it all away to play guitar!
"He's got some of the most amazing fossils.
That sounds really lewd doesn't it? I mean why should that sound lewd?
You want to see his fossils? But they're micro-fossils. They're tiny little – it's all that stuff that collects at the bottom of the ocean."
Bowie at Sydney Entertainment Centre.
The concert finished with a four song encore (the same as Brisbane but now substituting 'Always Crashing in the Same Car' for 'I've Been Waiting for You …. an appropriate song given the vast amount of time since his last concert on these shores!).
Following the final thank you, Bowie returned to the mic to announce:
"Great to be back….really great…… See some of you tomorrow."
David Bowie Tour band 2003-2004 A Reality Tour
A Reality Tour was a worldwide concert tour by David Bowie in support of the Reality album. The tour commenced on 7 October 2003 at the Forum Copenhagen, Denmark, continuing through Europe, North America, Asia, including a return to New Zealand and Australia for the first time since the 1987 Glass Spider Tour. Bowie retired from performing live in 2006, making this tour his last.
The tour grossed US$46 million, making it the ninth-highest-grossing tour of 2004.
The Tour band
• David Bowie – vocals and acoustic guitar
• Earl Slick – lead guitar
• Gerry Leonard – guitar, backing vocals
• Gail Ann Dorsey – bass guitar, vocals
• Sterling Campbell – drums, percussion
• Mike Garson – keyboards, piano
• Catherine Russell – backing keyboards/backing vocals
Start date 11 June 2002
End date 23 October 2002



(Visited 342 times, 1 visits today)