David Bowie 2004-04-13 Portland, Rose Garden Arena – Come Out Of The Garden Baby ! –
Sound Quality Rating
101. Intro.flac
102. Rebel Rebel.flac
103. Fashion.flac
104. New Killer Star.flac
105. Fame.flac
106. Cactus.flac
107. All the Young Dudes.flac
108. China Girl.flac
109. Hang On To Yourself.flac
110. A New Career in a New Town.flac
111. Be My Wife.flac
112. Never Get Old.flac
113. The Lonliest Guy.flac
114. The Man Who Sold the World.flac
115. Modern Love.flac
116. Hallo Spaceboy.flac
201. Sunday.flac
202. Heathen (The Rays).flac
203. Under Pressure.flac
204. Days.flac
205. Afraid.flac
206. Looking for Water.flac
207. Ashes to Ashes.flac
208. Quicksand.flac
209. I'm Afraid of Americans.flac
210. "Heroes".flac
ENCORE:
211. Five Years.flac
212. Suffragette City.flac
213. Ziggy Stardust.flac
Label : UlfDub
Audio Source : Audience recording
Lineage : Unknown
Taping Gear : Unknown
Taper: Unknown
Recording Location: Unknown
Total running time : 2:17:32
Sound Quality : Good. Equals record or radio/TV apart from a slight noise and some dullness.
Attendance : Unknown
Artwork : Yes
A GREAT CONCERT
The audience got what they came for, whether die hards like myself, or new fans, like my wife and 2 of my daughters, who appreciated the fact that less material was drafted from Reality, in favor of more songs they recognized. Parting comments from others included "Amazing" and"Phenomenal" to"I can only think of one or two other bands that even come close"!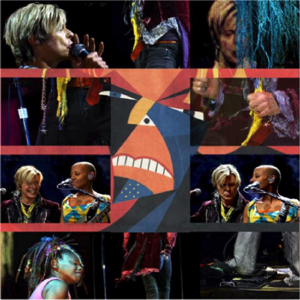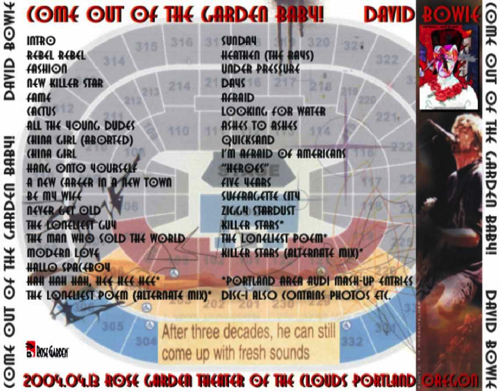 REVIEW : ulfdub(grinning soul)
the version of memory of a free festival (part 2-chorus only) came at the end of their set, then there was an intermission and the standard video "let's keep this going" jam opened BOWIE'S set.
I was really impressed by how strong David's voice was! The vocals on many of the songs were sung with the crispest inflection I ever heard. Bowie nailed the falsetto at the end of BE MY WIFE (just like my favorite version on "FOREVER YOURS"-Sydney 1978). I have not seen him for 35 years, but have kept pace through avid trading of video, vcd's and cdr's.
I first taped david in august of 1974, when the Hammersmith gig was re-broadcast on us tv and radio, My father was an artist, but he knew nothing of david and refused to allow me to view him on tv, so i taped the stereo simulcast and was transfixed…it was evident even then that this was no ordinary singer. I sensed theatre and art and science fiction and couldn't wait to buy the lps to find out what they were bleeping out (16 years old :).
It took another five years (and a pint of blood) to actually see him live. (san diego sports arena-march 13th? 1978) and that was the greatest concert I have ever been to until last night!
I remarked early on to my wife (who was attending her first concert ever),Bowie appears to be on fire tonight! and he was.
He absolutely reveled in the reception we gave him! After Rebel, Rebel, he remarked "I have NEVER been so enthusiastically recieved by AMERICANS"! The show just got better from there! He begged us to sing along on "ALL THE YOUNG DUDES", and then asked us to sing "CHINA GIRL". The band played a feww stanzas, David let us do the singing, then cut everyone short proclaiming our efforts to be "TRAGIC". "I better trade off with you.I'll do one and then you do one" He then restarted the song and sang it for us.
The whole show went off like a well oiled machine, similar to the outside and earthling tours that seemed to produce tighter more polished shows as the tour progressed. My wife commented that the band was "really tight" and "kept a good beat". She was also glad that he played more of his older songs that she recognized (like fame and china girl etc). To prepare my wife, I played the REALITY DVD, and when she remarked that she preffered his older material, I played her A&E, followed by the BBC 2000 gig.At the show, the Polyphonic spree promised us a "surprise" that david had tried during sound checks and I'm guessing that to be MODERN LOVE, which I did not expect, but it was a more upbeat, rock-driven version than any he's done before, and it really went off well. The die-hards among us kept the hollering going for Quicksand and Hallo Spaceboy, while the general audience rored for the radio hits. It was a great mix for all.
One last note: it was encouraging to see many young teenagers getting off on Im Afraid of Americans etc. I brought 2 of my own teenage daughters who went just to "see a concert" and left singing BOWIE'S praises! They particularly enjoyed "UNDER PRESSURE, ASHES to ASHES and HEROES". I must admit that I prepared them by showing them bits of the new DVD, then i showed my oldest the 1980 FLOORSHOW in it's entirety, followed by the strecth of "LOOKING FOR SATELLITES,UNDER PRESSURE and "HEROES" from the birthday bash, just prior to leaving the house. Previously I had shown them the video to ASHES to ASHES and LITTLE WONDER.Now that she's seen him in person, I found her on the internet checking out BOWIENET.
What more could a guy ask for in his daughter?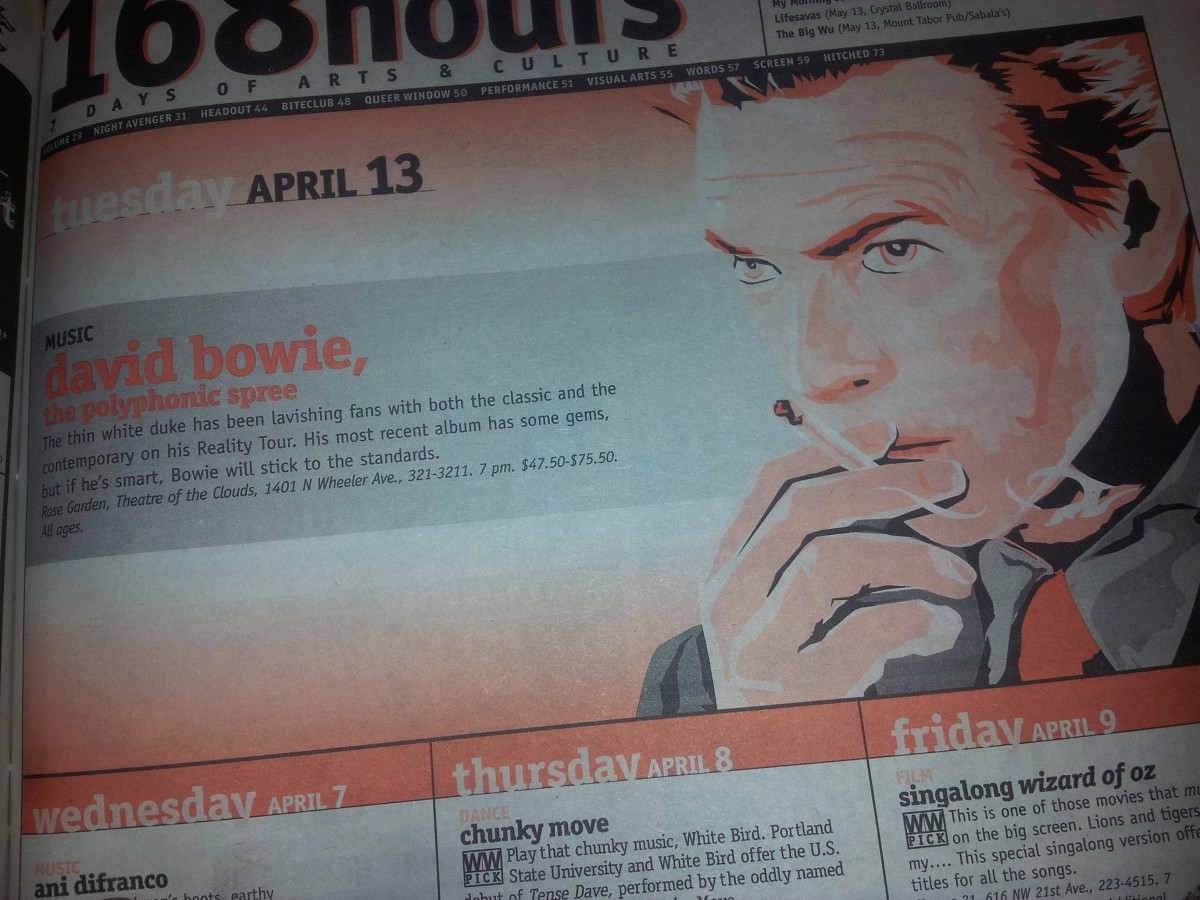 David Bowie Tour band 2003-2004 A Reality Tour
A Reality Tour was a worldwide concert tour by David Bowie in support of the Reality album. The tour commenced on 7 October 2003 at the Forum Copenhagen, Denmark, continuing through Europe, North America, Asia, including a return to New Zealand and Australia for the first time since the 1987 Glass Spider Tour. Bowie retired from performing live in 2006, making this tour his last.
The tour grossed US$46 million, making it the ninth-highest-grossing tour of 2004.
The Tour band
• David Bowie – vocals and acoustic guitar
• Earl Slick – lead guitar
• Gerry Leonard – guitar, backing vocals
• Gail Ann Dorsey – bass guitar, vocals
• Sterling Campbell – drums, percussion
• Mike Garson – keyboards, piano
• Catherine Russell – backing keyboards/backing vocals
Start date 11 June 2002
End date 23 October 2002



(Visited 606 times, 1 visits today)