David Bowie 2004-03-11 Osaka ,Jo Hall – A Reality In Osaka –
Sound Quality Rating
101. Intro.flac
102. Rebel Rebel.flac
103. Hang Onto Yourself.flac
104. New Killer Star.flac
105. Fame.flac
106. Cactus.flac
107. All The Young Dudes.flac
108. China Girl.flac
109. Reality.flac
110. 5-15 The Angels Have Gone.flac
111. The Man Who Sold The World.flac
112. Hello Spaceboy.flac
113. Sunday.flac
114. Heathen (The Rays).flac
115. Band Introductions.flac
116. Under Pressure.flac
201. Slip Away.flac
202. Looking For Water.flac
203. Quicksand.flac
204. The Loneliest Guy.flac
205. Be My Wife.flac
206. Sound And Vision.flac
207. Ashes To Ashes.flac
208. I'm Afraid Of Americans.flac
209. "Heroes".flac
ENCORE
210. Bring Me The Disco King.flac
211. A New Career In A New Town.flac
212. Five Years.flac
213. Suffragette City.flac
214. Ziggy Stardust.flac
Label : Label Wardour – 169
Audio Source : audience
Lineage : Original Silver CD
Taper: ???
Recording Location: The taper must have had a great location
Total running time : 2:24:40
Sound Quality : very good. Equals record or radio apart from a slight noise and some dullness.
Attendance : ???
Artwork : included 300DPI PNG
A great audience recording from the last of the Japanese shows!
This is the final show of the Reality Tour in Japan.The quality is very good indeed, and the taper must have had a great location as there is very little audience bleed.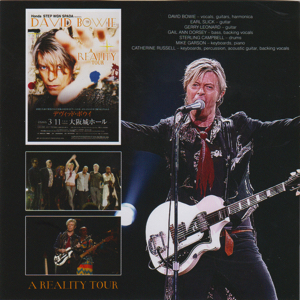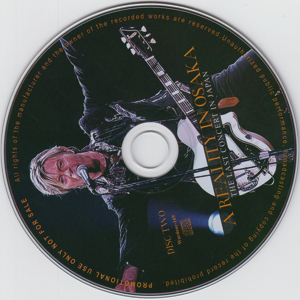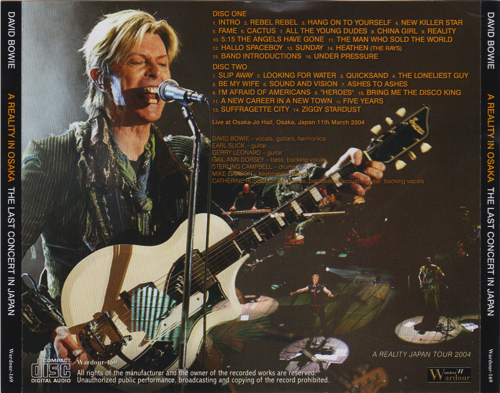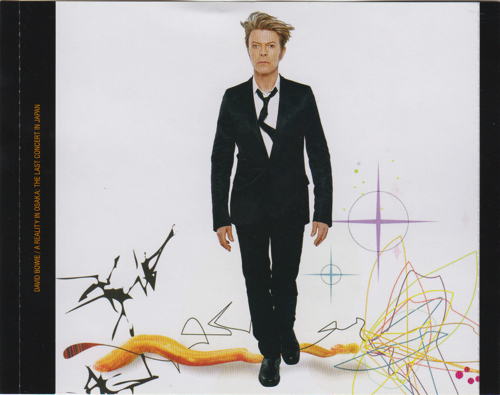 David Bowie In Osaka , March 11th, 2004
.
(Visited 518 times, 1 visits today)