David Bowie 2003-11-17 Manchester ,National Exhibition Centre – Never Gonna Be Enough –
Sound Quality Rating
– 01 REBEL REBEL.flac
– 02 NEW KILLER STAR.flac
– 03 REALITY.flac
– 04 FAME.flac
– 05 CACTUS.flac
– 06 AFRAID OF AMERICANS.flac
– 07 CHINA GIRL.flac
– 08 THE LONELIEST GUY.flac
– 09 THE MAN WHO SOLD THE WORLD.flac
– 10 HALLO SPACEBOY.flac
– 11 SUNDAY – BAND INTRODUCTIONS.flac
– 12 UNDER PRESSURRE.flac
– 13 LIFE ON MARS.flac
– 14 ASHES TO ASHES.flac
– 15 THE MOTEL.flac
– 16 LOVING THE ALIEN.flac
– 17 NEVER GET OLD.flac
– 18 CHANGES.flac
– 19 I'M AFRAID OF AMERICANS.flac
– 20 "HEROES".flac
– 21 FIVE YEARS.flac
– 22 SUFRAGETTE CITY.flac
– 23 ZIGGY STARDUST.flac
Label : No label
Audio Source : Audience recording
Lineage : Unknown
Taping Gear : Unknown
Taper: Unknown
Recording Location: Unknown
Total running time : 1:53:44
Sound Quality : Good. Equals record or radio/TV apart from a slight noise and some dullness.
Attendance : Unknown
Artwork : Artwork By Saloca 2003
Photos : MatianDust2002
David was in fine voice and had a bit of fun early on by teasing the audience for the less than energetic reception. He apparently joked that he was just back from Europe, and that Manchester had a lot to live up to, before delivering a rallying cry along the lines of: "C'mon kids, wake up! Your grandad?s here…" or words to that effect… .
I know the accuracy of that will be contested, as I've already been given several versions of what David actually said.
Anyway, the crowd soon rose to the occasion and it seems a top night was had by all.
Again the 23-song setlist was identical to that of the previous two shows and here it is: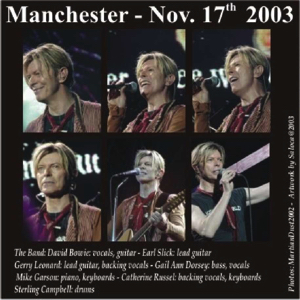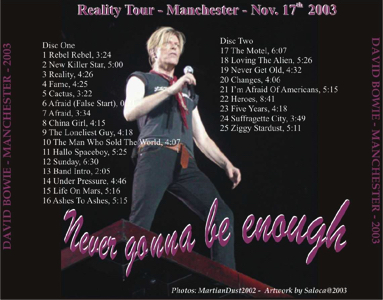 David Bowie Tour band 2003-2004 A Reality Tour
A Reality Tour was a worldwide concert tour by David Bowie in support of the Reality album. The tour commenced on 7 October 2003 at the Forum Copenhagen, Denmark, continuing through Europe, North America, Asia, including a return to New Zealand and Australia for the first time since the 1987 Glass Spider Tour. Bowie retired from performing live in 2006, making this tour his last.
The tour grossed US$46 million, making it the ninth-highest-grossing tour of 2004.
The Tour band
• David Bowie – vocals and acoustic guitar
• Earl Slick – lead guitar
• Gerry Leonard – guitar, backing vocals
• Gail Ann Dorsey – bass guitar, vocals
• Sterling Campbell – drums, percussion
• Mike Garson – keyboards, piano
• Catherine Russell – backing keyboards/backing vocals
Start date 11 June 2002
End date 23 October 2002



(Visited 419 times, 1 visits today)