David Bowie 2002-10-11 Staten Island ,Music Hall at Snug Harbor – Staten Island 2002 –
Sound Quality Rating
101. INTRO.flac
102. LIFE ON MARS.flac
103. ASHES TO ASHES.flac
104. BREAKING GLASS.flac
105. CACTUS.flac
106. CHINA GIRL.flac
107. SLIP AWAY.flac
108. FAME.flac
109. I'M AFRAID OF AMERICANS.flac
110. SPEED OF LIFE.flac
111. 5.15 THE ANGELS HAVE GONE.flac
112. I'VE BEEN WAITING FOR YOU.flac
113. SURVIVE.flac
114. REBEL REBEL.flac
201. "HEROES".flac
202. HEATHEN.flac
Encore
203. SUNDAY.flac
204. I WOULD BE YOUR SLAVE.flac
205. AFRAID.flac
206. EVERYONE SAYS HI.flac
207. HALLO SPACEBOY.flac
208. LET'S DANCE.flac
209. ZIGGY STARDUST.flac
Label : No label
Audio Source : Audience recording
Lineage : Unknown
Taping Gear : Unknown
Taper: Unknown
Recording Location: Unknown
Total running time : 1:52:47
Sound Quality : Good. Equals record or radio/TV apart from a slight noise and some dullness.
Attendance : Unknown
Artwork : Yes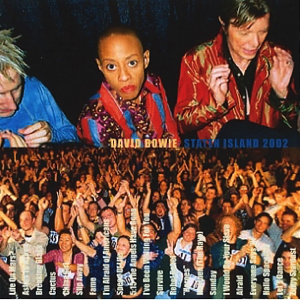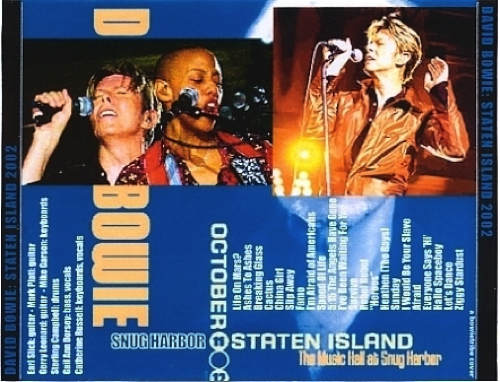 Looking back on David Bowie's Staten Island performance at Snug Harbor
STATEN ISLAND, N.Y. — When he came here in 2002, rock legend David Bowie wore a red leather jacket, a chocolate-colored shirt and opened his set with the song "Life on Mars?"
The ballad was significant to where its singer was performing, the former home for retired sailors, Snug Harbor Cultural Center and Botanical Gardens.
"Sailors fighting in the dance hall," the icon sang to 400 fans at Music Hall. "Oh man! Look at those cavemen go / It's the freakiest show."
Bowie, 69, died of cancer, two days after releasing his final album, "Blackstar."
The rock musician with the colorful alterego "Ziggy Stardust" broke barriers in music, fashion, identity, art and rebellion, starting with the release of his 1972 album, "The Rise of Ziggy Stardust and Spiders from Mars."
Amid decades of producing hits like "Let's Dance," "Under Pressure" and "Heroes," Bowie announced that he would be performing his first (and what would end up being his only) show on Staten Island for a five-borough "New York City Marathon" tour on October 11, 2002.
Our own Dean Balsamini covered the show — which, as he noted, was specifically catered to the borough's audience. Here's an excerpt from his piece:
Among the 50 or so people with Staten Island ties in the house was Bowie guitarist Earl Slick, a former Oakwood resident.
"We're playing in front of all Earl's family and friends," Bowie said affectionately. "Joey Bag-of-Doughnuts, Carmine, Rat."
Bowie wasn't kidding.
Slick's sister, Joan Imperatrice; nephew, Joseph, both of Oakwood, and cousin Tom Magloico of Bulls Head were in attendance. And so were members of Slick's colorful Island musical circle: South Beach native Frankie LaRocka, Jack (Beau Jack) O'Neill and yes, the imposing former roadie/bouncer nicknamed Rat — all seated in the fifth row.
Bowie played songs like "Heroes," "Fame," a Slick-fueled "China Girl," "Let's Dance," "Ashes to Ashes," "Rebel Rebel," "Everybody Says Hi," Trent Reznor's "I'm Afraid of Americans" and "Heathen."
Before his finale, "Ziggy Stardust," Bowie's last words to the audience were "Bye, Staten Island."



David Bowie Tour band 2002 Heathen Tour
The David Bowie Heathen Tour was a 2002 concert tour in support of the album, Heathen, and was also notable for the performances of all songs from the 1977 Low album.
Start date 11 June 2002
End date
23 October 2002
The Tour band
• David Bowie – vocals, acoustic guitar, harmonica
• Earl Slick – lead guitar
• Mark Plati – rhythm guitar, acoustic guitar, bass guitar, backing vocals
• Gail Ann Dorsey – bass guitar, rhythm guitar, clarinet, vocals
• Sterling Campbell – drums, percussion
• Mike Garson – keyboards, piano
• Catherine Russell – keyboards percussion backing vocals



(Visited 688 times, 1 visits today)