David Bowie 2002-07-03 Kristiansand ,Quart Festival – Quart Festival –
Sound Quality Rating
101. LIFE ON MARS.flac
102. HALLO SPACEBOY.flac
103. I'VE BEEN WAITING FOR YOU.flac
104. SPEED OF LIFE.flac
105. CHINA GIRL.flac
106. 5.15 THE ANGELS HAVE GONE.flac
107. STAY.flac
108. SLIP AWAY.flac
109. ASHES TO ASHES.flac
110. AFRAID.flac
111. CACTUS.flac
201. A NEW CAREER IN A NEW TOWN.flac
202. FASHION.flac
203. CHANGES.flac
204. SOUND AND VISION.flac
205. "HEROES".flac
206. HEATHEN.flac
ENCORE:
207. EVERYONE SAYS HI.flac
208. I'M AFRAID OF AMERICANS.flac
209. LET'S DANCE.flac
210. ZIGGY STARDUST.flac
Label : No label
Audio Source : Audience recording
Lineage : Unknown
Taping Gear : Unknown
Taper: Unknown
Recording Location: Unknown
Total running time : 1:45:42
Sound Quality : Good. Equals record or radio/TV apart from a slight noise and some dullness
Attendance : 12.000
Artwork : Yes
After a nice echo-version of I've been waiting for you : "Hai guys .We're gonna spend some time together ,so I think we have enough time to put some strange things as well….I'll squeeze in som Dolly Parton numbers tonight ….Okay ,this is called Speed of life."
David Bowie played his first outdoor festival show of the 'Heathen' tour to an ecstatic crowd last night.
Though the set was performed in a steady drizzle of rain, the 12,000-strong audience's spirit certainly wasn't dampened as they clapped along to the like of '5:15' and 'Heathen'. The crowd obviously showed great appreciation for the older stuff too, greeting songs such as 'Changes' and 'Ziggy Stardust' with much joyous enthusiasm.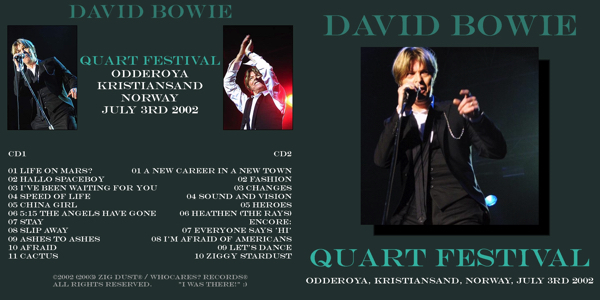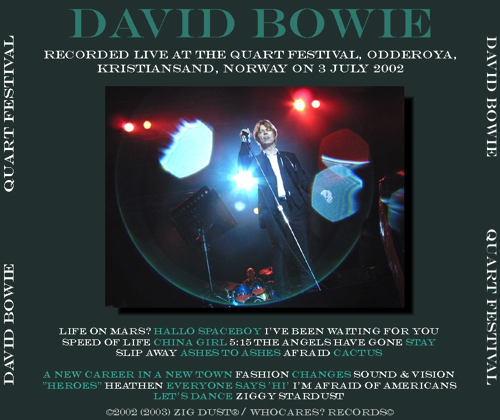 David Bowie Tour band 2002 Heathen Tour
The David Bowie Heathen Tour was a 2002 concert tour in support of the album, Heathen, and was also notable for the performances of all songs from the 1977 Low album.
Start date 11 June 2002
End date
23 October 2002
The Tour band
• David Bowie – vocals, acoustic guitar, harmonica
• Earl Slick – lead guitar
• Mark Plati – rhythm guitar, acoustic guitar, bass guitar, backing vocals
• Gail Ann Dorsey – bass guitar, rhythm guitar, clarinet, vocals
• Sterling Campbell – drums, percussion
• Mike Garson – keyboards, piano
• Catherine Russell – keyboards percussion backing vocals



(Visited 547 times, 1 visits today)