David Bowie 2002-08-16 Washington ,The George Amphitheatre – One Night David –
Sound Quality Rating
103. Breaking Glass.flac
101. Life On Mars.flac
102. Ashes To Ashes.flac
104. Cactus.flac
105. China Girl.flac
106. Slip Away.flac
107. Fame.flac
108. I'm Afraid Of Americans.flac
109. I've Been Waiting For You.flac
110. 5:15 The Anglels Have Gone.flac
111. "Heroes".flac
112. Heathen (The Rays).flac
201. I Feel So Bad (Elvis Presly performer).flac
202. One Night (Elvis Presly performer).flac
203. A New Career In A New Town.flac
204. Fashion.flac
205. Everone Says 'Hi'.flac
206. Hallo Space Boy.flac
207. Let's Dance.flac
208. Ziggy Stardust.flac
Jonathan Ross Show ,UK ,2002-06-27
209. Fashion .flac
210. Slip Away .flac
211. Everone Says 'Hi'.flac
212. Ziggy Stardus.flac
Tonight Show ,USA ,2002-08-12
213. Cactus (Live With Boby .flac
Conan O'Brien Show ,USA ,2002-10-19)
214. Hickory Dickory Dock .flac
Label : Golden Eggs – EGG 151/152
Audio Source : Audience recording
Lineage : Unknown
Taping Gear : Unknown
Taper: Unknown
Recording Location: Unknown
Total running time : 1:57:38
Sound Quality : very good. Equals record or radio/TV apart from a slight noise and some dullness.
Attendance : Unknown
Artwork : Yes
On the anniversary of Elvis Presley's death, Bowie performed his own all time favourite Elvis song 'I Feel So Bad' and then sang 'One Night'.
After Ashes To Ashes he introduced Sterling Cambell and Nike Carson ,Then Bowie said:"I don't know anybody else of the band ,so I get back later that."
He Thanked Moby and all the DJ's.Introducing Ziggy Stardust:"One of the first songs I sang when I came to America , Mayby my last.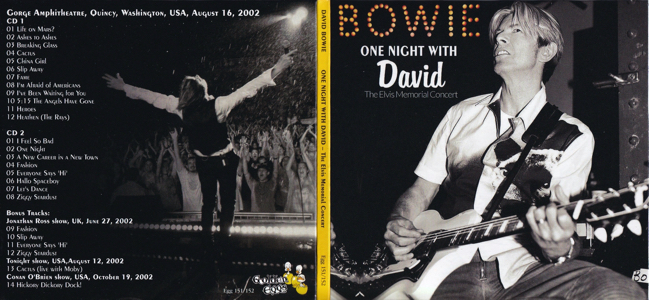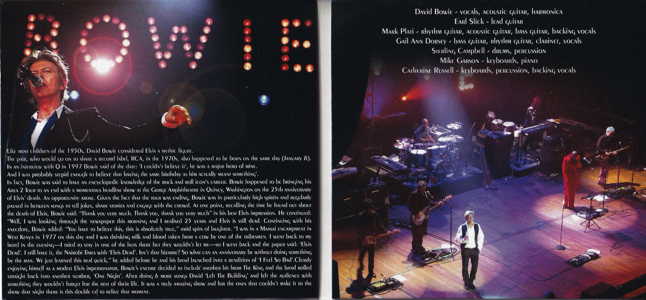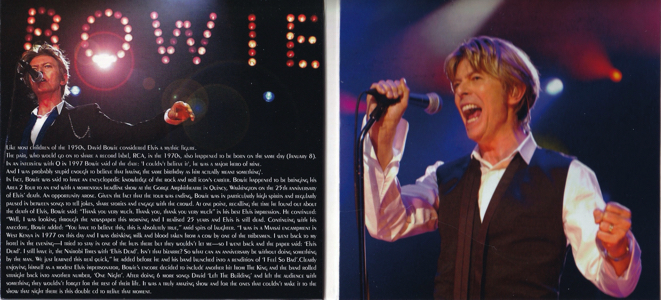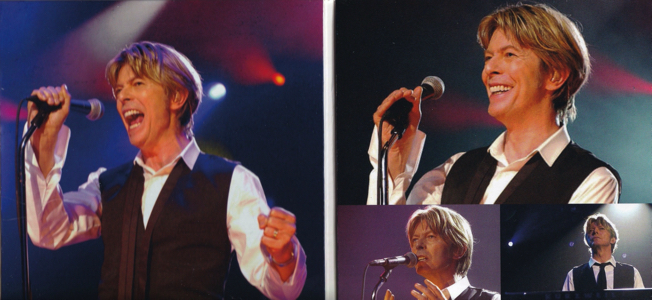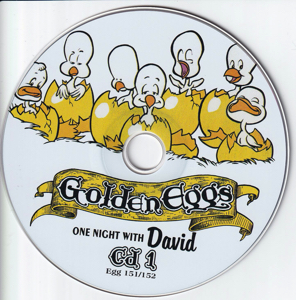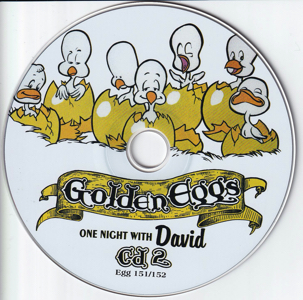 David Bowie – One Night With David (EGG 151/152) is a 2CD set from Gorge Amphitheatre, Quincy, Washington on August 16th, 2002. This is the complete concert from an excellent audience recording. Notes accompanying the release state "The last night of the 2002 Area 2 tour at the Gorge Amphitheatre in Seattle on the 25th anniversary of Elvis Presley's death, including 2 Presley songs in the encores. This concert was out before on a Japanese label but had an annoying drum audible in the background. This Golden Eggs release comes from a new source which luckily doesn't have that annoying drum around. So now you can enjoy David's tribute plus some very nice bonus tracks as you would like it to be". The bonus material comes from the Jonathan Ross show, UK on June 27th, 2002, The Tonight Show, USA on August 12th, 2002, and the Conan O'Brien show, USA on October 19th, 200



David Bowie Tour band 2002 Heathen Tour
The David Bowie Heathen Tour was a 2002 concert tour in support of the album, Heathen, and was also notable for the performances of all songs from the 1977 Low album.
Start date 11 June 2002
End date
23 October 2002
The Tour band
• David Bowie – vocals, acoustic guitar, harmonica
• Earl Slick – lead guitar
• Mark Plati – rhythm guitar, acoustic guitar, bass guitar, backing vocals
• Gail Ann Dorsey – bass guitar, rhythm guitar, clarinet, vocals
• Sterling Campbell – drums, percussion
• Mike Garson – keyboards, piano
• Catherine Russell – keyboards percussion backing vocals



(Visited 271 times, 1 visits today)