David Bowie 2002-06-29 London ,Royal Festival Hall – Meltdown 2002 – (2) (Meltdown Festival).
Sound Quality Rating
101 – Weeping Wall.flac
102 – Warszawa.flac
103 – Speed Of Life.flac
104 – Breaking Glass.flac
105 – What In The World.flac
106 – Sound And Vision.flac
107 – Art Decade.flac
108 – Always Crashing In The Same Car.flac
109 – Be My Wife.flac
110 – A New Creer In A New Town.flac
111 – Subterraneans.flac
112 – Sunday.flac
113 – Cactus.flac
114 – Slip Away.flac
201 – Slow Burn.flac
202 – Afraid.flac
203 – I've Been Waiting For You.flac
204 – I Would Be Your Slave.flac
205 – I Took A Trip On A Gemini Spacecraft.flac
206 – 5-15, The Angels Have Gone.flac
207 – Everyone Says Hi.flac
208 – A Better Future.flac
209 – Heathen (The Rays).flac
210 – White Light White Heat.flac
211 – Fame.flac
212 – Ziggy Stardust.flac
213 – Hallo Spaceboy – I'm Afraid Of Americans.flac
Label: Kings Of Oblivion
Label : Label: Kings Of Oblivion
Audio Source : Audience recording
Lineage : Maybe MD sourced
Taping Gear : Unknown
Taper: Unknown
Recording Location: Unknown
Total running time : 2:14:04
Sound Quality : Good. Equals record or radio/TV apart from a slight noise and some dullness
Attendance : Unknown
Artwork : Yes
During the 2002 Meltdown Festival, Bowie and the band played the complete "Low" album, followed by the complete "Heathen" album, and finished off with a few fan favorites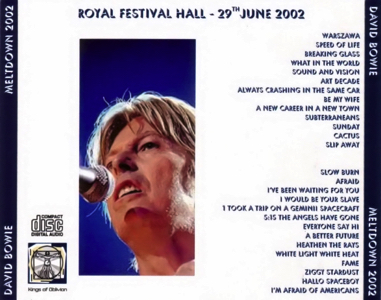 Review By Florian.
What a great night it was. My first real Bowie concert in London and – for god's sake – not in Wembley, but in the rather intimate Royal Festival Hall. Many well known faces could be seen around. On the balcony right were Supergrass, with Robert Smith not far behind. Bono and Kylie Minogue somewhere, Sharleen Spiteri way back and direct behind my seat (which I left after the show has started to get myself a good place in front of the stage) Brian Eno. For a Londoner propabley something rather normal, but for a German something new. The Dandy Warhols' set was amazing and strange. Three songs (or pieces) during 40 minutes. Quite daring!
….The real thing started with "Weeping Wall" over the PA while the band walked on stage. They began to play "Warszawa" and Bowie walked very calm on stage. A short smile and bow for the audience and he took his place on Mark Plati's side at the Wurlitzer keyboard. After having finished that piece, Bowie told the audience about tonight's set. On contrary to Roseland the running order of "Low" was not the well known one from the record. It was loosened up to avoid six instrumentals performed in a row. The whole set was one of the greatest moments I witnessed at a concert until then. To see David Bowie so concentrated and into his music was a very special experience.
After "Subterraniens" he and his band left the stage for a short intermission, but returned faster than expected. "Heathen" played in its entirety followed. The songs (except "Slow Burn) sounded even better live. Thanks to this fantastic band. "Heathen (the rays)" saw Bowie with his head down guided offstage by Gail Ann Dorsey with his hand lying on her shoulder while the band played on. One after the other stopped playing until only Garry Leonard was on stage to play some athmospheric guitar. This was to become a regular act during all the shows.
The encores started with the Dandy Warhols joining Bowie and his band to give a rendition of The Velvet Underground's "White-Light, White-Heat". And since a long time I heard a version of that song I really like. During the remaining songs, and especially "Ziggy Stardust", the crowd went wild. "I'm afraid of americans" closed the set and with a short "Thank you so much. Good night" it was all over
…."It couldn't get any better this year" were my first thoughts, after having managed to get something to drink, standing in midst of Royal Festival Hall's lounge. And good god, how was I wrong.



David Bowie Tour band 2002 Heathen Tour
The David Bowie Heathen Tour was a 2002 concert tour in support of the album, Heathen, and was also notable for the performances of all songs from the 1977 Low album.
Start date 11 June 2002
End date
23 October 2002
The Tour band
• David Bowie – vocals, acoustic guitar, harmonica
• Earl Slick – lead guitar
• Mark Plati – rhythm guitar, acoustic guitar, bass guitar, backing vocals
• Gail Ann Dorsey – bass guitar, rhythm guitar, clarinet, vocals
• Sterling Campbell – drums, percussion
• Mike Garson – keyboards, piano
• Catherine Russell – keyboards percussion backing vocals



(Visited 1,004 times, 1 visits today)