David Bowie 2002-10-20 New York ,Beacon Theatre, Manhattan (taper Scot Brown + Master Remastered).
Sound Quality Rating
01. Intro .flac
02. Sunday .flac
03. Cactus .flac
04. Breaking Glass .flac
05. Fame .flac
06. Ashes to Ashes.flac
07. Slip Away .flac
08. China Girl .flac
09. 5.15 the Angels Have Gone .flac
10. Starman .flac
11. Absolute Beginners.flac
12. Waiting for You .flac
13. Afraid .flac
14. Fashion .flac
15. Be My Wife.flac
16. Sound and Vision .flac
17. Rebel Rebel.flac
18. I'm Afraid of Americans .flac
19. Life on Mars .flac
20. Heroes .flac
21. Heathen .flac
Encore:
22. White Light-White Heat .flac
23. Let's Dance .flac
24. Ziggy Stardust .flac
Label : No label
Audio Source : Audience recording
Lineage : DAT
Taping Gear : DPA 4022 > Apogee MiniMe @ 16/44.1, Soft Limit On > Sony D100
Taper: Scot Brown
Recording Location: Lower Balcony ,Row A
Total running time : 1:57:18
Sound Quality : very good. Equals record or radio/TV apart from a slight noise and some dullness.
Attendance : Unknown
Artwork : Yes
Remastered : Yes
SB notes:
-During "Cactus," I mistakenly knocked the left channel knob up a bit, so there was quick level rise on the left channel which took a few seconds to notice/fix. I fixed it the best I could in post.
-01/14/2016 – In honor of Bowie's passing on 01/10/16, I reloaded into Wave Editor and ran Waves LinEQ to clean up a bit and Waves L3 to boost levels.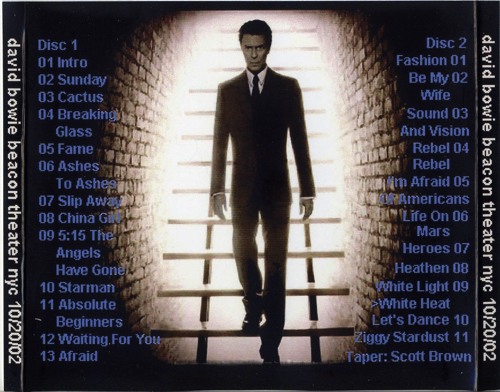 David Bowie Tour band 2002 Heathen Tour
The David Bowie Heathen Tour was a 2002 concert tour in support of the album, Heathen, and was also notable for the performances of all songs from the 1977 Low album.
Start date 11 June 2002
End date
23 October 2002
The Tour band
• David Bowie – vocals, acoustic guitar, harmonica
• Earl Slick – lead guitar
• Mark Plati – rhythm guitar, acoustic guitar, bass guitar, backing vocals
• Gail Ann Dorsey – bass guitar, rhythm guitar, clarinet, vocals
• Sterling Campbell – drums, percussion
• Mike Garson – keyboards, piano
• Catherine Russell – keyboards percussion backing vocals



(Visited 151 times, 1 visits today)