David Bowie 1997-08-03 Newcastle upon Tyne ,Riverside – Bowie's in Toon –  
Sound Quality Rating
101. Quicksand.flac
102. The Man Who Sold The World.flac
103. Queen Bitch.flac
104. The Jean Genie.flac
105. I'm Afraid Of Americans.flac
106. Battle For Britain ( The Letter ).flac
107. Outside.flac
108. Fashion.flac
109. Seven Years In Tibet.flac
110. Fame.flac
201. Stay.flac
202. Looking For Satellites.flac
203. Under Pressure.flac
204. The Hearts Filthy Lesson.flac
205. William Burroughs.flac
206. Scary Monsters ( And Super Creeps ).flac
207. Hallo Spaceboy.flac
208. Little Wonder.flac
209. Band Intro.flac
ENCORE
210. Dead Man Walking.flac
211. White Light White Heat.flac
212. O Superman.flac
213. Look Back In Anger.flac
Label : No label
Audio Source : Audience recording
Lineage : Unknown
Taping Gear : Unknown
Taper: Unknown
Recording Location: Unknown
Total running time : 1:51:43
Sound Quality : Noise ,dull ,but still good listened to
Attendance : Unknown
Artwork : Yes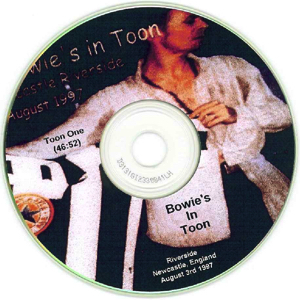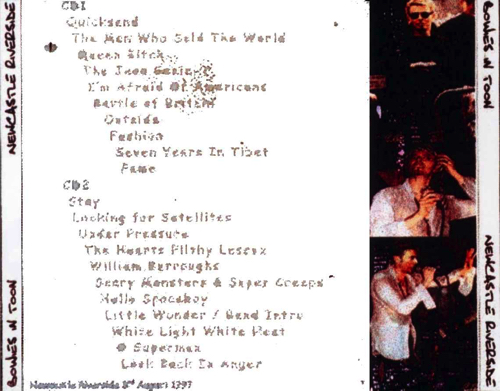 David Bowie was the 'most charismatic man I have ever met' says North East music historian
11 JAN 2016 BY BARBARA HODGSON
Tyneside music historian who was hoping to bring David Bowie back to the region this summer describes the late star as "the greatest shape-shifter in music" and the most charismatic man he has ever met.
Chris Phipps, a former producer on Newcastle's groundbreaking music show The Tube, had wanted Bowie to be the star guest at this year's Whitley Bay Film Festival.
When news of his death broke on Monday morning, Phipps was as shocked as anyone by reports the 69-year-old had been suffering from cancer.
He said: "There had been rumours circulating that he couldn't fly because of a heart condition but I hadn't heard about the cancer."
Chris, who hosts a big-name interview at the film festival every year, had the star in his sights this time for an event to mark the 40-year anniversary of The Man Who Fell To Earth, which starred Bowie as an alien.
"I was in the process of that, to mark the anniversary," said Chris, who credits Bowie as a unique talent and a "very accomplished actor".
It was this other career which brought the pair together for an exclusive interview.
"My personal encounter with him was in 1983 when he agreed to be interviewed at Cannes Film Festival," recalled Chris, now also a film historian.
Bowie was there promoting his new release The Hunger, a vampire flick co-starring Catherine Deneuve directed by North East movie maker, the late Tony Scott.
Chris was accompanied by The Tube music director Geoff Wonfor and presenter Jools Holland.
"He said he wouldn't talk about his music because he wanted to talk about his films," said Chris. "It was a huge coup to get him."
And, while Chris was well used to meeting pop stars, Bowie made a huge impression.
"I will never forget being in the room with him," he said.
"It was in a private apartment on the front in Cannes. His PR found me when he was ready and I knocked on the door with Jools and Geoff – and there he was.
"He started talking at length in a very relaxed way.
"And he was looking terribly relaxed, in a pair of chinos and a simple shirt.
"I have to say he was the most charismatic person I've ever met."
He added: "There was something extraordinarily driven about him which appealed to people, and it appealed to me. I didn't feel inhibited by him. He talked to me about his enthusiasm for making short films, support films for cinema.
"He thoroughly enjoyed being interviewed."
While Bowie never appeared in person in The Tube studio, the seminal eighties music show did a retrospective on him and also featured exclusive promos of the likes of his new Absolute Beginners album and Let's Dance.
And the North East fans weren't short-changed. His appearances here, which included the opening night of Newcastle Arena, have left them with stand-out memories including gigs at the City Hall and Roker stadium, with the Glass Spider tour.
There's also a story of how Bowie's hopes of sampling Newcastle's famous nightlife one time fell flat when a doorman refused him entry to a club.
Chris explains: "He played a Ziggy Stardust set at the City Hall and went with his entourage to Tuxedo Junction nightclub but was refused entry for inappropriate footwear!"
The music producer has always been fascinated by Bowie as a chameleon performer with multiple facets which kept fans riveted throughout his career.
And he thinks he had a glimpse of the real Bowie during his interview.
"He was always coming up with something new.
"Every aspect of him that people have seen musically he wore a different face.
"I was seeing the real Bowie."
And the relaxed man sitting in the chair in front of him was disarming.
"He had great presence and I have met very few people with that presence," he said.
"You could see he was creatively driven and I have always been fascinated by the greatest shape-shifter in music.
"Nobody every could categorise him. He had different influences and went from one to another so we never really found out about him.
"I knew his first manager, Kenneth Pitt, quite a well at a time he was sort of doing an impersonation of Anthony Newley (Bowie recorded a tribute to the singer and actor in 1967).
"He was attempting to be an all-round entertainer.
"He made a novelty record called The Laughing Gnome. The next minute he was androgynous, a visitor from another world – Ziggy Stardust; then he was soaking up electronic music then he was in America soaking up soul music.
"And there was new wave romanticism in Ashes to Ashes. It's just incredible.
"I think he was a musical dilettante." Visually, Bowie always kept things visually interesting too,
Describing him as a very good-looking man, Chris said: "He was perfectly cast for The Man Who Fell to Earth.
"He always had that slightly alien look. He had different coloured eyes – one myth was that he was punched in the eye at school and it changed the colour of the retina.
"And he had vampiric teeth!"
He loved Bowie's 2013 album The Next Day, and plans to listen closely to his final work.
His favourite album is Young Americans and his favourite video is Let's Dance. And his most poignant memory is of seeing Bowie, at a Freddie Mercury tribute show, drop to his knees on stage to recite The Lord's Prayer for a friend who was dying of Aids.
He did not know if Bowie was religious but said: "It was an amazing tribute and there was certainly spirituality there."


 
David Bowie Tour band 1997 Earthling Tour
Superb Bowie Performance From The Earthling Tour. David Bowie's 20th studio album was originally released in February 1997 on Arista Records. Earthling showcased an electronica-influenced sound partly inspired by the industrial and drum and bass culture of the 1990s. It was the first album Bowie self-produced since 1974's Diamond Dogs.
The Earthling Tour started on 7 June 1997 at Flughafen Blankensee in Lübeck, Germany, continuing through Europe and North America before reaching a conclusion in Buenos Aires, Argentina on 7 November 1997. On August 14, '97, Bowie performed at Hungary's Student Island Festival in Budapest, where he put on a quite extraordinary show, accompanied as he was by Reeves Gabrels on guitar, Gail Ann Dorsey on bass, Zack Alford on drums and Mike Garson on keyboards. Playing just a few tracks from the new record plus a fine selection of back catalogue gems, the entire show was broadcast, both across Eastern Europe and indeed in the US too on selected FM stations. Previously unreleased this remarkable gig is now available on this priceless CD for the first time..
The Tour band
• David Bowie: vocals
• Reeves Gabrels: guitar, backing vocals
• Gail Ann Dorsey: bass guitar, vocals
• Zachary Alford: drums
• Mike Garson: keyboards, backing vocals
• Mike Garson: keyboards,


 
(Visited 1,025 times, 1 visits today)