David Bowie 1997-09-10 Los Angeles ,Hollywood Athletic Club – Hollywood Athletic Club –  
Sound Quality Rating
01. Quicksand.flac
02. Waiting For The Man.flac
03. The Jean Genie.flac
04. Panic In Detroit.flac
05. I'm Afraid Of Americans.flac
06. Look Back In Anger.flac
07. Seven Years In Tibet.flac
08. Battle For Britain.flac
09. Fashion.flac
10. Looking For Satellites.flac
11. Stay.flac
12. Under Pressure.flac
13. The Hearts Filthy Lesson.flac
14. Hallo Spaceboy.flac
15. Scary Monsters.flac
16. Little Wonder.flac
17. Dead Man Walking.flac
18. O' Superman.flac
19. All The Young Dudes.flac
Label : No label
Audio Source : Audience recording
Lineage : Unknown
Taping Gear : Unknown
Taper: Unknown
Recording Location: Unknown
Total running time : 1:46:23
Sound Quality : Noise ,dull ,but still good listened to
Attendance : Unknown
Artwork : Yes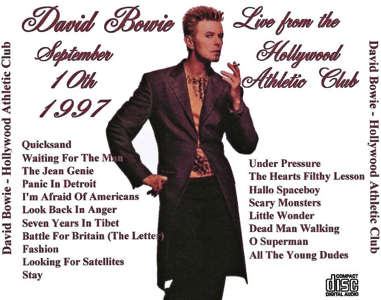 DAVID BOWIE and wife IMAN leave concert after-party in Hollywood 1997
Review
Bowie Gives a Focused Show in Intimate Small-Club Setting
"My nose hasn't felt like this since the '70s," David Bowie quipped during his concert Wednesday at the Hollywood Athletic Club, slyly likening his pollen-caused congestion to his notorious cocaine era.
It was just one of the many wisecracks and casual asides that, along with his physical and psychic proximity to the fans packed onto the dance floor, marked this last-minute small-club show as memorably intimate and informal.
But although the show accomplished the standard mission of these events–giving the musicians a break from the usual large venues, generating a little ink, buzz and goodwill and generally letting off steam–it was the music itself that mattered most.
The subtle gestures and facial expressions that worked at the 600-capacity Athletic Club might be lost when Bowie plays the 6,000-seat Universal Amphitheatre this weekend, but this shrewd and most theatrical of rockers knows how to make it work in any setting.
And in striking contrast to his last appearance in L.A., his drifting performance on that mismatched bill with Nine Inch Nails, Bowie, 50, is delivering his most focused, forward-looking, challenging show in ages.
He kicked it into gear with an opening fusillade of old favorites–"Quicksand," the Velvet Underground's "Waiting for the Man," "Jean Genie," "Panic in Detroit"–but he then reversed direction and built the heart of the set around his newest music. That's something that few of his contemporaries are willing to do during a summer touring season increasingly given over to nostalgia.
Bowie and his four musicians–including two longtime collaborators, guitarist Reeves Gabrels and keyboardist Mike Garson–played six of the songs from the current album, "Earthling," an unusually high ratio for a new record that isn't a hit.
His artistic reinvigoration was reflected in the performance, whose sonic force, richness and dynamism captured the complexity and inventiveness of the new material–which brings Bowie's preoccupations with technology, alienation and spiritual fragmentation to bear on '90s culture–and enlarged it to a grand scale.
During his three-decade career, Bowie has been both a bold explorer and a sad panderer. Right now he seems in touch with the times, and once again his career shows no sign of taking a predictable course.
 
 
  
David Bowie Tour band 1997 Earthling Tour
Superb Bowie Performance From The Earthling Tour. David Bowie's 20th studio album was originally released in February 1997 on Arista Records. Earthling showcased an electronica-influenced sound partly inspired by the industrial and drum and bass culture of the 1990s. It was the first album Bowie self-produced since 1974's Diamond Dogs.
The Earthling Tour started on 7 June 1997 at Flughafen Blankensee in Lübeck, Germany, continuing through Europe and North America before reaching a conclusion in Buenos Aires, Argentina on 7 November 1997. On August 14, '97, Bowie performed at Hungary's Student Island Festival in Budapest, where he put on a quite extraordinary show, accompanied as he was by Reeves Gabrels on guitar, Gail Ann Dorsey on bass, Zack Alford on drums and Mike Garson on keyboards. Playing just a few tracks from the new record plus a fine selection of back catalogue gems, the entire show was broadcast, both across Eastern Europe and indeed in the US too on selected FM stations. Previously unreleased this remarkable gig is now available on this priceless CD for the first time..
The Tour band
• David Bowie: vocals
• Reeves Gabrels: guitar, backing vocals
• Gail Ann Dorsey: bass guitar, vocals
• Zachary Alford: drums
• Mike Garson: keyboards, backing vocals
• Mike Garson: keyboards,
 
 
  
(Visited 690 times, 1 visits today)