David Bowie 1997-06-10 Amsterdam ,Paradiso – Little Wonder in Paradiso – (FM broadcast)  
Sound Quality Rating
Live at Paradiso, Amsterdam, 10/06/1997.  
01. Quicksand.flac
02. Seven Years in Tibet.flac
03. Fashion.flac
04. Fame.flac
05. Looking for Satellites.flac
06. Telling Lies.flac
07. Hallo Spaceboy.flac
08. Stay.flac
09. Little Wonder.flac
Live at Madison Square Garden, 1997 
10. Queen Bitch with Lou Reed.flac
11. Waiting For The Man with Lou Reed.flac
12. Dirty Boulevard with Lou Reed.flac
13. White Light White Heat with Lou Reed.flac
14. Space Oddity .flac
Label : No label > DB10697
Audio Source : Broadcast
Lineage : Unknown
Taping Gear : Unknown
Taper: Unknown
Recording Location: Unknown
Total running time : 1:13:04
Sound Quality : Excellent quality! Equals record or Radio/TV
Attendance : Unknown
Artwork : Yes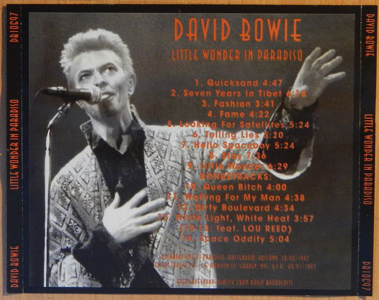 David Bowie Tour band 1997 Earthling Tour
Superb Bowie Performance From The Earthling Tour. David Bowie's 20th studio album was originally released in February 1997 on Arista Records. Earthling showcased an electronica-influenced sound partly inspired by the industrial and drum and bass culture of the 1990s. It was the first album Bowie self-produced since 1974's Diamond Dogs.
The Earthling Tour started on 7 June 1997 at Flughafen Blankensee in Lübeck, Germany, continuing through Europe and North America before reaching a conclusion in Buenos Aires, Argentina on 7 November 1997. On August 14, '97, Bowie performed at Hungary's Student Island Festival in Budapest, where he put on a quite extraordinary show, accompanied as he was by Reeves Gabrels on guitar, Gail Ann Dorsey on bass, Zack Alford on drums and Mike Garson on keyboards. Playing just a few tracks from the new record plus a fine selection of back catalogue gems, the entire show was broadcast, both across Eastern Europe and indeed in the US too on selected FM stations. Previously unreleased this remarkable gig is now available on this priceless CD for the first time..
The Tour band
• David Bowie: vocals
• Reeves Gabrels: guitar, backing vocals
• Gail Ann Dorsey: bass guitar, vocals
• Zachary Alford: drums
• Mike Garson: keyboards, backing vocals
• Mike Garson: keyboards,
 
 
  
(Visited 1,395 times, 1 visits today)