David Bowie 1995-09-22 Philadelphia ,Camden Entertainment Waterfront Centre – Let's Get Together –
Sound Quality Rating
Nine Inch Nails
101. Terrible Lie.flac
102. March Of The Pigs.flac
103. The Becoming.flac
104. Piggy.flac
105. Burn.flac
106. Closer.flac
107. Wish.flac
108. A Warm Place.flac
109. Down In It.flac
110. Eraser.flac
David bowie with Nine Inch Nails
111. Subterraneans.flac
112. Scary Monsters.flac
113. Reptile.flac
114. Hallo Spaceboy.flac
115. Hurt.flac
David Bowie
201. The Hearts Filthy Lesson.flac
202. I'm Deranged.flac
203. I Have Not Been To Oxford Town.flac
204. We Prick You.flac
205. The Voyeur Of Utter Destruction (As Beauty).flac
206. A Small Plot Of Land.flac
207. Breaking Glass.flac
208. Andy Warhol.flac
209. The Man Who Sold The World.flac
210. Outside.flac
211. Teenage Wildlife.flac
212. My Death.flac
213. Jump, They Say.flac
214. Nite Flights.flac
215. Joe The Lion.flac
Label : MAGICAL VISION – MVR 95-05
Audio Source : Audience recording
Lineage : Unknown
Taping Gear : Unknown
Taper: Unknown
Recording Location: Unknown
Total running time : 2:33:08
Sound Quality : Noise ,dull ,but still good listened to
Attendance : 35.000
Artwork : Yes
David sang in a very strong voice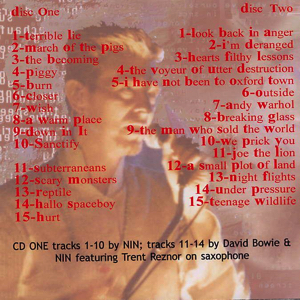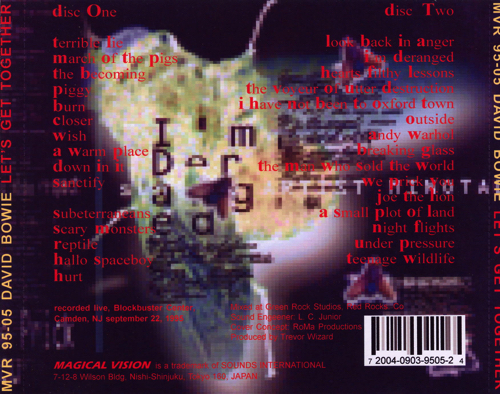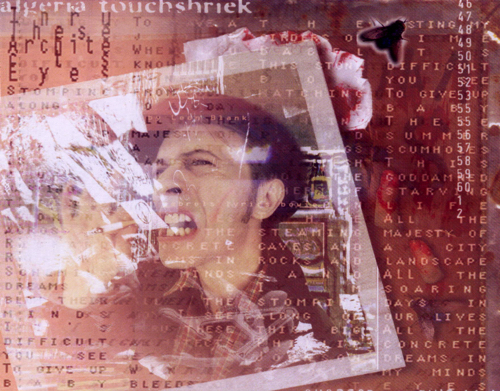 Forget the theory that artists are locked in an Oedipal struggle to kill their creative fathers. Nirvana played with the Meat Puppets, Pearl Jam backed up Neil Young, and now Nine Inch Nails have teamed up with David Bowie. It's apparent that this collaboration has reinvigorated both artists.
Nine Inch Nails opened to a crowd dominated by their young fans. If Reznor was weary, of touring, he didn't show it. The introspective studio Wunderkind who once stalked the stage like a caged animal has evolved into a confident band leader, taking NIN through a relentless, exhilarating survey of his career. The group has been reimagined as a stripped-down post-punk ensemble, supplanting drum machines with two drummers and de-emphasizing synthesizers for guitars. After barreling through a set that included a ferocious version of "Terrible Lie" and a funky, cut-up take on "Closer," the band drifted into an atmospheric instrumental as Reznor picked up a saxophone to play a surprisingly accomplished solo.
They were soon joined by Bowie for a collaboration that was the high point of the show. Bowie's Martian lounge-singer croon vied with Reznor's blood-curdling caterwaul as Bowie's "Scary Monsters" segued into NIN's "Reptile." A blistering version of "Hallo Spaceboy" (from Bowie's new album, Outside) followed, with three drummers pounding away furiously. Reznor and Bowie continued to trade lines on the haunting "Hurt" before NIN left the stage.
Bowie then launched into an extended set of songs from Outside. Although these dark, difficult songs are arguably his best work since the '70s, they were unfamiliar to the audience and not immediately accessible. Moreover, in a bid to put the eager-to-please Let's Dance era behind him, Bowie studiously avoided playing his hits in favor of more obscure songs like "Andy Warhol," "Joe the Lion" and "Breaking Glass." Even though "The Man Who Sold the World" was familiar because of Nirvana's cover, Bowie's reinterpretation of it as an elegiac tribute rendered it barely recognizable. Yet while probably few knew Jacques Brel's "My Death," Bowie sang the song (which he used to perform during his Ziggy Stardust days) with such gut-wrenching emotion that he had the audience cheering in spite of himself.
David Bowie Tour band 1995-1996 – Outside Tour
The Outside Tour was a tour by English rock musician David Bowie, opening on 14 September 1995 at Meadows Music Theatre – Hartford, Connecticut. Support during the US leg of the tour was provided by Nine Inch Nails, who segued their set with Bowie's to form a continuous show. Prick opened the first date of the tour. Morrissey was the support act for the European leg, but withdrew from the tour after nine dates. On selected dates Reeves Gabrels performed songs from his album, The Sacred Squall of Now in addition to performing with Nine Inch Nails and David Bowie. The opening of the concert tour preceded the release of the 1. Outside album which was released on 25 September 1995.
• David Bowie – vocals
• Reeves Gabrels – guitar
• Carlos Alomar – guitar, backing vocals
• Gail Ann Dorsey – bass guitar, vocals
• Zack Alford – drums
• Mike Garson – piano
• Peter Schwartz – synthesizer, musical director
• George Simms – backing vocals, keyboards
(Visited 396 times, 1 visits today)