David Bowie 1995-10-19 Las Vegas ,Thomas & Mack Arena – Las Vegas 951019 .
Sound Quality Rating
Nine Inch Nails set
101. Terrible Lie.flac
102. March Of The Pigs.flac
103. The Becoming.flac
104. Sanctified.flac
105. Piggy.flac
106. Burn.flac
107. Closer.flac
108. Wish.flac
109. Gave Up.flac
110. Down In It.flac
111. Eraser.flac
David Bowie & Nine Inch Nails set
112. Subterraneans.flac
113. Scary Monsters.flac
114. Reptile.flac
115. Hallo Spaceboy.flac
201. Hurt.flac
David Bowie set
202. Look Back In Anger.flac
203. I'm Deranged.flac
204. Heart's Filthy Lesson.flac
205. The Voyeur Of Utter Destruction (As Beauty).flac
206. I Have Not Been To Oxford Town.flac
207. Outside.flac
208. Andy Warhol.flac
209. Breaking Glass.flac
210. The Man Who Sold The World.flac
211. We Prick You.flac
212. A Small Plot Of Land.flac
213. Nite Flights.flac
214. Under Pressure.flac
215. Teenage Wildlife.flac
Label : No label
Audio Source : Audience recording
Lineage : A Off Master recording
Taping Gear : mic ECM 737 -> recorder D7
Taper: Unknown
Recording Location: Unknown
Total running time : 2:29:40
Sound Quality : Noise ,dull ,but still good listened to
Attendance : Unknown
Artwork : Malta57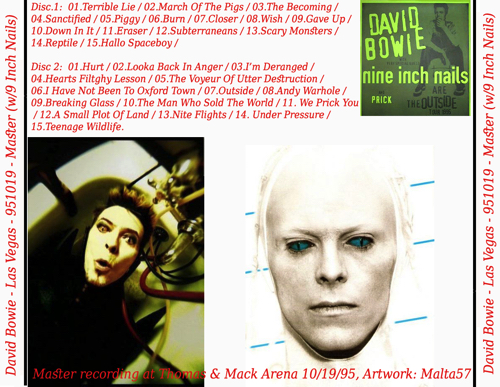 David Bowie Tour band 1995-1996 – Outside Tour
The Outside Tour was a tour by English rock musician David Bowie, opening on 14 September 1995 at Meadows Music Theatre – Hartford, Connecticut. Support during the US leg of the tour was provided by Nine Inch Nails, who segued their set with Bowie's to form a continuous show. Prick opened the first date of the tour. Morrissey was the support act for the European leg, but withdrew from the tour after nine dates. On selected dates Reeves Gabrels performed songs from his album, The Sacred Squall of Now in addition to performing with Nine Inch Nails and David Bowie. The opening of the concert tour preceded the release of the 1. Outside album which was released on 25 September 1995.
• David Bowie – vocals
• Reeves Gabrels – guitar
• Carlos Alomar – guitar, backing vocals
• Gail Ann Dorsey – bass guitar, vocals
• Zack Alford – drums
• Mike Garson – piano
• Peter Schwartz – synthesizer, musical director
• George Simms – backing vocals, keyboards




SONIC FLASHBACK: DAVID BOWIE WITH NINE INCH NAILS (OCTOBER 19, 1995 AT THOMAS & MACK)
The news of David Bowie and Nine Inch Nails touring on the same bill in 1995 was met with the kind of anticipation you'd expect, especially when word came that part of the show would involve them performing together. The concept represented the merging of a performer whose name had become synonymous with the ability to assume different personas, with a band that had become important by delivering its own brand of powerful drama, visually and aurally. It was a brave pairing of huge artists bridging two very different generations.
I had also thought of it in terms of a changing of the guard, with Bowie having slowed the frequency of his tours while Nine Inch Nails' popularity was still surging. Just as those transitions had taken many years, the concert at the Thomas & Mack had its own gradual evolution, with NIN taking the stage first. The openers blasted through a mini-retrospective of the first three records, as Trent Reznor pled, writhed and punched the air. As the show unfolded it was hard to imagine how Bowie would meld with the dark intensity of a fog-filled, strobe-flickering arena reverberating with "Closer."
I had only seen Bowie once before, at the 1983 US Festival with an exhausted audience of more than 100,000, so even a second-tier seat at the T&M was intimate by comparison. As NIN wrapped up its set, I couldn't believe my ears as tones shifted to those of "Subterraneans" from Bowie's haunting Low album. Wearing a stylish trench coat, he walked out with NIN still onstage, starting a gradual changeover of musicians between the two bands, barely noticeable because of the smoke machines.
The big moment proved well worth the wait. Bowie and Reznor traded vocals on each other's songs—"Scary Monsters (and Super Creeps)," "Reptile" and newer Bowie song "Hallo Spaceboy," as the moshing came to a stop with all eyes forward. The joint set ended with Reznor, Bowie and guitarists Carlos Alomar and Reeves Gabrels delivering a stunning "Hurt." A smooth lyrical trade-off evolved and intensified into a mesmerizing duet that proved to be the single most memorable moment of the evening.
Bowie and his band followed with mostly newer material and none of his major hits, though he did include a few vintage album tracks and an encore of "Under Pressure." Moshers moved away from the stage en masse as soon as the Bowie/Reznor set ended, as middle-aged Bowie fans shuffled down to take their spots—a sort of low-level reverse changing of the guard.
Twenty years later, both artists are still with us, still producing new music. Since sequels almost always suck, it's a good thing this impressive double bill remains a one-of-a-kind experience.
Did David Bowie Ever Play Las Vegas?
He did, three times by most accounts. In early 2004, an energetic 57-year-old Bowie performed two shows at the original, intimate Joint at the Hard Rock Hotel while on his A Reality Tour. The tour ended on July 23 of that year, and though fans hardly expected it, it would sadly become his last. Bowie essentially disappeared for almost a decade after that, until releasing his penultimate The Next Day in 2013, and then, perhaps intentionally, unleashing Blackstar on January 8, his 69th birthday, just two days before his death. If you include his two albums with Tin Machine, that makes 27 studio gifts from an artist widely considered a genius. And a true artist Bowie was, using music and performance to twist mainstream perception while giving voice, hope and affinity to a multigenerational group of like-minded outsiders.
While I was not present at The Joint on Bowie's A Reality Tour (I have no excuse, really), I was lucky/unlucky enough to see Bowie perform at the Thomas & Mack Center in 1995. Why I was lucky needs no explanation; Bowie was a spry 48 years old, and while his then-latest album, Outside, was a concept piece not best suited to an arena setup, Bowie did not hold back in offering the audience many favorites from his decades of recording. Unfortunately, Bowie was touring with Nine Inch Nails this time around, and—while having seen NIN nearly bring the roof down at the Huntridge Theater, I was all for it— the two co-headlined, swapping slots as opener/headliner every other show.
In Las Vegas, Bowie had the misfortune of opening, and to the arrogant and aggressive young NIN fans near the front, Bowie was an old goat delaying Trent Reznor's return to a Las Vegas stage. Thus I, and thousands of others in the audience who understood what it meant to see David Bowie perform, cringed as water bottles and boos were unconscionably tossed at the Thin White Duke. It was one of the few times I was hurt and embarrassed by my city.
It wasn't the only time. I also watched a similarly ignorant crowd boo seminal L.A. punk band X when they opened for Pearl Jam at the T&M. So as many mourn Bowie and celebrate what he brought to music, something to consider the next time a Vegas audience is rude to an "opening" band is that we may never be given the chance to redeem ourselves. RIP, David, and don't hate Vegas too much
(Visited 824 times, 1 visits today)