David Bowie 1995-12-05 Belfast ,King's Hall (DVD rip) .
Sound Quality Rating
01. INTRO TICKETS ETC, WITH THE MAN WHO SOLD THE WORLD AS BACKING – A SMALL PLOT OF LAND – LOOK BACK IN ANGER – HEART'S FILTHY LESSON – SCARY MONSTERS – THE VOYEUR
02. OXFORD TOWN – OUTSIDE – ANDY WARHOL – THE MAN WHO SOLD THE WORLD – THE MOTEL – DJ – SRANGERS WHEN WE MEET
03. STRANGERS WHEN WE MEET – HALLO SPACEBOY – JUMP THEY SAY – BREAKING GLASS – WE PRICK YOU – NITE FLIGHTS – MY DEATH –
04. BOYS KEEP SWINGING – TEENAGE WILDLIFE – UNDER PRESSURE – MOONAGE DAYDREAM –
Label : No label
Audio Source : Audience recording
Lineage : a DVD master source
Taping Gear : Unusual camera angle
Taper: Unknown
Recording Location: right of stage,
Total running time : 1:50:19
Sound Quality : Much noise ,dull ,but still good listened to
Attendance : 5.500
Artwork : None?
Voyeur of utter destruction > "This is a song you know from Outside and it's called…."
Recorded at King's Hall in Belfast on 5th December 1995. Unusual camera angle, perhaps from choir stalls, but right of stage, slightly behind the band. Fairly grainy and static, and the sound's a bit fluffy, but reasonably close up, so watchable.
Posters advertised "The Outside Tour" for Thursday 23 November 1995 – but the show was actually postponed to 5 December.
Morrissey had been touring with Bowie as his warm up act – and to promote his Southpaw Grammar album.
But The Smiths frontman found himself playing to venues half-filled with Bowie fans waiting for their idol, so two weeks into the tour he pulled out.
Shows in Belfast, Sheffield and Manchester were cancelled and Bowie had to find a replacement, turning to The Gyres, Echobelly, Placebo and a variety of local bands.
The stage design was modest in comparison to Bowie's previous theatrical tours, with mere sheets draped about the stage.
Tickets were £25 and this was the setlist: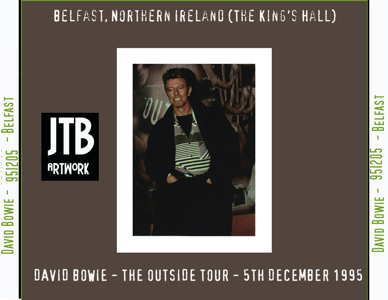 David Bowie Tour band 1995-1996 – Outside Tour
The Outside Tour was a tour by English rock musician David Bowie, opening on 14 September 1995 at Meadows Music Theatre – Hartford, Connecticut. Support during the US leg of the tour was provided by Nine Inch Nails, who segued their set with Bowie's to form a continuous show. Prick opened the first date of the tour. Morrissey was the support act for the European leg, but withdrew from the tour after nine dates. On selected dates Reeves Gabrels performed songs from his album, The Sacred Squall of Now in addition to performing with Nine Inch Nails and David Bowie. The opening of the concert tour preceded the release of the 1. Outside album which was released on 25 September 1995.
• David Bowie – vocals
• Reeves Gabrels – guitar
• Carlos Alomar – guitar, backing vocals
• Gail Ann Dorsey – bass guitar, vocals
• Zack Alford – drums
• Mike Garson – piano
• Peter Schwartz – synthesizer, musical director
• George Simms – backing vocals, keyboards
 
 
 
.
(Visited 397 times, 1 visits today)