David Bowie 1983-04-26 Dallas ,Las Colinas ,Soundstage ,Tour Rehearsels – J.R Is Watching You – RAW Vinyl Rip.
Sound Quality Rating
Tracklist in FLAC
A1. Jean Genie intro – Star
A2. "Heroes"
A3. What In The World
A4. Look Back In Anger
A5. Joe The Lion
A6. Wild Is The Wind
B1. Golden Years
B2. Sorrow
B3. Cat People
B4. China Girl
B5. Scary Monsters
B6. Rebel Rebel
Label : Scrash ‎– SCR 901 A/B
Audio Source : audience
Lineage : RAW Vinyl Rip
Total running time : 0:48:26
Sound Quality : noise ,dull ,but still good listened to
Attendance : 0
Artwork : Yes
Tracksplit : No track makers
One of the band counts off and the music starts. "Poor Jean Genie snuck in to the city,strung out on lasers and slash-back blazers,ate all the razors while pulling the waiters,talking 'bout Monroe!" Bowie sings,and without a pause Tony Thompsun drums the. intro to Star. In between numbers une can hear Bowie and the members of the band talk,laugh,and give instructions. After What in the World Carlos Alomar says: "Remember, if you don't hear the a-a-a-cues – Stan ,your watch has run back and breaks our asses Ok , So remember,the minute we run back that's a cue full. OK,uhm … Look Back". The music is almost as good as on the tour tapes,although here and there one can hear that it is not yet perfect.
The band are not yet well adapted to one another and Bowie's voice needs some warming up – certainly not all that he sings is beautiful. "Love me, love me, love me,say you do. Let me put my arms around you" is Bowie's firstt phrase of Wild is the Wind.
In Golden Year's one can hear how Bowie is trying to get the high tones in "Nothing is gonna touch you in these Golden Years" – with little suc­cess; therefore,during the tour he sings it in a lower pitch. Before Golden Years one can hear Carlos talking: "What is hap­pening with these two microphunestands – one over here and one over there". Carlos plays the beginning of china Girl: much out of tune,so he starts allover again. Then comes Scary Monsters,
but it sound shaky: they try again.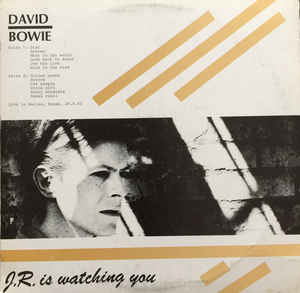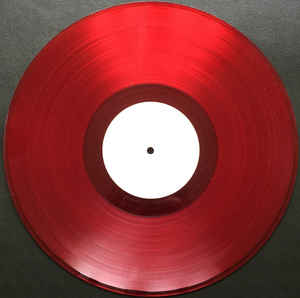 What makes this a really special tape is the fact that Stevie Ray Vaughan is still one of the band (in Cracked Actor this is quite evident!). He was to play throughout the tour but then suddenly got fired. One of the reasons was that he demanded more money per concert than had been agreed upon; another, the fact that he wanted to do the pre-programme of some concerts with his band Double Trouble (in order to promote his album Texas Flood). When he would not give in he was fired without mercy,so Bowie and his management had a gigantic. problem on
their hands. Earl Slicks ,the old hand ,was phoned up and he flew to Brussels straight away to start and try to master the entire repertory; this was 14 May: he had only four days for rehear­sing,while the band had four weeks! They must have been at their wits' end to do this for,should he not manage to give a flawless gui tar performance! 18th May, then this would of
course be extremely counter-procuctive
David Bowie Tour band 1983 – The Serious Moonlight World Tour :
• David Bowie – lead vocals, guitar, saxophone
• Stevie Ray Vaughan – guitar
• Carlos Alomar – guitar, backing vocals, music director
• Carmine Rojas – bass guitar
• Tony Thompson – drums, percussion
• Dave Lebolt – keyboards, synthesizers
• Steve Elson – saxophones
• Stan Harrison – saxophones, woodwinds
• Lenny Pickett – saxophones, woodwinds
• George Simms – backing vocals
• Frank Simms – backing vocals
David Bowie World Convention 1983
David Bowie – 1983 Souvenir Serious Moonlight Tour
(Visited 485 times, 1 visits today)