David Bowie 1983-05-18 Brussels ,Vorst Nationaal – New Moon Over Brussels –
Sound Quality Rating
101. introduction.flac
102. The Jean Genie.flac
103. Star.flac
104. "Heroes".flac
105. What in the World.flac
106. Look Back in Anger.flac
107. Joe the Lion.flac
108. Wild is the Wind.flac
109. Golden Years.flac
110. Fashion.flac
111. Let's Dance.flac
112. Red Sails.flac
113. Breaking Glass.flac
114. Life on Mars? 4.flac
115. Sorrow.flac
116. Cat People (Putting out Fire).flac
117. China Girl.flac
118. Scary Monsters (and Super Creeps).flac
119. Rebel Rebel.flac
120. I Can't Explain.flac
121. White Light, White Heat.flac
201. Station to Station.flac
202. Cracked Actor.flac
203. Ashes to Ashes.flac
204. Space Oddity.flac
205. band introduction.flac
206. Young Americans.flac
207. Soul Love.flac
208. Hang Onto Yourself.flac
209. Fame.flac
210. TVC15.flac
211. Stay.flac
212. The Jean Genie.flac
213. Modern Love (different source).flac
Label : From the 100% British archive
Audio Source : audience
Lineage : AUD(M)
Total running time : 1:57:54
Sound Quality : Much noise ,dull ,but still good listened to
Attendance : 7.000
Artwork : JTB Artwork
Note: The first try-out concert before the real start of the Serious Moonlight Tour.
In 1983 Bowie returned to the stage after an almost 5 years break, this time not as a cult artist,but as a mainstream artist. Having just released the million-seller "Let's Dance" combined with the fact that Bowie had not toured for so long guaranteed sell-out concerts almost everywhere around the globe.
Before the start of the Serious Moonlight Tour, Bowie and his band decided to do 2 try-out concerts,this is the first one. Basically, these try-outs were longer than the normal tour concerts. This concert includes some rare performances of songs like "Wild is the Wind", "Joe the Lion" and "I Can'tExplain".
This recording is sourced from master cassettes and was carefully re-mastered and edited in order to get the best sound. The original recording suffered from microphone problems, but you'll be suprised by the good sound quality of this re-master.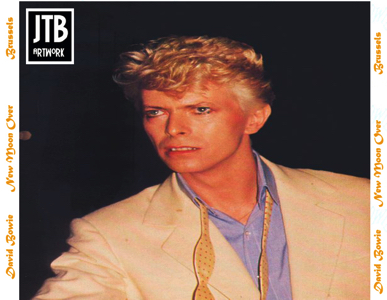 News papers:
Three Dutch papers wrote about this concert,giving him much praise.
Three Belgian papers also glorified the concert,one calling it 'one interminable orgasm' (!), and: "This was unearthly. Bowie is god,in the unreligious sense of the word".
A Swedish paper wrote "Bowie in tears after debut",and,oddlly enough,there was one not-so-positive review.
A Belgian wrote: "Now everyone wants to hear from those present what it was like,well,good,excellent,amazing,but … no real exuberance,not the real joy of rock & roll really". I will not commenton this! !
Expectations of this concert ,the first after 4,5 years time, were sky high. Besides hundreds of – Belgian and foreign – journalists who had come to Vorst there were Bowie freaks from allover the world.
David Bowie Tour band 1983 – The Serious Moonlight World Tour :
• David Bowie – lead vocals, guitar, saxophone
• Earl Slick – guitar
• Carlos Alomar – guitar, backing vocals, music director
• Carmine Rojas – bass guitar
• Tony Thompson – drums, percussion
• Dave Lebolt – keyboards, synthesizers
The Borneo Horns:
• Steve Elson – saxophones
• Stan Harrison – saxophones, woodwinds
• Lenny Pickett – saxophones, woodwinds
Backing vocals
• George Simms – backing vocals
• Frank Simms – backing vocals• Frank Simms – backing vocals
David Bowie World Convention 1983
David Bowie – 1983 Souvenir Serious Moonlight Tour
(Visited 507 times, 1 visits today)