David Bowie 1983-09-11 Vancouver ,Pacific National Exh. Coliseum – Tremble Like A Flower –
Sound Quality Rating
101. Introduction.flac
102. Look Back In Anger.flac
103. "Heroes".flac
104. What In The World.flac
105. Golden Years.flac
106. Fashion.flac
107. Let's Dance.flac
108. Red Sails.flac
109. Breaking Glass.flac
110. Life On Mars.flac
111. Sorrow.flac
112. Cat People.flac
113. China Girl.flac
114. Scary Monsters.flac
115. Rebel Rebel.flac
116. White Light White Heat.flac
201. Station To Station.flac
202. Cracked Actor.flac
203. Ashes To Ashes.flac
204. Space Oddity.flac
205. Band introductions.flac
206. Young Americans.flac
207. Fame.flac
208. Star.flac
209. Stay.flac
210. The Jean Genie.flac
Label : From The Hunky Geordie Tapes – HUG087CD
Audio Source : audience
Lineage : TDK SA90 tapes x 1Ω (Arcorman)
Total running time : 0:00:00
Sound Quality : very good. Equals record or radio apart from a slight noise and some dullness.
Attendance : 11.000
Artwork : By steve23yh
The announcer only says "Ladies and gentlemen.David Bowie and his band!". After Cracked Actor the voice of someone from the organisation is heard over the loud­ speakers,but what he says is not clear. At the end of Young Americans Bowie sings: "Now aint there one damn song that can make you … " and then the audience are supposed to sing "break down and cry". However,the audience don't,and there follows a silence with some screaming here and there.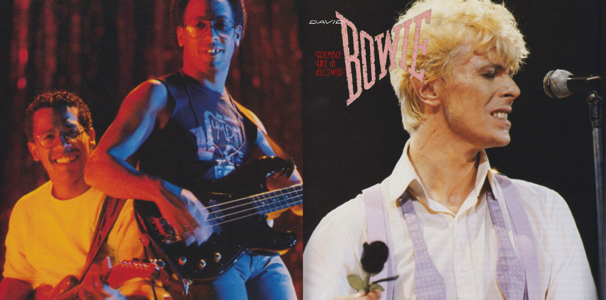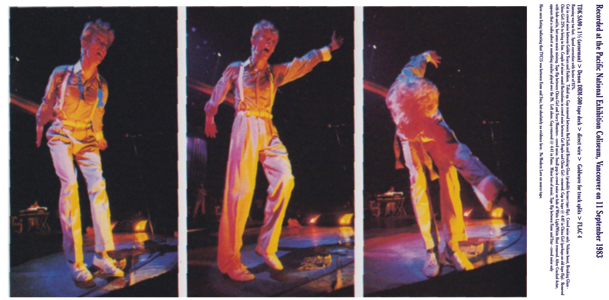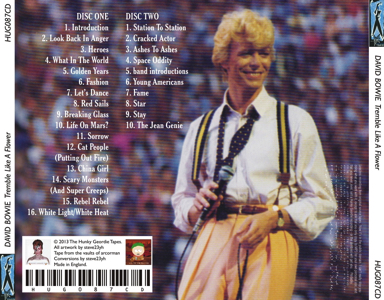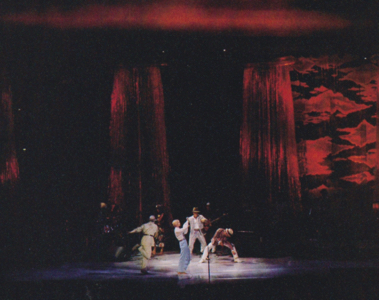 Tour band 1983 – The Serious Moonlight World Tour :
• David Bowie – lead vocals, guitar, saxophone
• Earl Slick – guitar
• Carlos Alomar – guitar, backing vocals, music director
• Carmine Rojas – bass guitar
• Tony Thompson – drums, percussion
• Dave Lebolt – keyboards, synthesizers
The Borneo Horns:
• Steve Elson – saxophones
• Stan Harrison – saxophones, woodwinds
• Lenny Pickett – saxophones, woodwinds
backing vocals
• George Simms – backing vocals
• Frank Simms – backing vocals
•
David Bowie World Convention 1983
David Bowie – 1983 Souvenir Serious Moonlight Tour
======================
Notes
Miles too fast. Speed correction with factor of 92%
Cut in crowd noise between Golden Years and Fashion. Tidied up.
Gap removed between Red Sails and Breaking Glass (probably former tape flip). Crowd noise only.
Volume boost, Breaking Glass – China Girl: 25% to bring in line.
Couple of minor sound fluctuations in crowd noise between Cat People and China Girl – removed.
Gap in tape @ 4:07 in China Girl (perhaps an old tape flip). Removed with fade-out/in, but some music missing.
Tape flip between China Girl and Scary Monsters – crowd noise.
Small gap in crowd noise on fade of White Light/White Heat removed.
After Cracked Actor, appears that a radio advert or something similar played over the PA. Left alone.
Gap removed @ 4:41 in Fame. Minor loss of music.
Have seen listing indicating that TVC15 was between Fame and Star, but absolutely no evidence here.
(Visited 839 times, 1 visits today)