David Bowie 1983-09-03 Toronto ,Canadian National Exhibition Grandstand – An Angeless Heart –
Sound Quality Rating
101. Introduction.flac
102. Look Back In Anger.flac
103. "Heroes".flac
104. What In The World.flac
105. Golden Years.flac
106. Fashion.flac
107. Let's Dance.flac
108. Breaking Glass.flac
109. Life On Mars.flac
110. Sorrow.flac
111. Cat People.flac
112. China Girl.flac
113. Scary Monsters.flac
114. Rebel Rebel.flac
115. White Light White Heat.flac
201. Station To Station.flac
202. Cracked Actor.flac
203. Ashes To Ashes.flac
204. Space Oddity.flac
205. band introductions.flac
206. Young Americans.flac
207. Fame.flac
208. TVC 15.flac
209. Star.flac
210. Stay.flac
211. The Jean Genie.flac
212. Modern Love.flac
Label : From The Hunky Geordie Tapes – HUG111CD
Audio Source : audience
Lineage : TDK SA90 tape x 1Ω (Arcorman)
Total running time : 1:52:42
Sound Quality : very good. Equals record or radio apart from a slight noise and some dullness.
Attendance : 51.700
Artwork : by steve23yh
A great Tape
Once again Bowie displays his poor memory for dates when he announces Young Americans : "This is a song from an album in nineteen seventy … five" he says hesitatingly," and it's called Young Americans". At the end of the song a longish pause,but then he sings in a strong voice "Now ain't there one damn song that can make me … " and the audience reply en masse "Break down and cry". At the end of Fame the audience join in singing "Fame,fame,oh,oh,dig it,stick it!". Bowie concludes Star with the line "Ziggy played guitar"!!
A full house,over 51.700 scats sold,which means another record: ne­ver before had so many people gathered in this stadium to attend a show.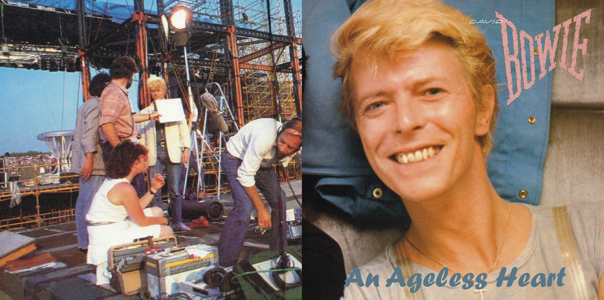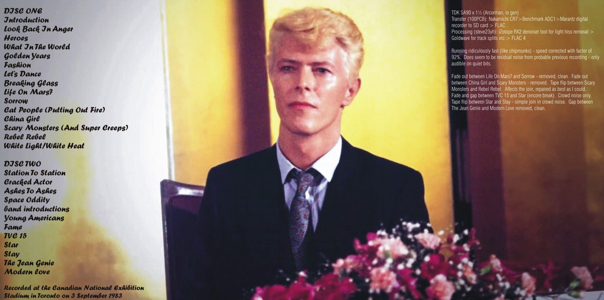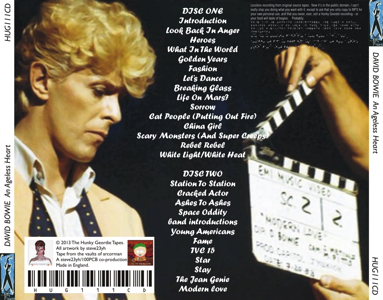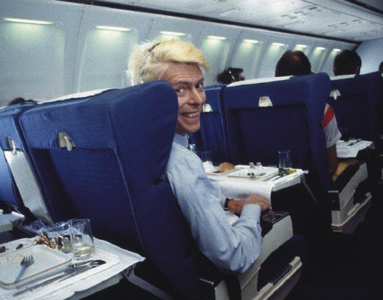 Tour band 1983 – The Serious Moonlight World Tour :
• David Bowie – lead vocals, guitar, saxophone
• Earl Slick – guitar
• Carlos Alomar – guitar, backing vocals, music director
• Carmine Rojas – bass guitar
• Tony Thompson – drums, percussion
• Dave Lebolt – keyboards, synthesizers
The Borneo Horns:
• Steve Elson – saxophones
• Stan Harrison – saxophones, woodwinds
• Lenny Pickett – saxophones, woodwinds
backing vocals
• George Simms – backing vocals
• Frank Simms – backing vocals
•
David Bowie World Convention 1983
David Bowie – 1983 Souvenir Serious Moonlight Tour
Sept. 3, 1983, at Exhibition Stadium (first of two shows): Opined The Globe's Liam Lacey,
"Bowie may never again be the theatrical musical pioneer he once was, but he is still changing. The hysterical character parts he wrote for himself earlier in his career have been rejected, and the Bowie on this [Serious Moonlight] tour is really another persona, a Prospero figure who summons up all the old characters at will to offer a retrospective of his brooding demons and fantastic genies, none of which seems to directly affect this latest version of Bowie.
=====================
notes
Light hiss removal with iZotope RX2 denoiser tool
Volume boost throughout (200%)
Running ridiculously fast (like chipmunks) – speed corrected with factor of 92%
Does seem to be residual noise from probable previous recording – only audible on quiet bits.
Fade out between Life On Mars? and Sorrow – removed, clean.
Fade out between China Girl and Scary Monsters – removed.
Tape flip between Scary Monsters and Rebel Rebel. Affects the join, repaired as best as I could.
Fade and gap between TVC 15 and Star (encore break). Crowd noise only.
Tape flip between Star and Stay – simple join in crowd noise.
Gap between The Jean Genie and Modern Love removed, clean.
(Visited 714 times, 1 visits today)