David Bowie 1983-07-21 Philadelphia ,The Spectrum Arena – Swoops Like A Song –
Sound Quality Rating
101. The Jean Genie.flac
102. Star.flac
103. "Heroes".flac
104. What In The World.flac
105. Golden Years.flac
106. Fashion.flac
107. Let's Dance.flac
108. Breaking Glass.flac
109. Life On Mars.flac
110. Sorrow.flac
111. Cat People.flac
112. China Girl.flac
113. Scary Monsters.flac
114. Rebel Rebel.flac
115. White Light White Heat.flac
201. Station To Station.flac
202. Cracked Actor.flac
203. Ashes To Ashes.flac
204. Space Oddity.flac
205. band introductions.flac
206. Young Americans.flac
207. Fame.flac
208. TVC 15.flac
209. Stay.flac
Encore:
210. The Jean Genie.flac
211. Modern Love.flac
Label : From The Hunky Geordie Tapes – HUG299CD
Audio Source : audience
Lineage : 2 x TDK SA60 (Arcorman) > Denon DRM-500 tape deck
Total running time : 1:46:39
Sound Quality : noise ,dull ,but still good listened to
Attendance : 17.000
Artwork : by steve23yh
Note : Another one with very intense sound and towards the bottom end of quality for what I'd let into DBW (7½-8), but a decent enough performance.
After the deatenlng applause following Space Oddity Bowie imitates the audience for a while,screaming just as hysterically! Quite funny; the audience laugh and their cheers become even louder. "Thank you very much indeed, Thank you very much" Bowie thanks them, This is the last of four con­secutive concerts in Philadelphia,where he has played no less than 26 times in the period of 1972-1983! Philadelphia is among Bowie's favourite cities; he has always felt close to it and it has one of the highest numbers of Bowie-fans. He had been looking forward to those concecerts in the Spectrum . For a short
while Bowie gets quite emotional,saying in a tiny voice: "Okay Philly…..I knew I'd come back here & play". When introducing the band he commits an error: "On synthesizers and guitar hahaha,guitar! – keyboards David Lebolt"!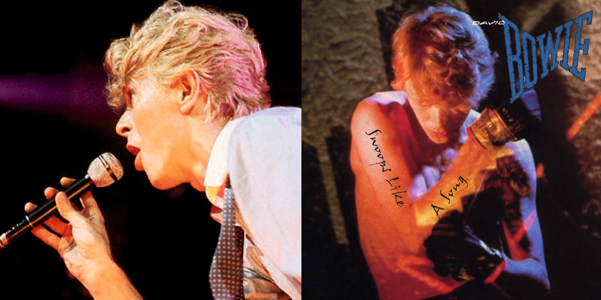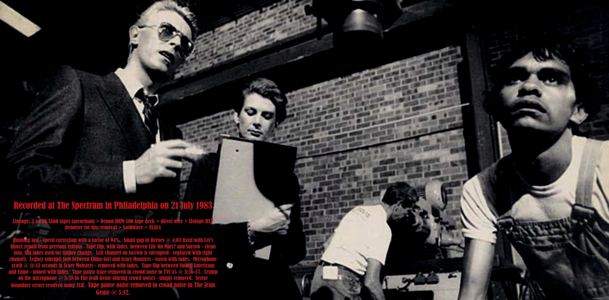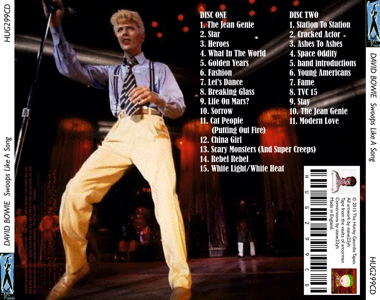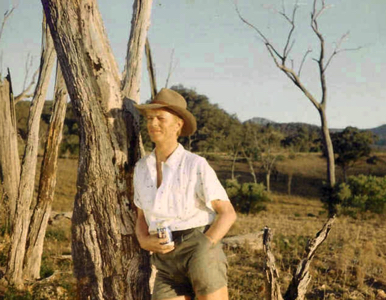 David Bowie Tour band 1983 – The Serious Moonlight World Tour :
• David Bowie – lead vocals, guitar, saxophone
• Earl Slick – guitar
• Carlos Alomar – guitar, backing vocals, music director
• Carmine Rojas – bass guitar
• Tony Thompson – drums, percussion
• Dave Lebolt – keyboards, synthesizers
The Borneo Horns:
• Steve Elson – saxophones
• Stan Harrison – saxophones, woodwinds
• Lenny Pickett – saxophones, woodwinds
Backing vocals
• George Simms – backing vocals
• Frank Simms – backing vocals• Frank Simms – backing vocals
David Bowie World Convention 1983
David Bowie – 1983 Souvenir Serious Moonlight Tour
======================
Notes
Running fast – speed correction with a factor of 94%.
Small gap in Heroes @ 4:03 fixed with Let's Dance repair from previous refrain.
Tape flip, with fades, between Life On Mars? and Sorrow – clean join, but fades used for timbre change.
Left channel on Sorrow is corrupted – replaced with right channel.
Legacy (abrupt) join between China Girl and Scary Monsters – eased with fades.
Microphone crash @ 11-13 seconds in Scary Monsters – removed with fades.
Tape flip between Young Americans and Fame – joined with fades.
Tape pause trace removed in crowd noise in TVC 15 @ 3:56-57.
Crump on the microphone @ 5:38 in The Jean Genie (during crowd noise) – simply removed.
Tape pause noise removed in croad noise in The Jean Genie @ 5:12.
Sector boundary errors fixed with TLH.
(Visited 247 times, 1 visits today)