David Bowie 1983-06-05 Birmingham ,National Exhibition Centre – Like An Eagle In A Sunbeam –
Sound Quality Rating
101. The Jean Genie.flac
102. Star.flac
103. "Heroes".flac
104. What In The World.flac
105. Golden Years.flac
106. Fashion.flac
107. Let's Dance.flac
108. Red Sails.flac
109. Breaking Glass.flac
110. Life On Mars.flac
111. Sorrow.flac
112. Cat People.flac
113. China Girl.flac
114. Scary Monsters.flac
115. Rebel Rebel.flac
116. White Light White Heat.flac
201. Station To Station.flac
202. Cracked Actor.flac
203. Ashes To Ashes.flac
204. Space Oddity.flac
205. Band introductions.flac
206. Young Americans.flac
207. Hang On To Yourself.flac
208. Fame.flac
209. Stay.flac
210. The Jean Genie.flac
211 Modern Love.flac
.
Label : From The Hunky Geordie Tapes – HUG297CD
Audio Source : audience
Lineage : TDK SA90 x 1Ω (Arcorman) > Denon DRM-500 tape deck
Total running time : 1:46:10
Sound Quality : noise ,dull ,but still good listened to
Attendance : 11.000
Artwork : by steve23yh
Note : None of the versions in circulation seem to be as good as the following night, and this is no exception.
Nice balanced sound. Not as bright as it could be – as if Dolbyed once too often – but my memory is that this was the case back in the day.
Bowie was quite relaxed
Not of high quality,but the second half gets better. This was a very good concert; Bowie was quite relaxed and cracked a joke now and then. The audience often laugh at moments .
"Thats the worst world I ever saw" Bowie says just before the band intro, and I have a sort of idea that the balloon burst or something. "Thank you very much. OK,which was the real one. I'd like to introduce you to my band". After introducing the Borneo Horns Bowie makes game of the audience: "On trombone Gregory Arbellovicc" he says and they just applaude,but then immediately after that Bowie says,sounding a little surprised: "Aaaah ,we don't have at rombone". The audience had their laugh over it!
Now and then there are sur­face noises,and when the audience cry for an encore,there is a rumbling , drumming of all the stamping feet on the galleries. Modern Love is spoilt by Bowie singing the lyrics in the wrong order and somewhat out of tune,terrible.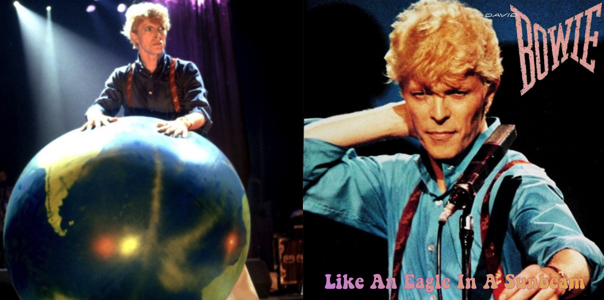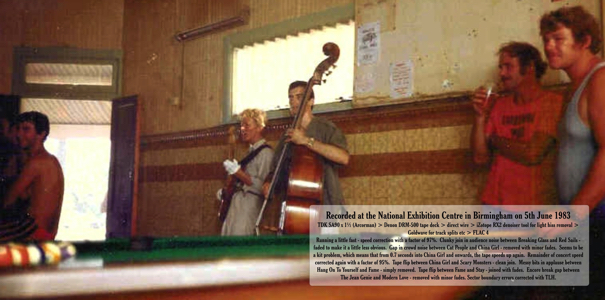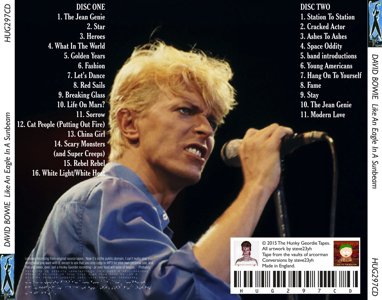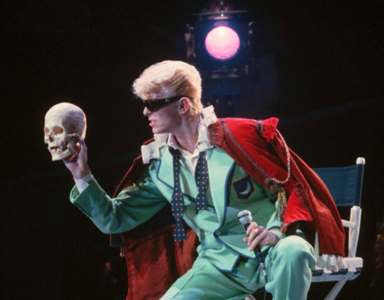 David Bowie Tour band 1983 – The Serious Moonlight World Tour :
• David Bowie – lead vocals, guitar, saxophone
• Earl Slick – guitar
• Carlos Alomar – guitar, backing vocals, music director
• Carmine Rojas – bass guitar
• Tony Thompson – drums, percussion
• Dave Lebolt – keyboards, synthesizers
The Borneo Horns:
• Steve Elson – saxophones
• Stan Harrison – saxophones, woodwinds
• Lenny Pickett – saxophones, woodwinds
Backing vocals
• George Simms – backing vocals
• Frank Simms – backing vocals• Frank Simms – backing vocals
David Bowie World Convention 1983
David Bowie – 1983 Souvenir Serious Moonlight Tour
=======================
Notes
Running a little fast – speed correction with a factor of 97%.
Clunky join in audience noise between Breaking Glass and Red Sails – faded to make it a little less obvious.
Gap in crowd noise between Cat People and China Girl – removed with minor fades.
Seems to be a kit problem, which means that from 0.7 seconds into China Girl and onwards, the tape speeds up again. Remainder of concert speed corrected again with a factor of 95%.
Tape flip between China Girl and Scary Monsters – clean join.
Messy bits in applause between Hang On To Yourself and Fame – simply removed.
Tape flip between Fame and Stay – joined with fades.
Encore break gap between The Jean Genie and Modern Love – removed with minor fades.
Sector Boundary Errors fixed with TLH.
(Visited 602 times, 1 visits today)