David Bowie 1983-06-24 Offenbach ,Bieberer Berg Stadium – Sway Through The Growd –
Sound Quality Rating
101. Introduction.flac
102. The Jean Genie.flac
103. Star.flac
104. "Heroes".flac
105. What In The World.flac
106. Golden Years.flac
107. Fashion.flac
108. Let's Dance.flac
109. Breaking Glass.flac
110. Life On Mars.flac
111. Sorrow.flac
112. Cat People.flac
113. China Girl.flac
114. Scary Monsters.flac
115. Rebel Rebel.flac
116. White Light White Heat.flac
201. Station To Station.flac
202. Cracked Actor.flac
203. Ashes To Ashes.flac
204. Space Oddity.flac
205. Band introductions.flac
206. Young Americans.flac
207. TVC 15.flac
208. Fame.flac
209. Stay.flac
210. The Jean Genie.flac
211. Modern Love.flac
Label : From The Hunky Geordie Tapes – HUG094CD
Audio Source : audience
Lineage : TDK SA90 tapes x 1Ω (Arcorman)
Total running time : 1:46:58
Sound Quality : noise ,dull ,but still good listened to
Attendance : 24.720
Artwork : by steve23yh
A good tape:
Intro :"Liebe Freunde – zum ersten Mal nach funf Jahren wieder auf der Buhne: David Bowie und sein Band" ,George Sinuns announces.
"How are You?" Bowie asks after Star and the reply is a lot of yelling and 'woo'-ing – there is a great deal of that on this tape. Bowie says "Ich wollte euch meine band vorstellen" and then starts introducing the band. When it is Carlos Alomar's turn Bowie makes a slip, mixing up Carlos and Carmine: "Guitar Carm … Cal … Carlos ….. . haha … Alomar". Thats not sure what exactly happened,but the audience cheer and they think Bowie was doubling up with laughter,unable to go on,for Carlos takes over and introduces the remainder of the band,including himself! When Carlos is ready Bowie – pulling himself together – says "And I think I'm David Bowie". Then he kicks the globe into the stadium: "I think that's yours". A very good tape.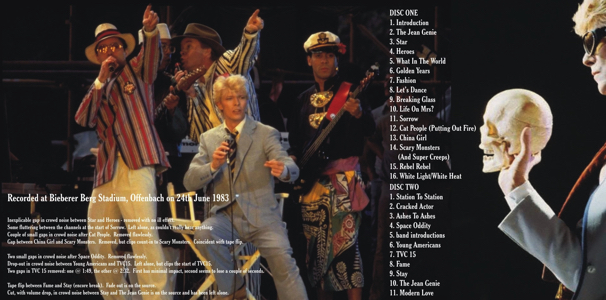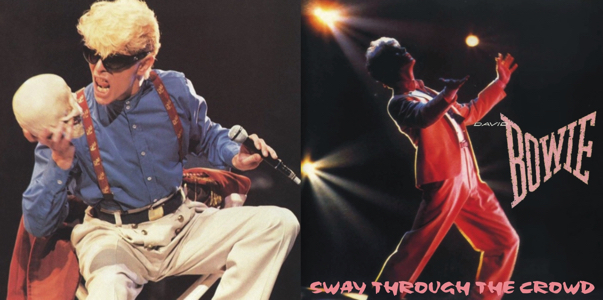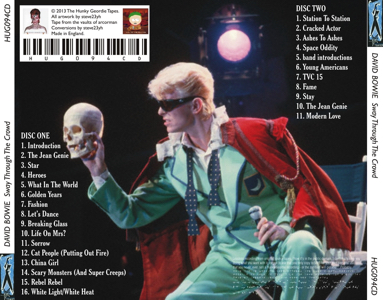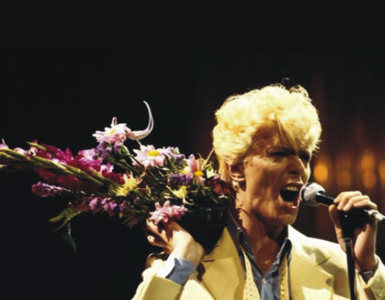 David Bowie Tour band 1983 – The Serious Moonlight World Tour :
• David Bowie – lead vocals, guitar, saxophone
• Earl Slick – guitar
• Carlos Alomar – guitar, backing vocals, music director
• Carmine Rojas – bass guitar
• Tony Thompson – drums, percussion
• Dave Lebolt – keyboards, synthesizers
The Borneo Horns:
• Steve Elson – saxophones
• Stan Harrison – saxophones, woodwinds
• Lenny Pickett – saxophones, woodwinds
Backing vocals
• George Simms – backing vocals
• Frank Simms – backing vocals• Frank Simms – backing vocals
David Bowie World Convention 1983
David Bowie – 1983 Souvenir Serious Moonlight Tour
=====================
Notes
Inexplicable gap in crowd noise between Star and Heroes – removed with no ill effect.
Some fluttering between the channels at the start of Sorrow. Left alone, as couldn't really hear anything.
Couple of small gaps in crowd noise after Cat People. Removed flawlessly.
Gap between China Girl and Scary Monsters. Removed, but clips count-in to Scary Monsters. Coincident with tape flip.
Two small gaps in crowd noise after Space Oddity. Removed flawlessly.
Drop-out in crowd noise between Young Americans and TVC15. Left alone, but clips the start of TVC15.
Two gaps in TVC 15 removed: one @ 1:49, the other @ 2:32. First has minimal impact, second seems to lose a couple of seconds.
Tape flip between Fame and Stay (encore break). Fade out is on the source.
Cut, with volume drop, in crowd noise between Stay and The Jean Genie is on the source and has been left alone.
(Visited 536 times, 1 visits today)