David Bowie 1983-07-12 Montreal ,Montreal Forum – Sava Montreal – (Soundboard).
Sound Quality Rating
101. Introduction.flac
102. Look Back In Anger.flac
103. Breaking Glass.flac
104. Scary Monsters.flac
105. Rebel Rebel.flac
106. "Heroes".flac
107. What In The World.flac
108. Life On Mars.flac
109. Sorrow.flac
110. Golden Years.flac
111. Fashion.flac
112. Let's Dance.flac
113. Red Sails.flac
114. China Girl.flac
115. White Light White Heat.flac
116. Station To Station.flac
117. Cracked Actor.flac
201. Ashes To Ashes.flac
202. Space Oddity.flac
203. Band Introductions.flac
204. Young Americans.flac
205. Cat People.flac
206. TVC 15.flac
207. Fame.flac
Encore 1:
208. Star.flac
209. Stay.flac
210. Jean Geanie.flac
Encore 2:
211. I Can't Explain.flac
212. Modern Love.flac
Label : Old Gold Records – 1999 – OGCD 216
Audio Source : Soundboard
Lineage :
Total running time : 2:01:00
Sound Quality : very good. Equals record or radio apart from a slight noise and some dullness.
Attendance : 16.270
Artwork : Yes
A fine concert,
but the acoustics were real bad; much was lost. For many of those present,although enthusiastic about Bowie's show,this was rather a disappointment. This was also the opinion of the local press; in a very positive review the Montreal Gazette wrote that from a star like Bowie one might expect a better sound. A few days later appeared another article in the Gazette saying: 'Bowie gets sound message and second show soars – Superstar isn't too big to respond to criticism'.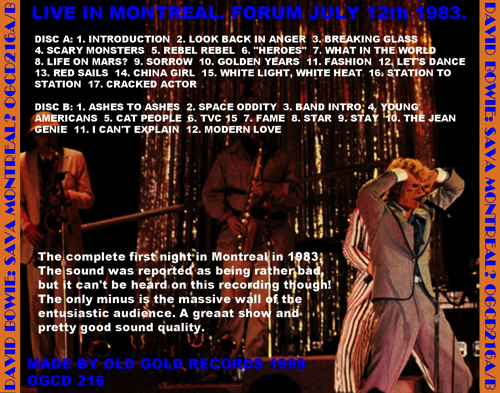 Quote:"The next day,Bowie or intermediaries read the review of the show in the Cazette,in which the wretched sound was criticised, Now Bowie is one of the most powerful entertainers in the world,financially secure,adept on vinyl,stage and screen,with a reputation that – after five years' absence from the rock arena circuit – virtually guarantees sell-out concerts on his current North American tour. Critical reviews should run off his back like so much water.
So it was something of a surprise when the voice on the phone said: "Hello,Steve Handel here,David's press attache.
I want you to know that David has taken your criticisms very seriously,and he and the band had an extensive sound check at the Forum this afternoon. I hope you will come to the show again tonight,and give the acoustics a second chance". J did; it was a great one,one of the best of the year,one that those who were disappointed on Tuesday should be allowed to experience .
"We have a very special guest for you this evening … it's, your royal highness Prince Charles of England" Bowie jests,"No he's not" he then says,and the audience are rather confused. "Here he is,no he's there. May I know your names? Your names,what's your name? Joey Salabo, this is for Joey Salabo,it's called Young Americans".
David Bowie Tour band 1983 – The Serious Moonlight World Tour :
• David Bowie – lead vocals, guitar, saxophone
• Earl Slick – guitar
• Carlos Alomar – guitar, backing vocals, music director
• Carmine Rojas – bass guitar
• Tony Thompson – drums, percussion
• Dave Lebolt – keyboards, synthesizers
The Borneo Horns:
• Steve Elson – saxophones
• Stan Harrison – saxophones, woodwinds
• Lenny Pickett – saxophones, woodwinds
Backing vocals
• George Simms – backing vocals
• Frank Simms – backing vocals• Frank Simms – backing vocals
| | |
| --- | --- |
| [real3dflipbook id="86″] | [real3dflipbook id="100″] |
| FLIPBOEK > World Convention 1983 | FLIPBOEK > 1983 Souvenir Serious Moonlight Tour |
.

David Bowie au Forum de Montréal
Review
Hi
Was just reading your article on the July 12 1983 show in Montreal. That was the best concert of my life. We got 2nd row seats dirt cheap cause my family knew a ticketbooth worker named Monsieur Foisy (fwuzzy). I was 15. I got a nite out from sleepaway camp to come to town and see the show with my best friend and my older sister and her best friend.
The streets around the forum were buzzing. We had a group of friends who were all hardcore Bowie fans and we were all there that nite.
I was seated in the 2nd row, first seat center isle right.
I was wearing a sweatshirt that I had cut holes out of all over and wrote Ziggy Stardust with a black marker on my chest.
A news photographer offered me $400 to move to the eighth row before the show started and I told him now way in hell.
From the opening chords of Look Back in Anger I was up on my seat singing along to every song with the Man standing right in front of me, at almost eye level cause I was standing all of 6'2″ up on my seat. The peeps who had paid mucho bucks for their seats around me, all of them older, were telling me to sit, but I wouldn't the entire show.
There was an intermission after which Mr B introduced the band, Two celebs who had been seated in the first row directly in front of us had vacated their seats, probably had backstage passes, and so we went into the first row seats for the rest of the show.. DB joked around a bit, and when he said whats your name, he pointed the mic right at ME and I said "Joey Teitel…." but he heard and stated this song is for Joey Taylorbawn, its called Young Americans!
Of course I was blown away, and freaked and quite the hero when I returned to camp the next day and my photo was on the front page of the Montreal Gazette, featured at the show, perhaps the photog I had turned down.
It took me twenty years to find a bootleg of that show, and around 2003 a man in France was kind enough to trick me into giving him my address, and had another stranger in England airmail me a 2 cd copy of the show, which had been my holy grail for two decades. I always thought he had said my name right, but hearing the recording, I realised he did his best lipread in the crowd, as when he said Whats your name? everyone around me answered at the same time.
I love the man so much.
He was more of a dad to me in so many ways than my own dad.
You know.
Thanks
Seph aka Joey T
aka Seph de Montreal,
aka Joe King
.
(Visited 608 times, 1 visits today)