David Bowie 1983-07-30 Detroit ,Joe Louis Arena – Dizzy In The Head –
Sound Quality Rating
101. introduction.flac
102. The Jean Genie.flac
103. Star.flac
104. "Heroes".flac
105. What In The World.flac
106. Golden Years.flac
107. Fashion.flac
108. Let's Dance.flac
109. Breaking Glass.flac
110. Life On Mars.flac
111. Sorrow.flac
112. Cat People.flac
113. China Girl.flac
114. Scary Monsters.flac
115. Rebel Rebel.flac
116. White Light White Heat.flac
201. Station To Station.flac
202. Cracked Actor.flac
203. Ashes To Ashes.flac
204. Space Oddity.flac
205. band introductions.flac
206. Young Americans.flac
207. Fame.flac
208. TVC 15.flac
209. Stay.flac
Encore:
210. The Jean Genie.flac
211. I Can't Explain.flac
212. Modern Love.flac
Label : From The Hunky Geordie Tapes – HUG271CD
Audio Source : audience
Lineage : Boots PSX200
Total running time : 1:51:58
Sound Quality : noise ,dull ,but still good listened to
Attendance : 18.600
Artwork : By steve23yh
A fine concert:
Now and then some talking can be heard,from which it can be understood that the tape was made on the 16th row; for someone can be heard saying "What number are you?". "10 Or 11,I'm not sure", "What row is this?" then the reply "16th",and at the end of Station to Station someone calls "That seat is taken" which gives an impression of the chaos that reigns in the hall!
As with most tapes of the Ameri­can tour one can hear a great deal of the audience,probably because those halls are so big. After the intro of the band Bowie says: "And I am Your …..(something unin­telligible – "crawl fromroage"?) … .. ,and this is your world,as it turns". The balloun bounces over the heads and hands of the enthu­siastic crowd who cheer when on and off Bowie laughs durihg Young Americans. He sounds quite cheer­ ful and lets the audience sing "Break down and cry" ,maybe to save his voice a little?
The audience loudly cheer the bright light spotlights shining into the hall during Fame and at the end of the song Bowie waits a long time before saying "What's your name" so that the band has to
repeat the last notes as often as six times.
In Jean Genie Bowie sings "Detroit's a go-go" instead of "New York".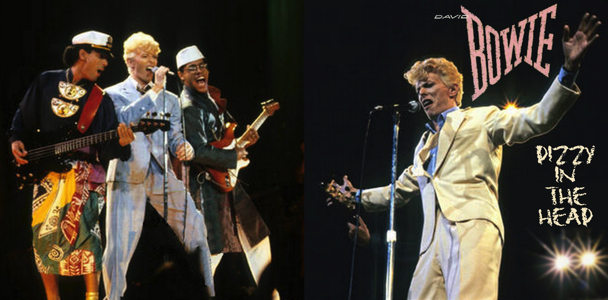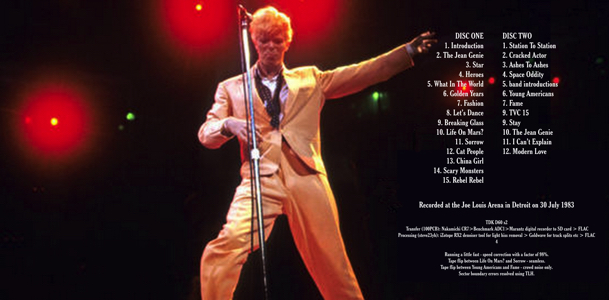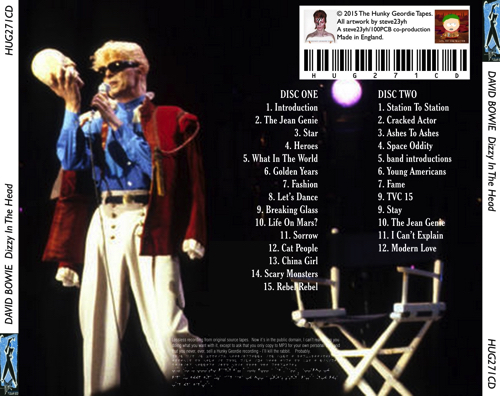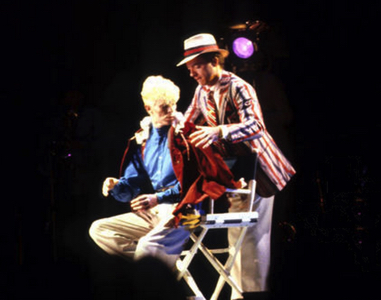 David Bowie Tour band 1983 – The Serious Moonlight World Tour :
• David Bowie – lead vocals, guitar, saxophone
• Earl Slick – guitar
• Carlos Alomar – guitar, backing vocals, music director
• Carmine Rojas – bass guitar
• Tony Thompson – drums, percussion
• Dave Lebolt – keyboards, synthesizers
The Borneo Horns:
• Steve Elson – saxophones
• Stan Harrison – saxophones, woodwinds
• Lenny Pickett – saxophones, woodwinds
Backing vocals
• George Simms – backing vocals
• Frank Simms – backing vocals• Frank Simms – backing vocals
David Bowie World Convention 1983
David Bowie – 1983 Souvenir Serious Moonlight Tour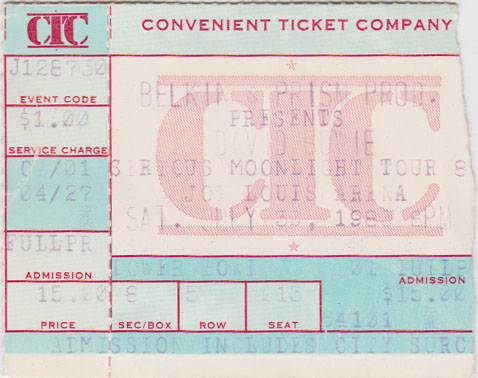 =======================
Notes
Running a little fast – speed correction with a factor of 98%.
Tape flip between Life On Mars? and Sorrow – seamless.
Tape flip between Young Americans and Fame – crowd noise only.
Sector Boundary Errors fixed with TLH.
.
(Visited 876 times, 1 visits today)