David Bowie 1983-05-15 & 16 Brussels ,Vorst Nationaal – Serious Twilight – (Rehearsals) –
Sound Quality Rating
01. Hang On To Yourself.flac
02. Stay.flac
03. Modern Love.flac
04. Breaking Glass.flac
05. Life On Mars.flac
06. Sorrow.flac
07. Cat People.flac
08. China Girl.flac
09. Scary Monsters.flac
10. Rebel Rebel.flac
11. I Can't Explain.flac
12. White Light White Heat.flac
13. Wild Is The Wind.flac
14. Golden Years.flac
15. Fashion.flac
16. Let's Dance.flac
17. Red Sails.flac
18. Breaking Glass.flac
19. Life On Mars.flac
20. Sorrow.flac
21. Cat People.flac
22. China Girl.flac
Label : From The Hunky Geordie Tapes – HUG257CD
Audio Source : audience
Lineage : TDK D90 > Denon DRM-500 tape deck
Total running time : 1:24:19
Sound Quality : Not good ,much Noise ,very dull
Artwork : steve23yh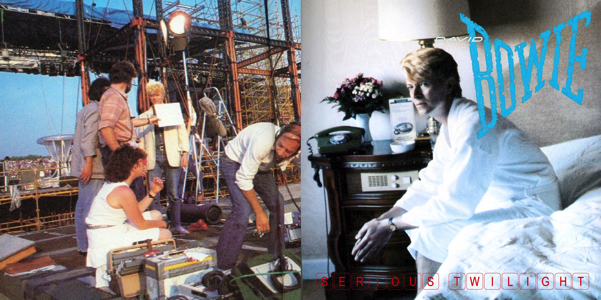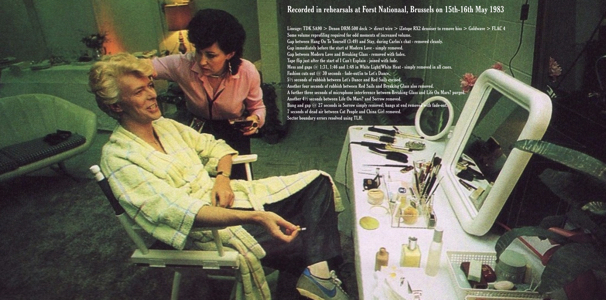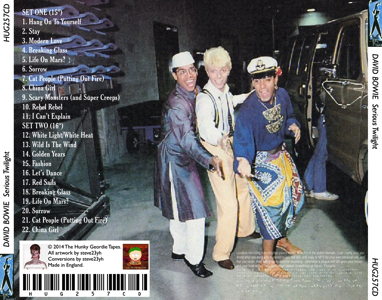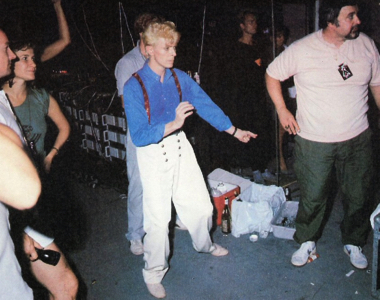 David Bowie Tour band 1983 – The Serious Moonlight World Tour :
• David Bowie – lead vocals, guitar, saxophone
• Earl Slick – guitar
• Carlos Alomar – guitar, backing vocals, music director
• Carmine Rojas – bass guitar
• Tony Thompson – drums, percussion
• Dave Lebolt – keyboards, synthesizers
The Borneo Horns:
• Steve Elson – saxophones
• Stan Harrison – saxophones, woodwinds
• Lenny Pickett – saxophones, woodwinds
Backing vocals
• George Simms – backing vocals
• Frank Simms – backing vocals• Frank Simms – backing vocals
David Bowie World Convention 1983
David Bowie – 1983 Souvenir Serious Moonlight Tour
======================
Notes
Some volume reprofiling required for odd moments of increased volume.
Gap between Hang On To Yourself (3:49) and Stay, during Carlos's chat – removed cleanly.
Gap immediately before the start of Modern Love – simply removed.
Gap between Modern Love and Breaking Glass – removed with fades.
Tape flip just after the start of I Can't Explain – joined with fade.
Mess and gaps @ 1:31, 1:46 and 1:48 in White Light/White Heat – simply removed in all cases.
Fashion cuts out @ 30 seconds – fade-out/in to Let's Dance.
5Ω seconds of rubbish between Let's Dance and Red Sails excised.
Another four seconds of rubbish between Red Sails and Breaking Glass also removed.
A further three seconds of microphone interference between Breaking Glass and Life On Mars? purged.
Another 4Ω seconds between Life On Mars? and Sorrow removed.
Bang and gap @ 27 seconds in Sorrow simply removed; bangs at end removed with fade-out.
7 seconds of dead air between Cat People and China Girl removed.
Sector boundary errors resolved using TLH.
(Visited 591 times, 1 visits today)