David Bowie 1983-07-02 Milton Keynes ,Milton Keynes Bowl – Live At The Bowl '83 – .
Sound Quality Rating
101. Announcement.flac
102. Jean Genie Intro.flac
103. Star.flac
104. "Heroes".flac
105. What In The World.flac
106. Golden Years.flac
107. Fashion.flac
108. Let's Dance.flac
109. Red Sails.flac
110. Breaking Glass.flac
111. Life On Mars.flac
112. Sorrow.flac
113. Cat People.flac
114. China Girl.flac
115. Scary Monsters.flac
116. Rebel Rebel.flac
117. White Light White Heat.flac
118. Station To Station.flac
119. Cracked Actor.flac
201. Ashes To Ashes.flac
202. Space Oddity.flac
203. Band Intro.flac
204. Young Americans.flac
205. Tvc15.flac
206. Fame.flac
207. Encores-Stay.flac
208. Jean Genie.flac
209. Modern Love.flac
Label : No label
Audio Source : audience
Lineage : 3rd Gen. tape
Total running time : 1:54:28
Sound Quality : noise ,dull ,but still good listened to
Attendance : 58.300
Artwork : Home made ,I decided too use its front cover for the cd artwork, with that superb draw (from a girl called Karina, who's that girl ???) of Bowie live (in Rotterdam).
Fine atmosphere:
A good concert and a fine atmosphere. There was only some unrest among those at the foot of the stage and after announcing Breaking Class Bowie asks them to remain calm. "This is a song from the album Pinups and it's called Sorrow" and before China Girl he says: "Come forth Cinderella. Well,I suppose I'll have to sing about China" (?).
At the end of the concert a girl can be heard to roar with such a catching laughter,onc cannut help laughing too!
Notes :
This is another one of my tapes I transfered to cd, a 3rd generation one…
I chose to dedicate it to the late Pimm Jal de la Parra who died in 2002 : his book, 'The Concert Tapes' has been the absolute bible for every Bowie fan collecting live tapes for years, and therefore for me !!!
I still read it with passion after all these years, a great book, a real must have…
Pimm wrote concerning that show :
"A good concert and a fine atmosphere. There was only some unrest among those at the foot of the stage, and after announcing 'Breaking Glass', Bowie asks them to remain calm…"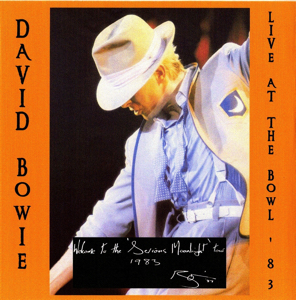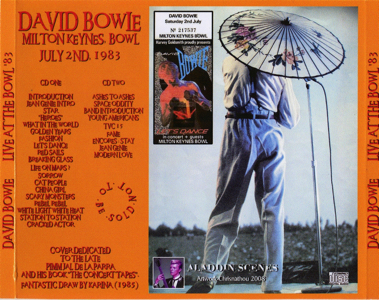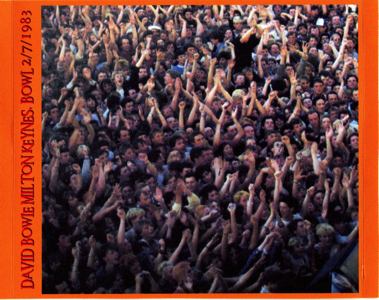 David Bowie Tour band 1983 – The Serious Moonlight World Tour :
• David Bowie – lead vocals, guitar, saxophone
• Earl Slick – guitar
• Carlos Alomar – guitar, backing vocals, music director
• Carmine Rojas – bass guitar
• Tony Thompson – drums, percussion
• Dave Lebolt – keyboards, synthesizers
The Borneo Horns:
• Steve Elson – saxophones
• Stan Harrison – saxophones, woodwinds
• Lenny Pickett – saxophones, woodwinds
Backing vocals
• George Simms – backing vocals
• Frank Simms – backing vocals• Frank Simms – backing vocals
David Bowie World Convention 1983
David Bowie – 1983 Souvenir Serious Moonlight Tour
(Visited 1,103 times, 1 visits today)