David Bowie 1983-08-03 Chicago ,Rosemont Horizons – At His Best ! – (RAW) .
Sound Quality Rating
set list in FLAC
LOOK BACK IN ANGER
HEROES
WHAT IN THE WORLD
GOLDEN YEARS
FASHION
LET'S DANCE
BREAKING GLASS
LIFE ON MARS
SORROW
CAT PEOPLE
CHINA GIRL
SCARY MONSTERS
REBEL REBEL
WHITE LIGHT WHITE HEAT
STATION TO STATION
CRACKED ACTOR
ASHES TO ASHES
SPACE ODDITY
YOUNG AMERICANS
FAME
TVC15
STAR
STAY
JEAN GENIE
MODERN LOVE
Label : No label
Audio Source : audience
Lineage :
Total running time : 1:51:s0
Sound Quality : Not good ,much Noise ,very dull
Attendance : 18.100
Artwork : by JTB Artwork
Note : This is a real version of this show (there are many fakes out in circulation) ,it's NOT the best sound quality, but i think its a pretty rare one.
Tracksplit : No
When the band starts playing Look Back in Anger it sounds rather odd,because Tony Thompson doesn't join in with his Drums; this leads to an incomplete sound,but after a couple of seconds he too joins in. There is a rare incident during this conccrL: Bowie coms on,starts singing,but his microphone is out of order! He turns around , flings the micro down and leaves. The band stops playing Bowie gets another micro. "Good evening" he says when he is back, "now we're gonna try the same song,with a microphone.". They try again,now everything is in perfect order,much to the screaming joy of the audience.
Bowie announces What in the World by saying "You're jus t a little girl with grey eyes". For some reason he misses the first line in Cracked Actor,and starts at "the best of the last …".
during the band intro bowie talks a lot but not much of it clear to understand; I am rendering the words that can be heard: "Thank you. Thank you very much indeed,good evening. Ha ha … thank you very much. I'd like to say that this only is tonight,probably the most. '.' .THANK YOU! I'd like to introduce my Band." …drums – he was telling me the joke the other day about …. We're having a very amusing show tonight. You're a wonderful audience".
In Young Americans Bowie refers to Reagan; whereas in Europe he did this ill almust every concert,in America he hardly ever mentioned Reagan; this was one of the very few exceptions. At the end of the number Bowie wants the audience to finish "Break down and cry",holding the microphone in their direction but all that comes is some screaming!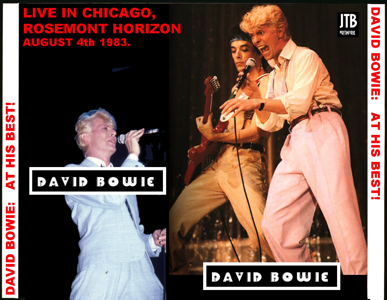 David Bowie Tour band 1983 – The Serious Moonlight World Tour :
• David Bowie – lead vocals, guitar, saxophone
• Earl Slick – guitar
• Carlos Alomar – guitar, backing vocals, music director
• Carmine Rojas – bass guitar
• Tony Thompson – drums, percussion
• Dave Lebolt – keyboards, synthesizers
The Borneo Horns:
• Steve Elson – saxophones
• Stan Harrison – saxophones, woodwinds
• Lenny Pickett – saxophones, woodwinds
Backing vocals
• George Simms – backing vocals
• Frank Simms – backing vocals• Frank Simms – backing vocals
David Bowie World Convention 1983
David Bowie – 1983 Souvenir Serious Moonlight Tour
(Visited 287 times, 1 visits today)