David Bowie 1983-08-14 Inglewood ,Los Angeles ,The Forum – Inglewood '83 –
Sound Quality Rating
01 – Introduction.flac
02 – The Jean Genie (Intro).flac
03 – Star.flac
04 – "Heroes".flac
05 – What In The World.flac
06 – Golden Years.flac
07 – Fashion.flac
08 – Let's Dance.flac
09 – Breaking Glass.flac
10 – Life On Mars_.flac
11 – Sorrow.flac
12 – Cat People (People Out Fire).flac
13 – China Girl.flac
14 – Scary Monsters (And Super Creeps).flac
15 – Rebel Rebel.flac
16 – White Light, White Heat.flac
17 – Station To Station.flac
18 – Cracked Actor.flac
19 – Ashes To Ashes.flac
20 – Space Oddity.flac
21 – Band Introductions.flac
22 – Young Americans.flac
23 – Fame.flac
24 – TVC-15.flac
Encore:
25 – Stay.flac
26 – The Jean Genie.flac
27 – Modern Love.flac
Label : No label
Audio Source : audience
Lineage : Cassette
Total running time : 1:47:33
Sound Quality : very good. Equals record or radio apart from a slight noise and some dullness.
Attendance : 16.480
Artwork : Yes
Crowds of film stars and other celebrities had come to the Forum to watch Bowie,and lots of them were also present at the part following the concert,to mention a few: Michael Jacksun, Sissy Spacek,lrene Cara,Henry Winkler,Tom Conti,Prince,Barbra Streisand,Donald Suntherland,Richard Perry,Bette Midler ,Kim Carnes,Mick Fleetwood,Toni Basil,Sally Struthers.
"This town makes me a bit nervous" Bowie said. "They all seem to want a bit of me".
Living in LA for some 18 months has left him with little less than a trauma. He is still tremendously popular here: these two concerts in the Forum were sold out in a matter of 90 minutes. The Forum tried to persuade him into adding two more nights,but since the tour was more than fully booked this was
impossible.
A lot of audience can be heard on the tape – and a very enthusiastic audience they are. During the band intro Bowie says a few things: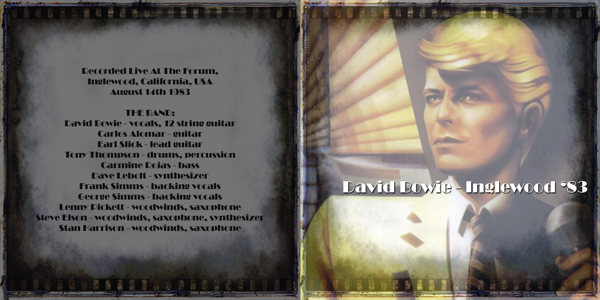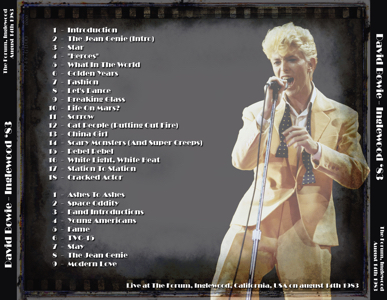 David Bowie Tour band 1983 – The Serious Moonlight World Tour :
• David Bowie – lead vocals, guitar, saxophone
• Earl Slick – guitar
• Carlos Alomar – guitar, backing vocals, music director
• Carmine Rojas – bass guitar
• Tony Thompson – drums, percussion
• Dave Lebolt – keyboards, synthesizers
The Borneo Horns:
• Steve Elson – saxophones
• Stan Harrison – saxophones, woodwinds
• Lenny Pickett – saxophones, woodwinds
Backing vocals
• George Simms – backing vocals
• Frank Simms – backing vocals• Frank Simms – backing vocals
| | |
| --- | --- |
| [real3dflipbook id="86″] | [real3dflipbook id="100″] |
| FLIPBOEK > World Convention 1983 | FLIPBOEK > 1983 Souvenir Serious Moonlight Tour |
.
(Visited 475 times, 1 visits today)